Pirelli expanding all-season tyre range by 22 sizes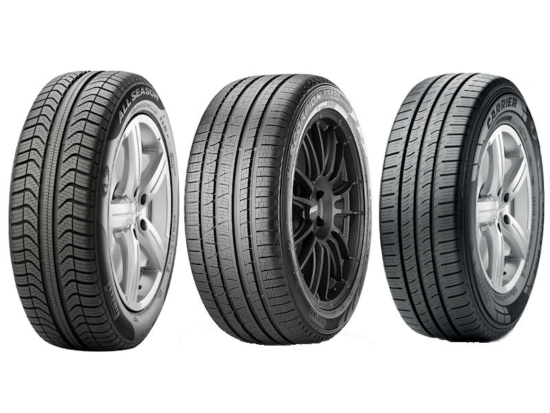 Pirelli is set to capitalise on the rising consumer interest in all-season tyres across Europe with an expansion to its range to cover more than 90 per cent of the market. Pirelli will introduce 22 new sizes between 16 and 19 inches in the Cinturato All Season Plus and Scorpion Verde All Season SF product ranges. All of these products are also available with Pirelli's Seal Inside technology – a puncture protection layer added to the inside of the tyre to help extend mobility in case of damage. Pirelli adds that the new generation of premium all-season tyres has supported growth in the all-season tyre market, which in turn has seen more tyre manufacturers bring out a wider range of products. Tyres & Accessories asked Pirelli UK chairman and CEO Dominic Sandivasci about the latest European market trends, starting with the relationship between winter and all-seaosn tyres.
"Winter tyres are still recommended for optimum performance in winter conditions," Sandivasci says, "but Pirelli's all-season range is designed to cater for people who prefer to use just one set of tyres all year without having to change between summer and winter: because of the way they drive and how they use their cars. That particular demand has increased greatly throughout Europe as you say, with all-season tyres offering a good balance between the characteristics of a summer tyre and the specialisation of a winter tyre.
However, there is still a place for full winter tyres in Europe, even outside the most extreme climates, according to Sandivasci: "All-season tyres are good for all seasons, as the name suggests, but the winter options from Pirelli, for example the P Zero Winter, are ideally suited to both wet and dry conditions during winter. You don't need extreme snow to appreciate their benefits, which are immediately apparent to anyone who has driven on them."
With opportunities for driving during the summer somewhat reduced, T&A asked whether Pirelli sees the second half of the year as an opportunity for further all-season segment growth as people get back on the road. Sandivasci said: "We do see things improving over the second half of the year, yes. If you look back at the last three years, there's been a very big increase in interest from consumers throughout Europe in all-season tyres: market volumes actually doubled between 2016 and 2019. All-season tyres are very much intended for people who are not looking for extreme performance or covering big distances. Instead, they are ideal for drivers whose main priority is safety both in winter and summer, so we can envisage an increase in demand for them as more drivers get back out onto the roads, both for business and pleasure."
Pirelli all-season tyre range
The Pirelli Cinturato All Season Plus was launched around two years ago with a size range for 15 to 20-inch wheels. It was developed for mainly urban driving, identifying this segment as both one keen to stay on the road in all conditions but without the hassle associated with changing tyres seasonally. The further development of the original Cinturato all-season range benefits from a special directional tread design, which optimises water drainage and reduce aquaplaning with two wide longitudinal and side channels. The design also reduces noise both inside and outside the vehicle, increasing comfort. Another characteristic feature of the current Cinturato All Season Plus are its 3D slats. The profile was designed to optimise movement of tread blocks to improve braking and cornering performance, while ensuring a more uniform wear to extend tyre life. The blocks spread out on snow-covered roads and reach into the snow, which results in excellent road grip. The tyre is marked with both the M+S and 3PMSF symbols.
For drivers of SUVs or crossover models, Pirelli presents the Scorpion Verde All Season SF, which has been on the market for around a year. According to Pirelli, the all-season tyre, which carries M+S and 3PMSF markings, offers "excellent handling with perfect traction and lateral stability as well as low tyre noise, both in snow and on wet roads. The long service life and low rolling resistance round off the properties of this tire and help to save fuel."
Pirelli's all-season range is rounded off by the Carrier All Season for vans and light commercial vehicles. The manufacturer calls the tyre "very easy to drive," with "a long service life, low rolling resistance and excellent driving behavior in all conditions." It also carries the M+S and 3PMSF markings.