New Goodyear branding unveiled in esports Le Mans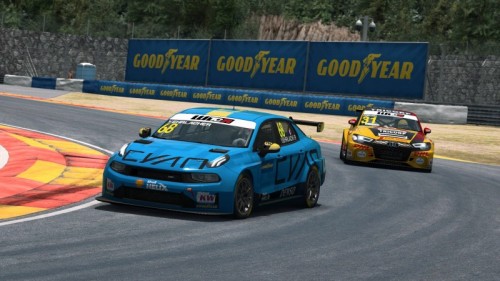 With endurance and touring car racing seasons postponed, Goodyear supports motorsport in virtual world
Goodyear's comeback to world championship motorsport has been marked already with with wins in the FIA World Endurance Championship and a new partnership with the WTCR – FIA World Touring Car Cup. But with the suspension of live motorsport, the brand has entered another world of motorsport for the first time, moving into virtual racing. The two major track series follow Goodyear's entrance into the European Truck Racing Championship Digital Racing Challenge and the eNASCAR league.
The participation of teams, drivers, suppliers, and sponsors in Esports motor racing has been a key theme of the pandemic year. Simulated racing has risen to greater prominence in the wake of its live action counterpart, though Esports in general had already built a very substantial global following. Drivers have competed in these online races using simulator setups in their own homes, and fans can tune in from around the world to follow live. Goodyear describes the almost universal adoption of accessible, fan-friendly sim racing has been a massive success.
Building on its existing partnerships with leading race championships, Goodyear has been involved in virtual motorsports events for the WTCR and 24 Hours of Le Mans.
Virtual Goodyear tyres equipped
As sole tyre supplier to WTCR, virtual Goodyear tyres were equipped to all cars competing in the series' esports championship, which got underway on Sunday, 14 June. The first race marked the competitive debut for the Goodyear Eagle F1 SuperSport touring car tyre in the world's top level of touring car racing, ahead of its first real-life races later in the year.
Also on the weekend of 13-14 June, new Goodyear branding was displayed for the first time at the 24 Hours of Le Mans – at least its simulated counterpart. The '24 Hours of Le Mans Virtual' esports race was held on the date originally allocated to the 88th edition of the real-life French endurance classic. Goodyear branding unveiled at the track in time for the real race in September was displayed for the first time virtually and showcased throughout the 24-hour sim race.
Before the virtual chequered flag, Ben Crawley, motorsport director, said: "Esports has benefited from a huge growth in popularity during the lockdown. Even when real-life racing begins, we predict esports to continue its growth as it truly connects fans with their racing heroes. Long term, we will be looking for ways to bring tyre choice decisions and pitstop strategies into esports by helping programmers accurately replicate the real-life performance of Goodyear racing tyres. In the short term, it's an opportunity for us to connect with fans and bring our famous brand to a fast growing virtual racing world."