Hankook and Hyundai sign Driving Experience Center MOU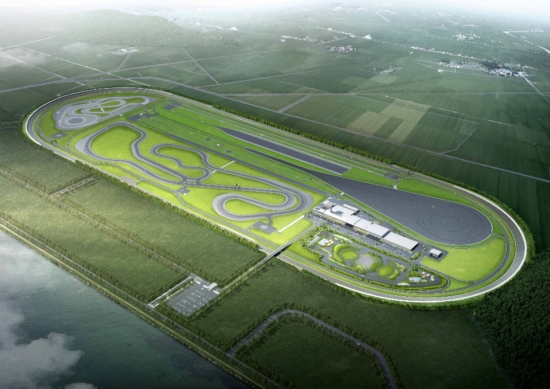 On 17 June 2020 Hankook Technology Group vice chairman and CEO Hyun Shick Cho and Hyundai Motor Group executive vice chairman Euisun Chung hosted a signing ceremony related to construction of the HMG Driving Experience Center at Hankook Tire's new Taean Proving Ground.
According to the two companies, the announcement builds on the Hankook and Hyundai's "shared commitment to meet the needs of the fast-changing automobile and mobility markets, leveraging this partnership as a new growth engine in the medium to long term".
The construction of Hankook Tire's Taean Tire Proving Ground in South Chungcheong Province will be completed in the first half of 2021. Its 126,000 m2 site area is described as "among the biggest in Asia, as large as 176 soccer fields combined". The proving ground will be a high-tech laboratory with the longest test roads in Asia, including a 4.6 km-long high-speed main circuit and 11 test roads of various purposes.
Designed by global vehicle development engineering company Applus+IDIADA, the new proving ground will enable rigorous testing of Hankook's most advanced products, such as EV, run-flat, and super car tyres, coming out of Hankook's Technodome R&D centre. Testing capabilities will include high-speed driving, circular tuning, braking, and water screens.
Opening in the first half of 2022, the HMG Driving Experience Center will include a two-story, 9,602-square-metre facility with customer lounge, kids' rooms, brand shops, and exhibition space for new Hyundai, Kia, and Genesis models, as well as HMG's cutting-edge technologies. The facility will leverage the latest multimedia tools to provide engaging educational programs about the latest driving technologies and product features that help customers get the most out of their driving experience.
The centre will expand on HMG's Driving Experience Program, which HMC started in 2016, later adapted by Kia and Genesis, and is operated throughout the year, with approximately 6,300 customers participating in 2019. The centre will offer driving programmes on customer-dedicated tracks and zones designed for emergency braking, high-speed driving, drifting, gymkhana, slalom, and off-roading.
Hankook Tire and Technology President and COO Soo Il Lee said, "At Hankook Tire's Taean Proving Ground, we will leverage our core capabilities for the group's sustainable growth, allowing us to innovate new products, comply with stringent safety and environmental regulations, and meet our customers and investors' expectations for quality and value. As we co-develop these facilities with Hyundai Motor Group, we seek to strengthen the capabilities and further develop Korea's driving culture together."
Thomas Schemera, vice president of Hyundai Motor Group, added: "The HMG Driving Experience Center, in partnership with Hankook Tire & Technology, will provide a completely new and innovative way for our customers to experience our vehicles. By offering the best facilities and performance-driving surfaces, this will become the epicenter for expanding automobile culture in Korea. This is truly where the 'rubber meets the road.'"