New Maxam tyres for port applications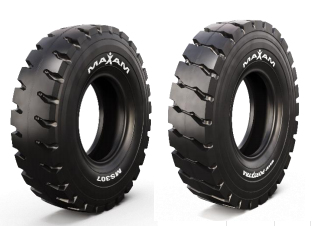 Maxam Tire has made further additions to its range of port tyres, introducing two new products: The Maxam MS307 PortXtra IND-3 and MS407 PortXtra IND-4.
"The Maxam PortXtra series is engineered to provide customers with the highest level of productivity and longer operating hours," comments the tyre firm, adding that the tyres were developed to exceed the standards required by port sites.
MS307
The all-steel radial MS307 PortXtraIND-3 features a tread pattern specifically developed for port applications that run heavy loads and long cycle times. Featuring an extra wide tread profile and reinforced sidewall, the MS307 improves stability on long distances. Manufactured to withstand high heat, the MS307 allows for longer operating hours with guaranteed performance. The MS307 PortXtra is now available in four sizes, ranging from 12.00R20 to 14.00R24.
MS407
The MS407 PortXtra IND-4 features a deep belt-stabilised tread that Maxam says provides users with high levels of traction, longer tread life and low heat buildup. "Engineered with a high-quality casing and a wear and cut resistant compound, the MS407 is built to master your heaviest loads. High quality casing allows for excellent retread ability, making the MS407 a value-driven solution for end users," it adds. The MS407 PortXtra is now available in six sizes, from 10.00R20 to 14.00R25.
"In a rapidly growing worldwide market, The PortXtra product line was developed to tackle both the most complex and utilised machines requiring ever-increasing productivity. To meet the demands of port applications, the MS307 & MS407 are engineered to carry heavy loads while safely stacking and transporting containers making thousands of return trips," says Jimmy McDonnell, vice president at Maxam Tire North America.