BKT launches Portmax PT 93 for terminal tractors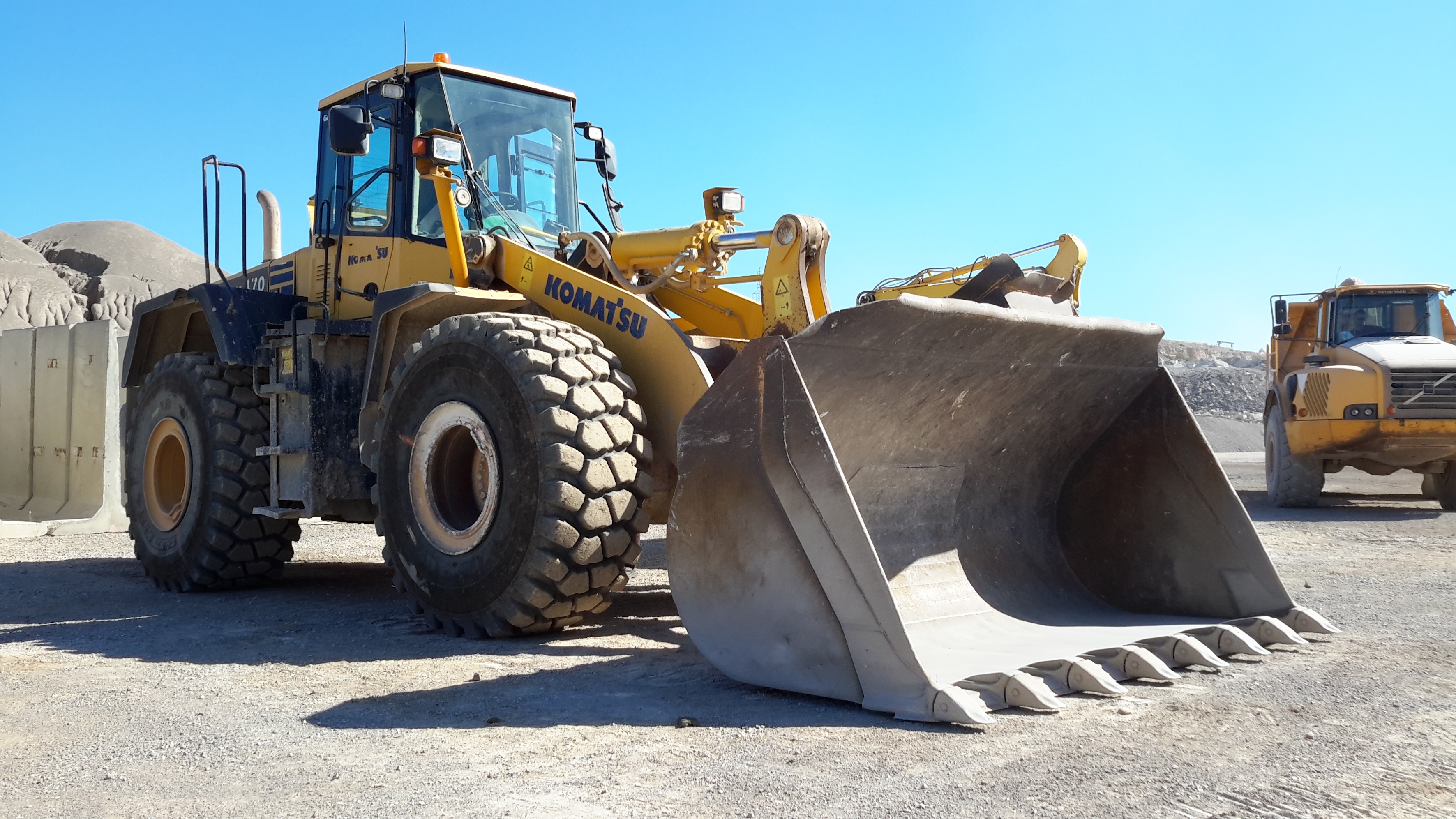 Indian manufacturer supplies a broad range of earthmover tyres in its Earthmax series
BKT has launched its latest tyre for terminal tractors, Portmax PT 93, from its booth at Automechanika Dubai, of which the Indian multinational is Diamond Sponsor and Official Tire Partner. Alongside the new product, BKT promoted a selection of its tyres for the industrial sector from its booth at the Dubai World Trade Center between 7 and 9 May.
The Portmax PT 93 makes its debut in size 280/75R22.5 as a product engineered for terminal tractors used in operations at ports and logistics hubs. Featuring a special antistatic tread compound, which promotes wear resistance in the most demanding conditions, the tyre is designed to reduce replacement intervals and the related machine downtime, an extremely important characteristic in this industry. The tyre's stability, driving comfort and extended durability characteristics make the Portmax PT 93 a good choice for intermodal transport, the manufacturer states.
Alongside this new product, BKT displayed a selection of its industrial tyres, including several models from its Earthmax range, a lineup conceived to face the challenges of the most differing terrains – from snowy and icy surfaces to muddy and rocky quarries and mines. The Indian manufacturer displayed the Earthmax SR 23 (size 15.5R25) for motor graders and loaders. The tyre features outstanding self-cleaning properties, improved front and lateral traction, and an extended operating life-cycle. The Earthmax SR 33 (displayed in size 395/85R20) for multipurpose trucks is designed for increased grip on soft and sandy grounds. It is also resistant to snags and punctures, and offers maximum stability. The Earthmax SR 31 tyre for articulated dumpers and wheel loaders (size 23.5R25 at the show, with 26.5R25 and 29.5R25 also available) offers improved driving comfort and provides excellent traction, stability and maneuverability even on muddy terrains.
As well as the tyres at the show, BKT's primary earthmover brand features products for a full range of the diverse applications found in this sector. For snowy and icy terrains, the Earthmax SR 22, available in sizes 14.00R24, 17.5R25 and 20.5R25, provides traction and stability on slippery surfaces due to rain or snow thanks to the large non-directional tread design.
The Earthmax SR 41 profile features an extra-deep, L-4-class tread, increased by 50 per cent. It is available in sizes 26.5 R 25 and 29.5 R 25. Joining the SR 31 and SR 41 as suitable for scattered terrains, the Earthmax SR 30 features multi-ply steel belts along with the rigid block design to provide improved traction, stability, and durability. BKT's tread compound enables the tyre to withstand cuts and abrasions as well as to dissipate the heat created during the loaders' operations. The SR 30 is available in sizes 15.5R25, 17.5R25, 20.5R25, 23.5R25, 26.5R25 and 29.5R25.
For use on muddy and earthy surfaces, the Earthmax SR 49 and Earthmax SR 49 M join the SR 30 Earthmax. The SR 49 is designed for tough environments such as mines, where increased traction is essential. The sturdy, cut-and-chip resistant tyre is available in size 35/65R33, while the SR 49 M comes in size 29.5 R 29. Additionally the Earthmax SR 50 and Earthmax SR 51 are designed for this kind of surface. The Earthmax SR 50's distinctive trait is its aggressive, L-5-class tread. This results in a longer life-cycle and resistance to the numerous obstacles on sites with muddy terrains and earthy surfaces. Particularly robust and with good lateral stability, BKT states the tyre is ideal for loading and levelling operations. It is available in sizes 26.5 R 25 and 29.5 R 25. The SR 51 features the same tread depth, and is suitable for extreme conditions, made with a cut-resistant compound and with a square shoulder shape to facilitate ejection of foreign objects. The tyre is available in 17.5R25, 20.5R25, 23.5R25, and 29.5R29.
For rocky terrains in quarries and mines, BKT presents the Earthmax SR 49, Earthmax SR 49 M, Earthmax SR 50 and Earthmax SR 51. The SR 49 and SR 49 M feature an L-4 tread depth while the latter models have L-5. In addition the Earthmax SR 43 (29.5R29) is the manufacturer's model for open-cast mining applications. Its reinforced sidewall reduces damages caused by rubbing against blocks and rocks, while its self-cleaning properties provide protection against stones and debris. The Earthmax SR 53 is also available for loaders in rocky environments.
For recycling operations, BKT supplies the Earthmax SR 43 and Earthmax SR 53, which is also suitable for rocky and underground mining applications, particularly harsh environments, where debris, stones or foreign objects can be found. The special compound, along with an L-5-class tread, helps to increase operating life.
For the mining sector, BKT's top-of-the-range product is the Earthmax SR 55, which combines the features necessary for both recycling and underground operations. The tread of class L-5S – meaning extra-deep and of smooth surface – helps to increase productivity and reduce machine downtime, while providing stability and comfortable driving. The tyre is available in six different sizes: 12.00R24, 17.5R25, 18.00R25, 26.5R25, 29.5R25, and 29.5R29.
BKT's logistics tyres in Dubai
The new PT 93 was joined by the PM 90 (displayed in size 18.00R25) in the Portmax range perfectly, meeting the requirements of port logistics. The all steel structure makes the casing stronger and more robust, while providing adequate weight distribution on the ground. It features an extended life-cycle and exceptional stability – essential requirements for handling heavy loads.
Designed for telehandlers and small loaders employed in the heaviest loading operations, BKT's XL Grip, on display in size 15.5–25, features cut-and-chip resistance, an extended tyre life, and improved stability.
In the on-off road high-speed crane segment BKT offers the Airomax AM 27, a tyre suitable for applications both on road surfaces and the rough grounds of construction sites. Featuring excellent resistance to cuts and high temperatures, the tyre helps to increase safety under extreme conditions. It was exhibited in size 505/95 R 25.
For forklift operations, the Liftmax LM 81 (10.00R20) offers superior durability and comfort, reduced operating costs, and stability even at high speed. Likewise, for logistics applications, BKT's Maglift (size 7.00–12) is a non-marking standard version. This solid, stable and resistant tyre has been specially designed for forklifts, and reduces the risk of slippage, while its non-marking compound ensures perfectly clean flooring.
Finally the Con Star (size 400/80-24) agro-industrial tyre is BKT's model for digging and loading operations that require improved stability and high load capacity.