Goodyear FleetOnlineSolutions keeps trans-European parts shipper on schedule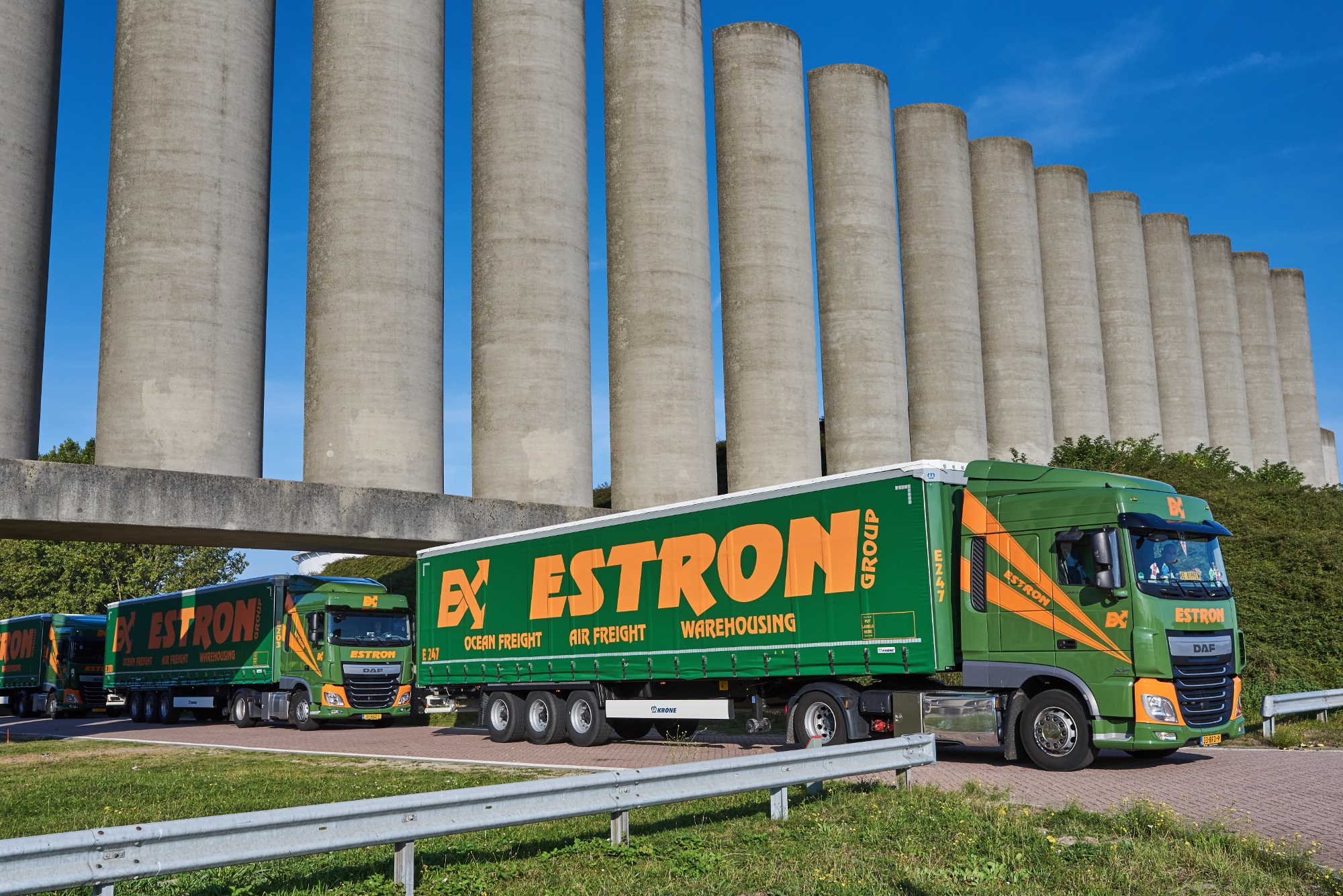 Rotterdam based ship components supplier Estron Transport's modern fleet of 280 tautliner trailers are fitted with Goodyear Kmax T trailer tyres in size 385/65R22.5 and 10 tractor units. The firm operates a daily service between Benelux, the UK and Germany, primarily the just-in-time delivery of parts for ships, and as befits such an organisation it is at the forefront of the use of logistics technology; Goodyear, which has supplied the company for more than 15 years, including its FleetOnlineSolutions (FOS) tyre management system since 2006, states efficient tyre management is an essential part of Estron's real-time planning process, supported by a track and trace system, ensuring minimum downtime for vehicles and reduced administration.
Much of Estron's tyre-related maintenance takes place at one location with other work being taken care of via ServiceLine24h, Goodyear's Pan-European roadside assistance service –  utilising TruckForce, Goodyear's international truck tyre service network with more than 2,000 service providers. Using FleetOnlineSolutions means that every party involved in tyre-related work has access to the relevant information, ensuring that each job is carried out exactly to the agreed requirements and pricing. In addition, Estron can follow the progress of jobs in real-time so that vehicle scheduling is accurately monitored.
"Goodyear and FleetOnlineSolutions have been vital to us in ensuring our fleet has the best possible tyre management.  We are a strong believer that relationships are built by people and an important aspect for us is our Goodyear FleetFirst consultant – the technology of FleetOnlineSolutions simply helps us to be more efficient," said Chris Gerhardt from Estron Transport BV.  "Time saving, accuracy and quality are the three great benefits that FOS has given us; FOS has reduced our administration time considerably over the years through both a reduction in paperwork and the elimination of service queries."
Goodyear has recently introduced its eJob application. Using a handheld tablet, tyre service technicians can instantly access and record information from beside the vehicle.  In this way, job information and photographs can be inputted directly into FOS by the technician as well as enabling instant access to tyre service data. This development has made tyre management faster and more accurate and has allowed Estron to follow and check on tyre-related work online in real-time.
FleetOnlineSolutions has also enabled a greater adherence to Estron's fleet tyre policy as the system ensures that all tyre service providers are aware of the exact tyre fitment requirements of the fleet, as well as any other services such as tyre inflation pressures and wheel nut torques.  Advantages include faster and more accurate tyre maintenance as well as a reduction in administration thanks to minimized invoicing and approved pricing, thus ensuring that Estron benefit from greater efficiency and maximum vehicle uptime.