Maxam shows new solid tyre range at Recycling Aktiv show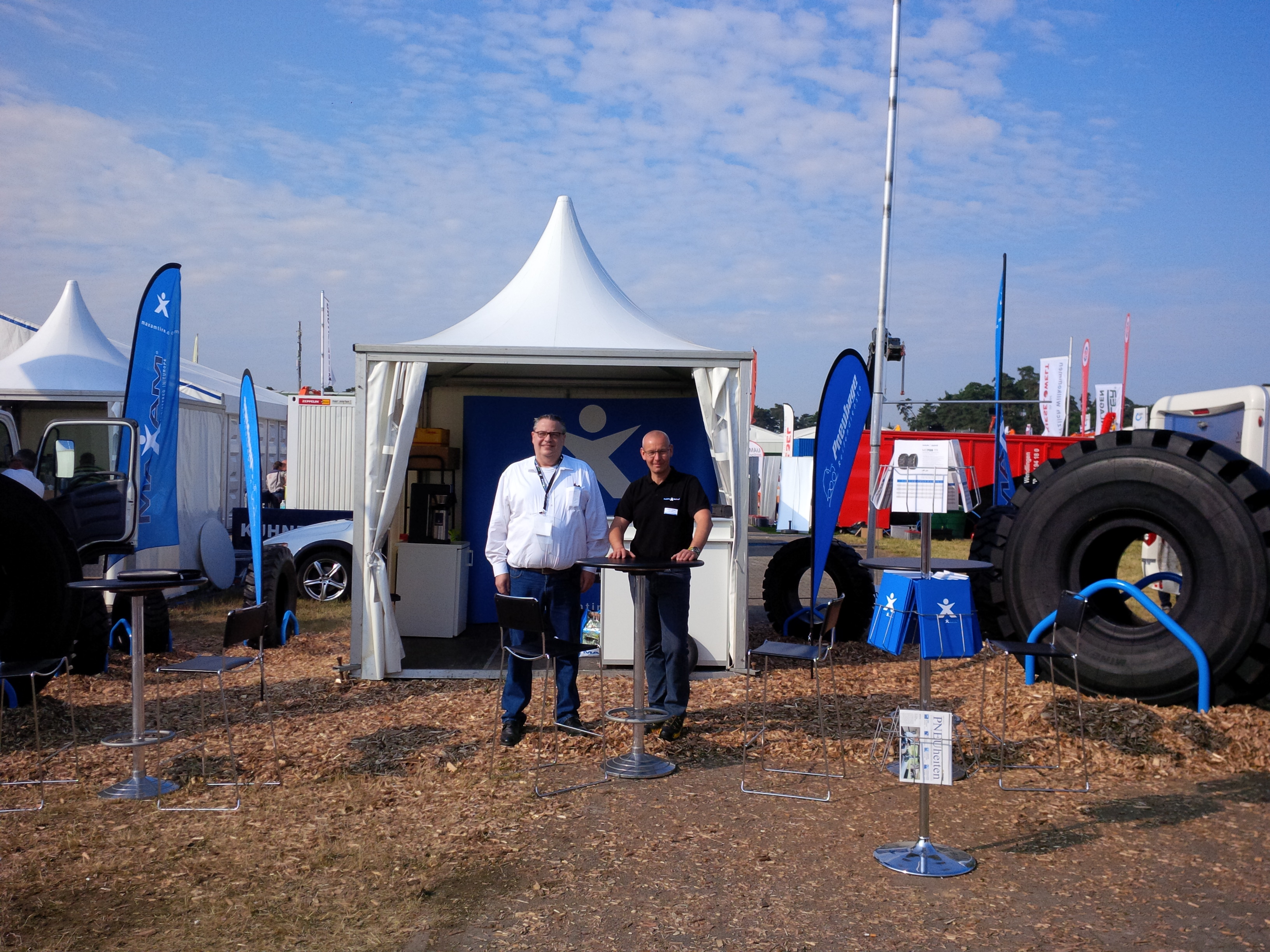 Maxam showed its new solid tyre range at June's Recycling Aktiv show at Karlsruhe/Baden-Baden airport in June. It was the first time Maxam has taken part in Recycling Aktiv.
Last time, more than 10,000 visitors attended the show and, for the 2015 event, there were over 200 names on the exhibitor list. Live demonstrations form an integral part of the show, including a working scrap metal yard. The Maxam stand was manned by personnel from Interpneu; the company's dealer in Germany, backed up by members of the senior management team from Maxam in Luxembourg. These included Kevin Buckley, sales manager, Europe; Stefan Blindenberg, business development manager, France & Benelux and Peter Kraus, bdm, Germany, Austria & Switzerland. One visitor to the stand was so impressed with the appearance of the tyres and the breadth of the range that he immediately invited Peter Kraus to his company to talk business.
Said Kevin Buckley: "Both Maxam and Interpneu were delighted at the extremely positive reaction of visitors to our range of tyres and a lot of enquiries about our new range of solid OTR and construction tyres which are to be released at the end of the year. The recycling and waste handling market is a dynamic and growing sector and the MS708 will help those operating within it to maximise the performance and productivity of their machinery, as the new tyre has been produced specifically to cater for the demanding waste/recycling industries."
Tyres operating in this sector face a number of unique challenges, not least of which are operating under heavy loads and working in what are sometimes extremely hostile environments, including running over broken glass and sharp metal shavings. Obviously no normal, pneumatic tyre would last long in these conditions, so the MS708 is of solid construction, meaning no punctures, zero maintenance and no loss of productivity due to costly, tyre-related downtime.
The MS708 will be available as both a smooth tyre (SM) and with a heavy-duty traction pattern (TR) to suit various applications. The construction involves a heat-resistant, cushion centre inner compound and an "ultra-wear- and cut-resistant outer compound". The self-cleaning tread pattern on the TR version is designed for maximum chunking resistance. With its solid construction, featuring an extra-deep tread, Maxam estimates that the MS708 offers between 3 and 5 times the tyre life of a pneumatic tyre.
According to the company, the Maxam range of tyres certainly attracted a great deal of attention at Recycling Aktiv, from end users and machinery manufacturers alike. Maxamexhibited a number of tyres from its OTR and construction tyre ranges and the MS708 will continue the Maxam traditions of quality manufacturing and excellent value for money.