Firestone launches Winterhawk 4 flagship winter tyre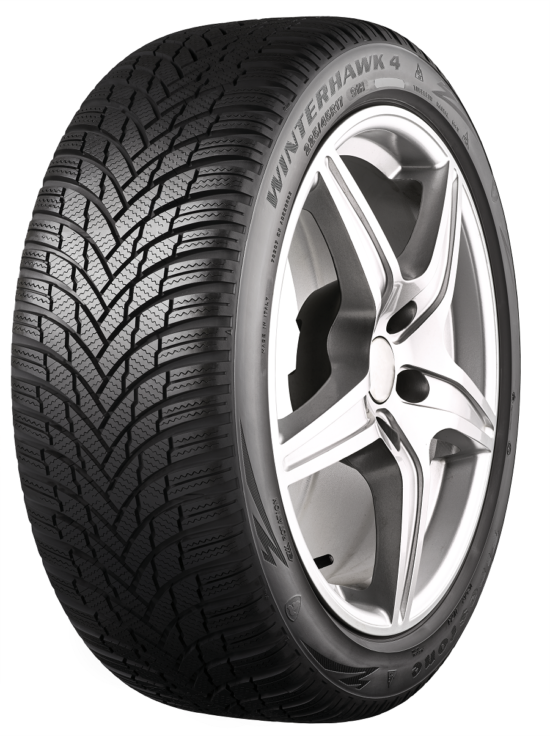 Firestone has launched the Winterhawk 4 winter tyre – the next generation of the Bridgestone brand's flagship winter tyre line. The tyre targets cars and on-road SUVs at a mid-range, value price. Firestone says its Winterhawk 4 tyre has been engineered for optimal control and handling in cold and unpredictable conditions. The manufacturer states that the new tyre offers improved traction on snow and ice at around 7 per cent better than the Winterhawk 3. Braking distances on wet winter roads are 4 per cent shorter too.
Firestone interviewed more than 20,000 European drivers to guide the development of the new Firestone Winterhawk 4. The brand said this approach gave it insights on the daily driving challenges faced by motorists in the continent. It also emphasised their need for a winter tyre that performs in both the snow and wet. Firestone's engineers say that as a result they developed the winter tyre drivers are looking for.
The Firestone Winterhawk 4 benefits from optimal control on snow and ice thanks to an optimised pattern design. Likewise, a higher number of lateral grooves on the Firestone Winterhawk 4's shoulder area enables an enhanced digging mechanism on snow and ice and an optimised contact pressure for short stopping distance in winter conditions. The tyre also applies a zig-zag groove design to improve grip. These design features combine to improve snow and wet braking performance.
In tests carried out by Bridgestone in March 2020 at Sweden's Arctic Falls Pitea proving ground on a VW Golf (tyre size 225/45 R17), the tyre showed seven per cent better snow traction than its predecessor, the Firestone Winterhawk 3. The test saw the Golf accelerate from 10 km/h to 35 km/h in 2.72 on the Winterhawk 4, versus 2.92 seconds on the Winterhawk 3.
The new Winterhawk 4 also has improved wet braking performance, stopping four per cent sooner than its predecessor.TÜV SÜD testing carried out at the request of Bridgestone on the same car and tyre size in March 2020 at ATP Papenburg proving ground in Germany showed that the Winterhawk 4 braking from 80 km/h to 20 km/h) in 28.3 metres, versus the 29.4 metres taken by the Winterhawk 3. This has led to the tyre being awarded an EU label B-grade in wet grip.
Tyre available from June 2020
Firestone's new Winterhawk 4 tyre will be available as of June 2020 in 94 sizes from 14" to 20", covering small cars to large SUVs. The new launch increases Firestone's winter market coverage to 92 per cent in total and to 81 per cent in high rim sizes (17'' and above).
Commenting on the new release was Emilio Tiberio, chief technical officer and chief operating officer at Bridgestone EMIA: "Firestone has always delivered value for money tyres that offer strong and reliable performance for a safe journey. Above any other, winter is the season that brings the greatest driving challenges. Performing in the snow, wet and ice, the Winterhawk 4, Firestone's latest winter tyre, is designed to help European drivers overcome these challenges and stay safe and in control on winter roads in all weather conditions.