New BKT earthmoving & mining tyres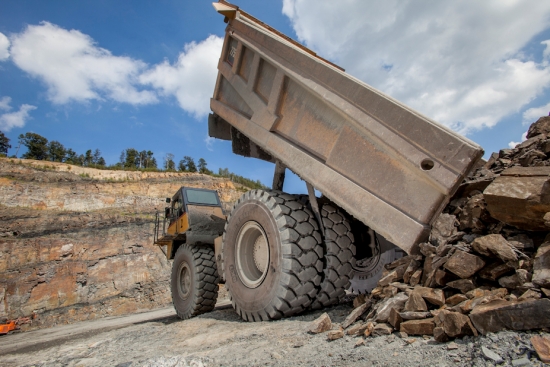 BKT doesn't produce car tyres. Nor tyres for trucks or motorcycles. The company's Research and Development Centre in India focuses solely on vehicles that operate off the highway, and constantly looks for new solutions by developing and fine-tuning tyre ranges and new tyre sizes for specialised applications.
Earthmax tyres are designed for rigorous operations and difficult terrains such as those encountered in large construction sites, quarries, pits and mines. This extensive range of radial tyres for dumpers, wheeled loaders, dozers and graders are engineered to optimally distribute load on the ground, and all Earthmax products feature an all-steel structure that protects the casing against impacts such as punctures and penetration of foreign objects.
3 new Earthmax models
Numerous new products have joined the Earthmax range since its initial launch in 2008, and at present 26 models are available in a wide range of sizes and specific compound versions. BKT is now launching three new Earthmax models that it says will complete the range:
Earthmax SR 412 – This size 29.5 R 25 tyre is designed to equip articulated dump trucks and features a pattern that optimises traction.
Earthmax SR 475 – Available in size 18.00 R 33, this tyre is specifically developed for rigid dump trucks.
Earthmax SR 452 – This size 24.00 R 35 fitment premiered at the ConExpo 2020 show in Las Vegas in March. It was developed for rigid haul trucks requiring enhanced traction and stability in uneven terrain.
All three tyres are aimed at very severe applications and possess a deep E4 tread design and a squared shoulder for excellent handling and manoeuvrability, minimising vibration and noise. They ensure a higher number of working hours, higher speeds and an improved tonne miles per hour. The compounds used also contribute to a prolonged life-cycle, lower heat-generation and improved cut and chip resistance.
BKT is also launching a new size into its Earthmax SR 53 line-up. The new 45/65 R 45 tyre is an L5 fitment designed for loaders operating in harsh conditions, such as quarries and mines. The tread is made of a particularly cut-resistant compound that doesn't overheat. In addition, it has been designed to provide extraordinary self-cleaning properties that facilitate the ejection of stones and foreign matters.
Last but not least, the Indian tyre maker is expanding the Earthmax SR 57 line-up with a new size, 10.00 R 15. This fitment was developed to equip mini loaders operating in underground mines. Extremely resistant to cuts and punctures, this tyre features a L5 tread specially formulated for underground mine service.