EAG heralds influence of new e-commerce solution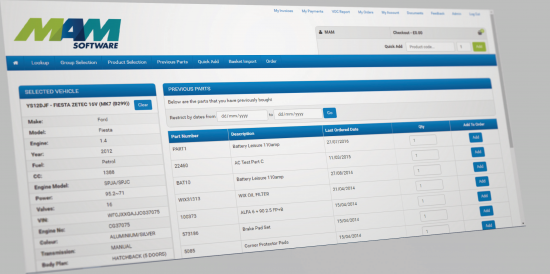 Excel Automotive Group (EAG) has hailed the impact of Origin Software Services after investing in the company's e-commerce solution to transform the way in which customers utilise EAG's electronic trading platform.
Origin WebTrade is a B2B e-commerce solution that integrates directly with Autopart, MAM Software's business management software, to create easy online trading.
Following the addition of the web-based parts catalogue, EAG experienced a 73 per cent spike in the total number of orders placed via the portal, while the value of the orders increased by a quarter, between January and February 2020.
EAG Managing Director, Adrian Lamb, said: "We are delighted with the early figures and they support our logic for integrating the portal into our existing system. It has been a change that has improved the experience of our customers during the ordering process.
"We've living in an electronic era, so if we don't evolve then we will get left behind. Although it can sometimes be challenging to change people's habits, it was absolutely the right thing for us to do."
Origin Software Solutions Managing Director, Giles Greenslade, said: "EAG has already seen great success from its Origin trade portal. The company has used WebTrade to speed up transactions and improve its customer service: two of the platform's biggest draws for many of our customers."
EAG customers can now look-up stock, order components, pay invoices and create their own profile. In addition, users can utilise the platform 24/7, providing more ease-of-use and flexibility.
Adrian Lamb added: "The increase of orders has been easy to process because electronic ordering means that we can produce a pick-note immediately. We receive an incoming order, click on it and it produces a pick note. This goes through to our picking area in the warehouse where our guys pick and pack and dispatch it.
"It now takes between 30 seconds and a minute to process an order of 15 to 20 lines; whereas, done manually, this task could take up to 10 minutes."
Lamb admits that the company, restructured back in April 2019, is still in its infancy when it comes to unlocking more potential from what Origin Software Services can provide, such as generating reports and copy invoices, but he is delighted the company has been able to offer its customers a greater ordering experience – exactly what it wanted to achieve.
Giles Greenslade concluded: "We look forward to continuing to work with Adrian and his team to ensure they continue to make the most of the platform and all it has to offer."