5-year warranty for Galaxy solid tyres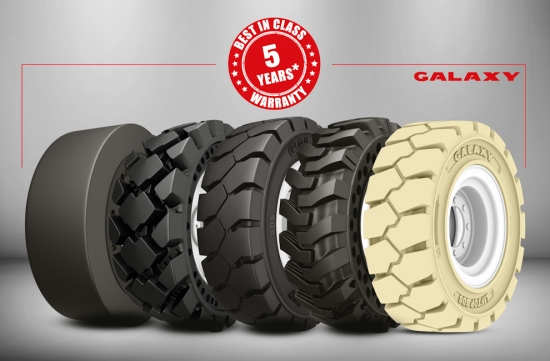 From the start of 2020, all Galaxy solid tyres come with a five-warranty. Announcing this extended warranty, Alliance Tire Group (ATG) comments that the Galaxy solid range thus enjoys "one of the longest warranty periods in the industry."
ATG considers the five-year warranty "a statement of confidence" in the tyres' quality as well as the expertise of its engineers. The off-highway tyre specialist also benefits from production skills and know-how from its parent company, Yokohama Rubber.
"We are fully committed to innovation, latest technology, and premium components, and we have enormous confidence in the resulting quality and reliability of our tyres. That is why we introduced this industry-leading five-year warranty standard for the entire Galaxy solid tyre segment for our customers as of 2020," says Angelo Noronha, president EMEA at ATG.
Galaxy's solid tyre range includes a wide range of patterns for various applications, including forklifts, skidsteers, wheel loaders, telehandlers and vehicles such as baggage carts. The new five-year limited warranty covers the 'Resilient' and 'Non-Marking' solid tyre lines that find favour with European customers as well as the 'Press-On' solid products that ATG sells in other parts of the world. The warranty is valid for 60 months from the date of purchase as of January 2020, confirmed by a valid invoice from the distributor/dealer to the end customer.
The warranty doesn't cover cases of improper handling and/or use (conditions apply). Furthermore, the warranty ends when the 60J safety line is reached on the sidewall of Resilient and Non-Marking tyres. In the case of Press-On tyres, the warranty only remains valid until the loss of up to two thirds of the original rubber height due to operational wear.