Packed AGM sees new-look IAAF council formed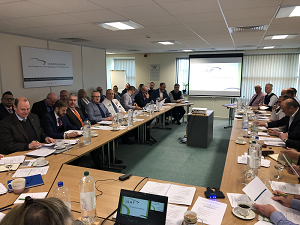 The Independent Automotive Aftermarket Federation (IAAF) has held one of its largest ever Annual General Meetings (AGMs) this week, which saw the formulation of a new look IAAF council for 2020-21.
Due to the growth in supplier members, IAAF Council decided to reflect this by increasing the number of available seats on Council. Nominations were therefore sought and ballots held to elect two new Component Supplier members and one person to represent the growing number of members involved in distance selling.
After a very close fought election, Lee Quinney from Banner Batteries and Mark Darvill from Traxx Tyres were elected to represent Component Suppliers and Terry Dorney from Online Automotive was elected onto Council to represent distance sellers.
Also joining the council as an independent distributor member is David Clarke from Autosupplies Chesterfield and Tony Stock from Marathon Warehouse Distribution, who takes over from Dr Richard Stock.
In addition, Richard Welland of WAIglobal has stepped down as Honorary Treasurer and will take up the position of Vice President, succeeding Terry Knox of CD Group as President at the 2021 AGM. Lawrence Bleasdale from TMD Friction has now assumed the role of Honorary Treasurer.
The IAAF Council is a voluntary group of aftermarket individuals made up of the Federation's representatives, including distributors, suppliers, buying groups, service providers and garages, who come together regularly to debate industry issues and IAAF policy, ensuring the independent aftermarket can continue to thrive and develop.
Wendy Williamson, IAAF Chief Executive said: "Thank you to everyone that attended our AGM and I would like to welcome both new and existing members to IAAF Council for 2020-21. We have an exciting agenda planned for the year ahead and look forward to championing the rights of the independent automotive aftermarket, both within the automotive sector and externally."
The composition of the IAAF Council for 2020-2021 will therefore be:
Lawrence Bleasdale, TMD Friction (Hon. Treasurer)
Chris Chapman, Moove Lubricants
David Clarke, Autosupplies Group
Neil Croxson, The Parts Alliance
Mark Darvill, Traxx Tyres
Terry Dorney, Online Automotive
Jonathan Eden, FPS
Bruce Grinsted, Partservice
Andy Hamilton, Euro Car Parts
Simon Haynes, Midland Vehicle Components
Martyn Houghton, ZF TRW
Joe Howard, Boswell Aftermarket
Dan Joyner, First Line
Kevin Kelly, Robert Bosch
Terry Knox, CD Group (President)
Craig McCracken, Autoparts UK
Darren Miller, Truck & Trailer Components
Louisa Mitchell, RRD Automotive
Nigel Morgan, Schaeffler Automotive Aftermarket UK
Al Preston, Whocanfixmycar.com
Lee Quinney, Banner Batteries GB
Andy Reynolds, A J Reynolds
Steve Richardson, Alliance Automotive Group
Tony Stock, Marathon Warehouse Distribution
Richard Welland, WAIglobal (Vice President)
Tim Whittaker, Leamoco