Autotech Recruit celebrates 10th anniversary with rebrand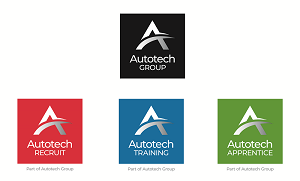 Ten years after its inception, Autotech Recruit has started the new decade by announcing an enhancement to its management team and a company rebrand, which will cement its status as the leading employment solutions provider for the automotive industry.
The company has moved to larger premises, reflecting its increased headcount and onsite training provisions, and increased the management team in line with business growth. The existing divisions of the company – Autotech Recruit, Autotech Training and Autotech Apprentice – have now been repositioned under an umbrella group – Autotech Group.
The new company branding now clearly defines each of these three divisions under the Autotech Group, as a modern, professional brand family synonymous with the sophistication of the company's offering. Easily identifiable, each logo will stand out across the many marketing channels the company uses to reach its clients, and the entire automotive industry.
Under the new corporate structure, the three founding members of the company make up the executive board with Andrew Sly becoming CFO, Stephen Hughes, COO, while former Managing Director, Gavin White now heads up the company as CEO.
Simon King, who initially joined Autotech Recruit last year as New Concepts Manager following almost 20 years with Kwik-Fit, takes over as Managing Director of the recruitment division. A well-known figure within the automotive industry, King was brought on board to drive company strategy, and forge new partnerships within the automotive aftermarket and with OEMs.
Under King's direction as MD, a core team of recruiters will continue providing the UK's automotive industry with temporary vehicle technician and MOT tester cover through its unique network of contractors, who filled over 370,000 hours for the industry last year alone, while also driving the permanent side of the business.
Focus will also be on equipping Autotech Recruit's growing network of over 450 contractors with further training and technical information which will boost their employability.
"Temporary recruitment is a core element of our offering, as it was the catalyst for the establishment of the company," Simon King explains. "However, over recent years the company has responded to industry demands for recruitment, both temporary and permanent, training and apprenticeships by creating separate divisions. Now, due to the individual success of these divisions, the company is strengthening the teams behind each and providing greater provisions, which will fuel further growth as we enter a second decade in business."
Currently working with over 80 per cent of Motor Trader's Top 200 dealerships, Autotech Recruit has launched several initiatives in response to demand from OEMs and dealerships. From the launch of its Manufacturer Led Programme, supplying manufacturer trained vehicle technicians on a temporary basis to the UK's authorised repairers, to its bespoke recruitment process outsourcing solution, Hybrid RPO, delivering multiple technicians across multiple sites – potentially saving an automotive company or OEM up to 74 per cent of its permanent recruitment costs per year.
This initiative is testament to Autotech Recruit's ability to create cost saving, efficient solutions to meet the employment needs of the industry.
Running parallel to Autotech Recruit are Autotech Training and Autotech Apprentice. Stephen Kirk, who was previously National Sales Manager, has become Managing Director of these two divisions.
Mandla Ndhlovu will remain as Head of Training & Apprentice. "The Training and Apprentice divisions of Autotech Recruit were originally developed as part of the company's organic growth in line with industry demands," Kirk explains. "However, with garages increasingly seeking skilled workers coupled with the progression of vehicle technology, it is vital that all technicians have access to high quality training and, for younger generations, apprenticeship programmes which will ensure the future of the industry is sustained."
Last year alone Autotech Training delivered 287 days of training and, with training partnerships already established with leading providers including Bosch and ZF Training and further partnerships in the pipeline, Autotech Training is setting out an ambitious plan which will see them double the size of this over the course of 2020.
Significantly, the company's new offices within Milton Keynes, a city which is renowned for being a hub for leading automotive companies, will feature a dedicated training suite.
"This is an exciting time for the entire company," CEO, Gavin White concludes. "We founded Autotech Recruit in 2010 after seeing first-hand the effect the skills shortage was having on the industry. We have developed strong ties with leading automotive companies and associations which has enabled us to stay on top of the issues facing the industry, while creating solutions to support them. As the industry continues to evolve, we, as a company, tailor our approach to suit, and we are now looking forward to our next successful chapter."