Anger amongst Fintyre Group's workforce in Germany: "They're dealing with people, not numbers"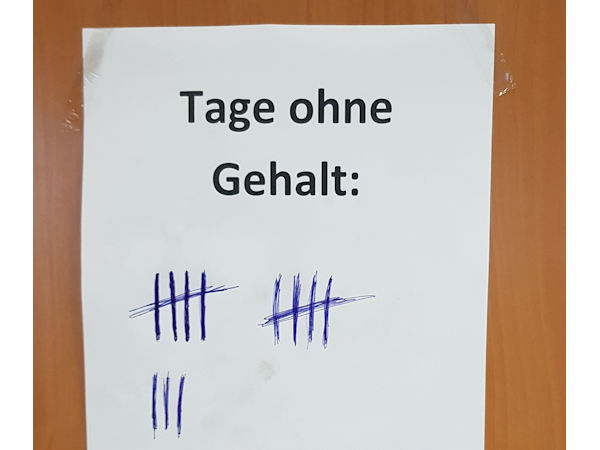 They are resigned, angry and desperate. But above all, they're disappointed. Disappointed that they weren't informed about the bankruptcy by their employer Fintyre, but by the media. Our sister publication in Germany, Neue Reifenzeitung, has spoken with staff at TyreXpert Reifen + Autoservice outlets in the north of the country to gain an insight into the mood of the workforce.
An employee sits at his office desk. The phone keeps ringing. Again and again he has to turn customers away. He doesn't have the right tyres in stock. His contact to the tyre wholesaler RS Exclusiv was cut a week ago. He can no longer reach anyone there by phone. E-mails don't get through, either. "The worst thing about the whole situation is our cluelessness. We are in the dark here and nobody tells us what to do next." The man, an old hand in the tyre business, still receives sufficient orders, but in some cases he's already advised customers to get in touch with the competition. "If I don't help them, they'll be gone later anyway. Therefore by being open with the customers I hope we'll retain them in the long term." He adds: "Our competitors are now making strong moves to entice our customers." And not just customers – they're snapping up employees as well.
When the money failed to arrive at the end of January, he gathered his staff together and asked them if and how they'd manage their finances during the coming month. "Some are able to bridge a month, others needed an advance in order to at least be able to buy groceries." A branch manager of another outlet said "there are people who can no longer pay their rent, have no money for food and can no longer sleep at night." Other employees complain about the lack of information coming from management and remind those in charge that "they're dealing with people, not numbers."
A sign at the entrance informs customers that due to "technical problems" within the Fintyre Group, the TyreXpert branch isn't currently allowed to sell tyres, spare parts or any service. Another piece of paper hangs on a cupboard in the office. Here the employees keep a tally of the number of days the January salaries and wages are overdue. There were 13 bold blue lines at the time of Neue Reifenzeitung's visit. Now there are more. The employees keep themselves busy by cleaning up the workshop. The branch manager is angry: "You wouldn't believe how many phone calls I take here every day. People come with trailers and want their stored tyres back because they're afraid their tyres will become tied up in insolvency measures. It's a funny feeling: We don't yet officially know that we're insolvent and there are Facebook groups where it's posted: Get your tyres out of there."
Instead of striving to keep uneasy customers onside, he'd normally be preparing for spring and the German motorists' seasonal change to summer tyres right now. "But I don't know what's going on. I don't have tyres and I don't know when I'll have any again. Our good reputation will be ruined if this continues." What annoys him perhaps most of all is that "the people who brought us into this situation are beyond our reach. They've fled to Italy and left us in the dark."
Some of the workforce would have liked to have visited RS Exclusiv's headquarters and personally asked managing director Francesco Saccani about the current situation: "But he's long gone. Apparently he returned once to lock up his office before flying to Italy," report various branch managers.