UK car drivers increasingly interested in all-season tyres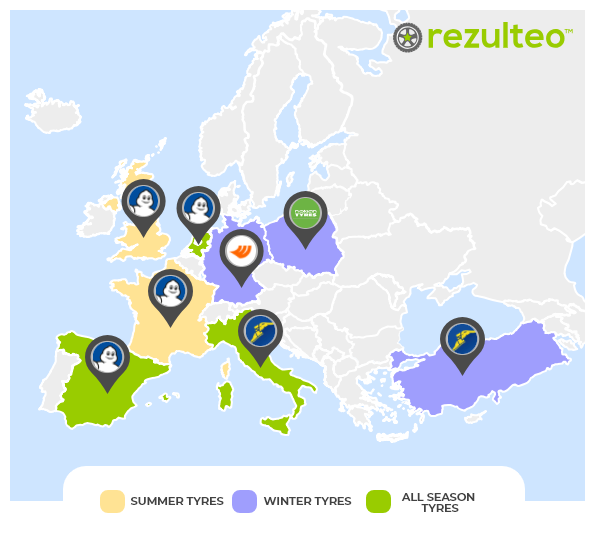 Evidence from a number of market research sources concurs – increasing numbers of motorists are choosing all-season tyres for their cars. The first indication came from GfK data, which compared the percentage growth of all-season tyre sales reported by its UK panelmarket (in terms of volume and value) in 2018 with seasonal tyre sales during 2019. Winter tyre sales volumes were down 1 per cent last year. During the same period, winter tyre values fell three times faster (down 3 per cent).
However, all-season tyre sales have shot up in recent years. And in 2019 they sky-rocketed 19 per cent in terms of value and 13 per cent in terms of volume (completely against the general whole-market trend).
Rezulteo's figures tell a similar story. Every quarter, ŗezulteo compiles and analyses statistics from its tyre comparison tool. The 4th quarter of 2019 saw Internet users turn to all-season tyres. And what's more, the Rezulteo data suggests this is a trend that appears to be "spreading across tyre markets in Europe".
Rezulteo reviews the user behaviour on the market-specific country pages from Spain, France, Italy, Turkey, the Netherlands, the United Kingdom, Germany and Poland in order to get a first-hand insights into the search behaviour of tyre buying customers.
From October to December 2019 the majority of rezulteo users in the UK chose summer tyres (42,8 per cent), closely followed by all-season tyres (42,5 per cent).
In the UK there is no legislation that would make the use of winter tyres mandatory during winter weather conditions. So while winter tyre are indisputably the best tyres in winter conditions, this shows that all season tyres are becoming a key choice for consumers. Although it must be said the data relates to online consumers and so does note necessarily reflect the market as a whole.
The evaluation is based on the product selection made by Rezulteo users during the purchase process. And therefore, taken together, Rezulteo should be seen as an insight into consumer behaviour as opposed to a definitive answer to the questions of what consumers want and what they are buying.
All-season tyres also popular at WhatTyre.com
However, while the Rezulteo data should only be taken as indicative of what it samples, data from Tyres & Accessories' consumer-facing sister product WhatTyre.com tells a similar story.
At WhatTyre.com the Michelin CrossClimate and CrossClimate+ featured in first and fourth place respectively on the list of top five most viewed tyres at WhatTyre between December 2019 to January 2020. Two more were summer tyres, but – interestingly enough – the fifth most view product during this period was actually a winter tyre – the Continental WinterContact TS860S.
What about the rest of Europe?
Looking further across Europe (see picture), Rezulteo's data shows that all-season tyres are becoming increasingly popular in Spain (47 per cent), Italy (39 per cent) and the Netherlands (45 per cent) as well.
As in UK, the majority of French users preferred summer tyres (35 per cent). The remaining of them are divided between all seasons (31.6 per cent) and winter tyres (32.7 per cent).
In Germany (49 per cent), Poland (58 per cent) and Turkey (53 per cent), it is the more seasonal choice of winter tyres that prevails.
The most popular tyres online in the UK
Most viewed tyres at WhatTyre December 2019 to January 2020
Michelin CrossClimate+ (all season tyre)
Michelin Pilot Super Sport (summer tyre)
Michelin Primacy 4 (summer tyre)
Michelin CrossClimate (all season tyre)
Continental WinterContact TS860S (winter tyre)
Source: WhatTyre
Top 5 most selected tyres on rezulteo UK (October to December 2019)
Michelin CrossClimate+ (all season tyre)
Goodyear EfficientGrip Performance (summer tyre)
Goodyear Vector 4Seasons Gen-2 (all season tyre)
FirstPrice AllSeason (all season tyre)
Michelin Primacy 4 (summer tyre)
Source: Rezulteo
WhatTyre's data is based on viewing data from visitors to WhatTyre.com between 1 December 2019 and 29 January 2020. Here readers have access to over 240,000 different tyres from over 15,000 product lines.
According to the company, Rezulteo's data is based on 21,347 chosen tyres from the rezulteo websites in France, Germany, the UK, Italy, the Netherlands, Poland and Turkey for the period between 1 October and 31 December 2019.