All things to all riders: Dunlop's new Mutant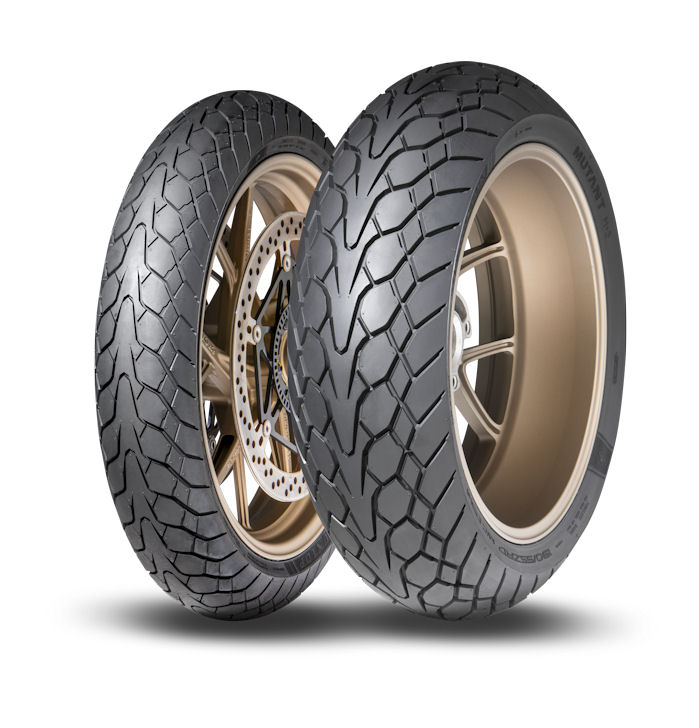 The latest Dunlop tyre to carry the name Mutant may deserve the moniker thanks to its ability to 'morph' into various segments of the motorcycle market. Owing its origins to a combination of knowledge gained in hypersport and touring tyres as well as technologies developed in wet-weather racing, the Dunlop Mutant range of five front and six rear sizes is positioned to "provide all-season, all-roads versatility" to over 370 different models of motorcycle, whether they be adventure bike, sport-touring, naked, retro or scrambler.
The tyre maker calls this fusion of innovations '4 Seasons technology' and explains that the name covers a mix of ply material, construction and compounds that have been designed to operate in tough climates, including harsh winter conditions. As evidence of its cold-weather capabilities, the tyre is M+S marked.
"Mutant provides riders with the kind of handling and stability expected from hypersport tyres, but combined with the very best grip in wet conditions this side of racing wets, as well as the kind of durability that you would expect from a touring tyre," comments Dmitri Talboom, product manager at Dunlop Motorcycle Europe. "Dunlop has vast experience with test-winning sports touring tyres like RoadSmart III, adventure bike tyres such as the latest Trailmax Meridian and performing at the highest level in wet races in Moto2 and the Endurance World Championship. Our development team fused this knowledge together to truly create a tyre for all seasons."
Dunlop's stated focus was to extend the range beyond typical crossover bikes such as the Ducati Multistrada and Yamaha Tracer to bring "crossover performance" to a vast array of models. "Increasingly, we are seeing scrambler, retro and naked bikes being used as all-season, all-purpose machines," Talboom elaborates. "Dunlop's research tells us that these riders are looking for a tyre that gives them the hypersport feel and handling but providing the confidence to enjoy the ride, whatever the weather. Dunlop Mutant delivers that unique crossover appeal."
The revised Mutant tread pattern combines aggressive-looking blocks with a dynamic directional design. This distinctive look has echoes of supermoto and dirt track tyres and is expected to make the Mutant a popular choice for special build bikes.