Trico and Mafco Autobar reveal 'perfect summer' promotion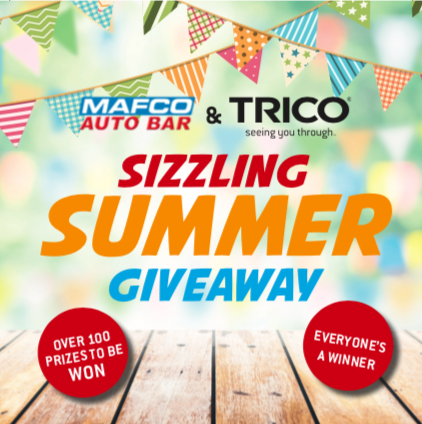 Trico has joined forces with Mafco Autobar to launch a sizzling summer giveaway, offering customers the opportunity to win fantastic prizes – perfect for the hot weather – and everyone's a guaranteed winner when they purchase Trico wiper blades via Mafco Autobar.
While sunny and hot weather doesn't lend itself to traditional 'wiper blade season', vehicles may still need their wiper blades changing to pass their MOT; Trico, therefore, is urging its customers to stock up, so when required and, of course, when the weather inevitably deteriorates, they'll be ready to go.
To thank them for their continued loyalty, Trico is hoping its customers can bask in the summer weather, accompanied by some of the prizes on offer, like a Weber barbecue, outdoor speakers, garden furniture, barbecue meat hamper, barbecue tools and crates of beer.
Trico senior brand and product manager, Sam Robinson, said: "Admittedly, during the hot weather, workshops won't be changing too many wiper blades, but they're still an integral part of a vehicle's MOT, so we advise that our customers maintain their stock levels in case they're required.
"We want to reward the customers that support us with prizes that'll make their summer even better – and after long hours working in factors, retail stores and workshops in this warm weather, what better way to relax than with a barbecue at home?"
With more than 100 prizes available, the promotion will run from the 29th July and end once all the prizes have been won! For every £200 of Trico stock ordered in a single transaction, the customer will receive a tote ticket with a guaranteed prize and will receive their reward with their next order.
All prizes must be claimed by 5pm on Friday 30 August.