Aiming for performance beyond current expectations – Triangle's latest tyres for Europe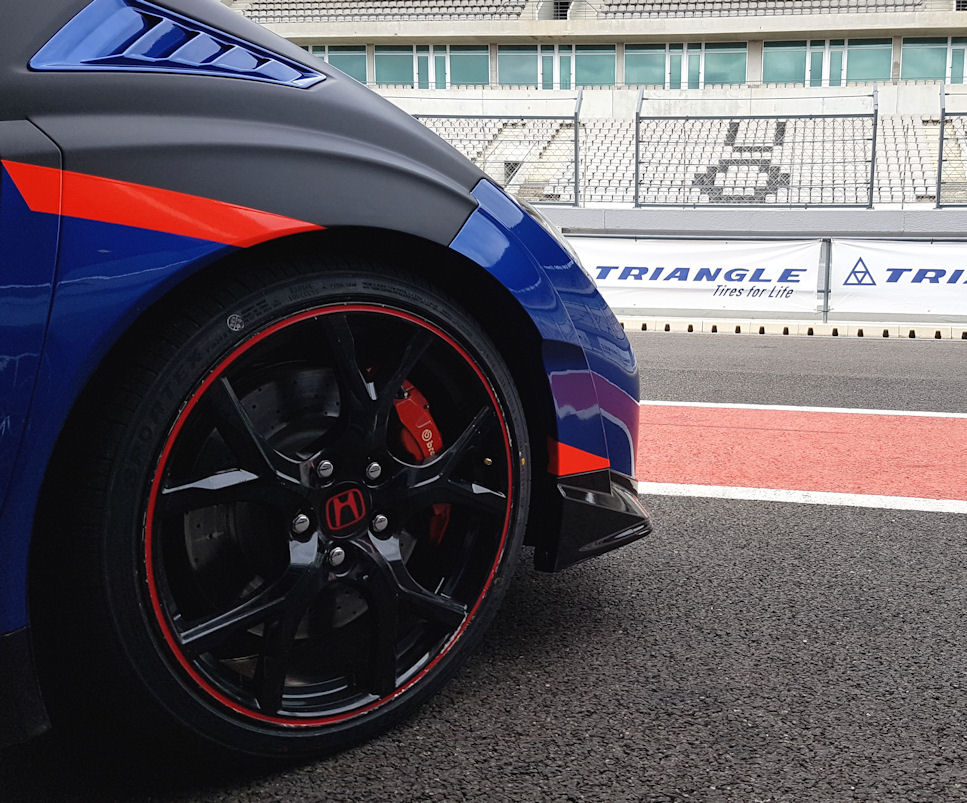 Key products in Triangle Tyre's new generation range for Europe came to market in the last quarter, and Triangle sees their introduction as something of a brand relaunch within the region. The arrival of these new tyre lines is accompanied by a rebooting of how Triangle presents its range as well as the promise of greater region specificity in future. We had the chance to find out more last week.
Drivers can now go out and purchase four of the five new generation products, and the last of the quintet will arrive in the coming weeks. We encountered all five at an event designed to familiarise distributors with the range; Triangle's Europe team invited its partners to 'kick the tyres' at the Algarve International Circuit in Portugal.
Triangle's 'generation X'
X marks the spot for the new Triangle range, with the names of all products ending with this particular letter. This system of naming is part of a shift towards making Triangle's branding more customer-friendly.
The SporteX is the most athletic member of Triangle's new European offer. Mirco Spiniella, business development director for Europe, introduced the latest SporteX as a UHP product that offers "a good balance between driving pleasure and prevision." He singled out safety as the development priority, noting that the SporteX is a "very predictable" tyre.
The SporteX TH201, to use the new model's full name, features an asymmetric tread pattern. Triangle says this provides "balanced performances in both dry and wet conditions." Intended for fitment on high-end cars and SUVs, the SporteX is available in more than 60 dimensions; PCR sizes start at 16-inch and go up to 22-inch, while the SUV range covers 17- to 24-inch rim diameters. V, W and Y speed rated versions are available.
Most people don't drive a high-end vehicle, and Triangle wants to sell tyres. It therefore needs a volume model for Europe – and this is the AdvanteX. Triangle says the tyre is perfect for motorists looking for a balance of performance and safety. "AdvanteX is the core of our PCR offer," Spiniella comments. "It is a very balanced tyre, very quiet and enjoyable to drive on."
Testing of the AdvanteX TC101 shows improved braking distances over its predecessor tyre; the tyre maker speaks of an 18 per cent improvement on wet surfaces and nine per cent in the dry. The AdvanteX is available in 31 dimensions for cars with 15- to 17-inch rim diameters. Speed ratings start at H and, in a couple of sizes, go up to Y.
Triangle's volume product for SUVs is the AdvanteX SUV. Designed to meet growing demand for a quality tyre in Europe's fastest developing vehicle segment, AdvanteX SUV is available in 31 dimensions ranging from 235/70R15 to 255/50R19 and H to Y speed ratings.
For Triangle, the new SUV tyre represents "a key development" in its product portfolio. It lists the main performances of the AdvanteX SUV as "excellent adherence and driving control on dry and wet roads, better acoustic comfort and superior handling."
Those wanting an all-terrain tyre will have to wait a little while for the arrival of the AgileX AT. But a dedicated off-road 4×4 product is already available. This is the GripX MT, and Spiniella calls it a "very tough mud terrain tyre." Capable of traversing steep inclines and a range of surfaces, the GripX MT is helped on its way by a reinforced shoulder block design that features large, oblique grooves.
All-season tyre for Europe
The tyres we've mentioned so far were developed by Triangle's R&D team in China and adapted for European tastes. This isn't the case with the fifth member of generation X. Spiniella explains why: "Having an all-season range is a must. We wanted to get it absolutely right and didn't feel that the Chinese R&D team had sufficient experience developing this kind of tyre." For this reason, Triangle Tyre developed the new SeasonX with Finnish specialist Black Donuts.
Various flavours of all-season tyre exist, from winter wunderkind to fair weather friend. Triangle decided to adopt an approach similar to that of a well-known French tyre maker and developed a summer-oriented tyre with winter capabilities. The SeasonX features a directional, v-shaped tread pattern and a silica compound for optimal wet braking as well as traction on snowy and slippery roads.
Testing performed at the IDIADA facility in Spain compared the SeasonX's wet braking performance with that of an all-season tyre from a "leading Chinese manufacturer" and a European segment leader of Gallic provenance. Spiniella was pleased to report that the SeasonX stopped a full seven metres before the Chinese tyre, and just two metres after the premium European rival. "We're aiming for performances that are beyond current expectations for our tyres," he comments.
We only want tyres that will succeed here
Triangle tests in Europe every year, both at IDIADA and in Finland; it works with consultant specialist Ray Collier from TREAD (Tyre Research Engineering Development), with Collier's feedback influencing the fine tuning of tyres. Collier was closely involved in adapting the latest Triangle products to European tastes and he also had a hand in developing the three to four new tyre lines – including a winter tyre – that will be launched next year.
Triangle aims for greater regional specificity in future and will develop more tyres exclusively for Europe, but some products will continue to be developed at the company's headquarters in China. Corrado Moglia, Triangle Tyre's general manager for Europe, comments that when his team receives and tests tyres dispatched from China, they send back any they don't consider suitable for European conditions. "We only want tyres that will be successful here."
Triangle is so confident of its tyres' performance that in some markets – Moglia mentions Italy, France and Poland – it offers customers the chance to return their tyres within 15 days, no questions asked, if not entirely satisfied. So far, only ten returns have arisen from more than 1,000 product registrations.
As mentioned before, the introduction of the generation X tyres marks a change in how Triangle names its European market products. Thumb through a past catalogue and you'll be confronted by an assortment of letters and numbers that resembles a list of vehicle number plates. Moglia says this will change.
"The naming convention was all numbers in the past. We're making it more relevant to the segment. We want to make it simpler for partners and retailers to sell our products. Our tyres will be given names, and going forward the numbers after these names will have more meaning. Our tyres will never just be known by a number."
Chinese car makers key to OE
The new generation X range are only offered as replacement tyres, and Triangle has no intention of courting European vehicle manufacturers. Yet this shouldn't be interpreted as a lack of interest in original equipment business. Wayne Foster, who works for Triangle Tyre in China as its general manager of global marketing, explained why we'll see Triangle tyres as OE on cars in the not too distant future.
"Our current focus is upon OE in China. That is a start for us, Triangle will start with OE at home. But we see that Chinese vehicles will come to Europe, as the Koreans did – but more so. Chinese car makers will go global. With their economies of scale, they'll beat everyone's cost base." Foster opines that China, already the clear frontrunner for vehicle manufacturing, will become "a monster in car production" over the coming one to two decades. Triangle's hope is that cars this 'monster' makes will wear its tyres when they arrive in Europe.