Farmer reports "impressive strength" of Michelin AxioBib 2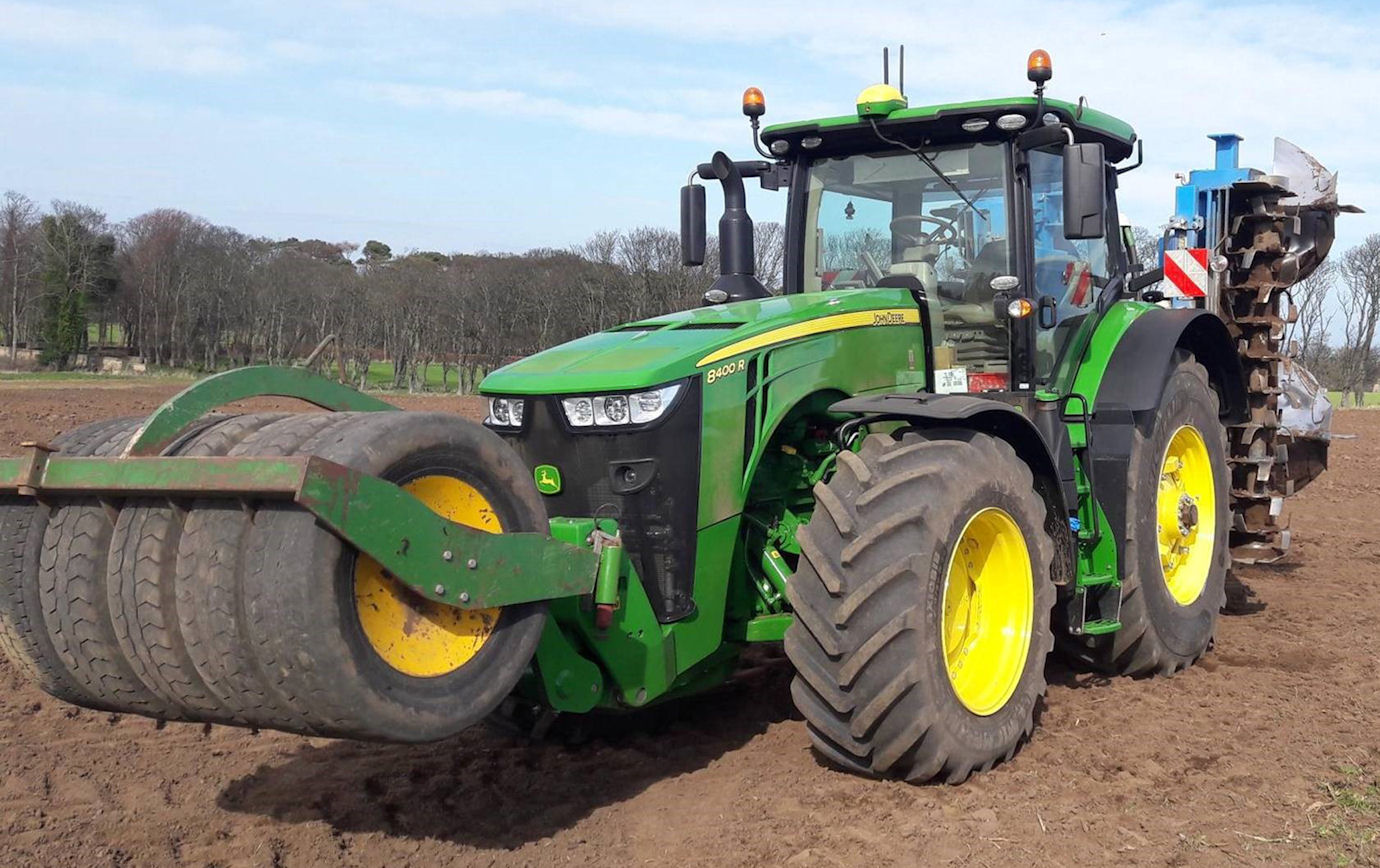 East Lothian-based J Haig Hamilton & Sons is reaping the rewards after becoming the first farm in Scotland to fit the latest size in Michelin's growing AxioBib 2 tyre range. Haig Hamilton invested in a new John Deere 8400 from dealer stock, but knew the 900mm width of the original equipment rear tyres wasn't suitable for the root-crop farming operation on the more than 3,000 acres of land he oversees.
Taking advice from Michelin account manager Tony Powell, Hamilton replaced the rear tyres with a pair of Michelin's new VF 650/85 R42 AxioBib 2 183D/180E fitments. "Tony explained these new tyres had just been launched and would be ideal for our work. We're pretty sure we are the first farm in Scotland to have them in service," he says.
Michelin's AxioBib 2 is designed to provide excellent traction for high-horsepower heavy farm machinery. These tyres can run at very low pressures, minimising soil compaction and crop damage in the field – making them ideal for ploughing, drilling and cultivation. The new tyres were supplied and fitted by local Michelin Exelagri dealer Redpath Tyres – which paired them with the existing IF 650/60 R34 165D Axiobibs on the front axle.
"The feedback from my drivers is all hugely positive," adds Hamilton. "I thought I would have to go for at least a 710mm tyre or upwards, because the implement on the back of the tractor weighs just shy of five tonnes. But these 650s have got a much deeper sidewall and they can even carry more than the 710s I was looking at. The sheer height of the sidewall and the strength of the tyres is seriously impressive.
"They have transformed the tractor and it means we are now getting the maximum performance from our investment, and with the minimum impact on the land."
The launch of the AxioBib 2 range enables Michelin to offer an Ultraflex technology tyre for all high-horsepower tractors, complementing the existing XeoBib and AxioBib products. Now available in ten sizes, the new AxioBib 2 tyres can carry considerably more weight than standard tyres of the same size. The tyres also stand out for their Narrow Rim Option (NRO) markings on the sidewall, which denote their higher load capacity without the need to upgrade to wider wheel rims.