Continental bosses lay foundation stone for new HQ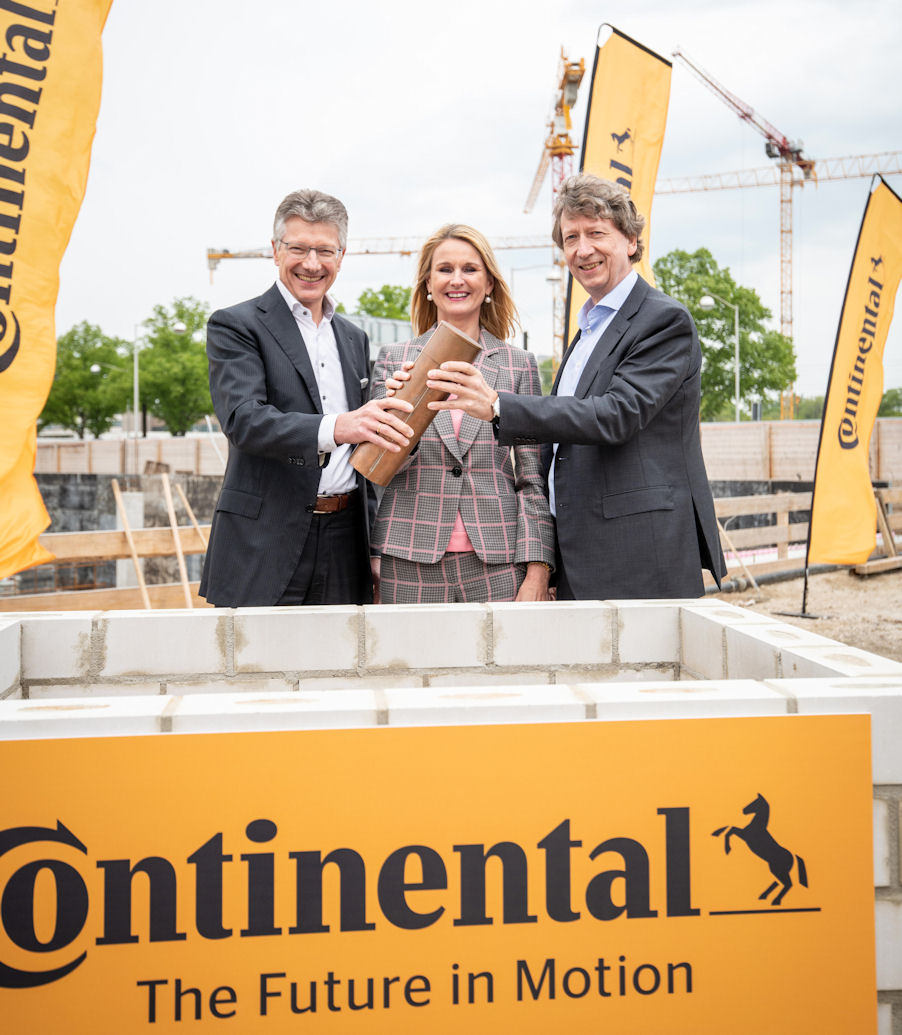 The foundation stone for Continental's new headquarters in Hannover, Germany is now in place, and the company says its construction project is on schedule. Chief executive officer Dr Elmar Degenhart and Executive Board members Dr Ariane Reinhart and Wolfgang Schäfer hosted a ceremony to mark the occasion at the construction site last Wednesday.
A highlight of the occasion was the placing of a copper time capsule containing a piece of rubber from a Continental tyre production facility, the latest Continental employee magazine and the core component of an electric vehicle electronics system within the foundation stone – Continental chose the capsule's contents to represent the company's "roots and future."
"The automotive industry is undergoing the biggest change it has experienced since its inception, and we are doing our bit to shape this change. In doing so, we are undergoing our own change," said Degenhart at the ceremony. "In the future, we will work and collaborate differently. We will give our employees greater flexibility. We will help them to organise their own working patterns and collaborate across divisions.
"To achieve this, we will be optimising their workplaces," Degenhart continued. "Our corporate culture and our four values are the foundations for this. It is on the foundations of our corporate culture that we are constructing our new company headquarters. Its architectural design is open. It will have connecting sections and areas where people can get together, just as cities have their streets and plazas. And just as cities have houses, our new headquarters will have areas for retreat and concentration. This is how we promote networked, flexible and trust-based work and our spirit of togetherness."
The shape future work at Continental will take wasn't a subject explored in depth at the ceremony, however Ariane Reinhart says the company has selected an open and interconnected design for its new headquarters that encourage "agile and flexible team collaboration and cross-divisional communication." Green spaces, a health centre and an in-house day-care centre are further elements intended to enable employees to find a healthy balance between work and leisure.
Construction of the basic structure for the new global headquarters began in March 2019 and the first few basement walls are already in place. Completion of the basic structure is to be celebrated at a topping-out ceremony scheduled for later this year or early 2020, while final completion of the entire building is scheduled to coincide with Continental's 150th anniversary of in 2021. The multi-building site will be large enough for 1,250 employees, with reserve space available to increase capacity to 1,600.