Trelleborg displays new industrial tyre compounds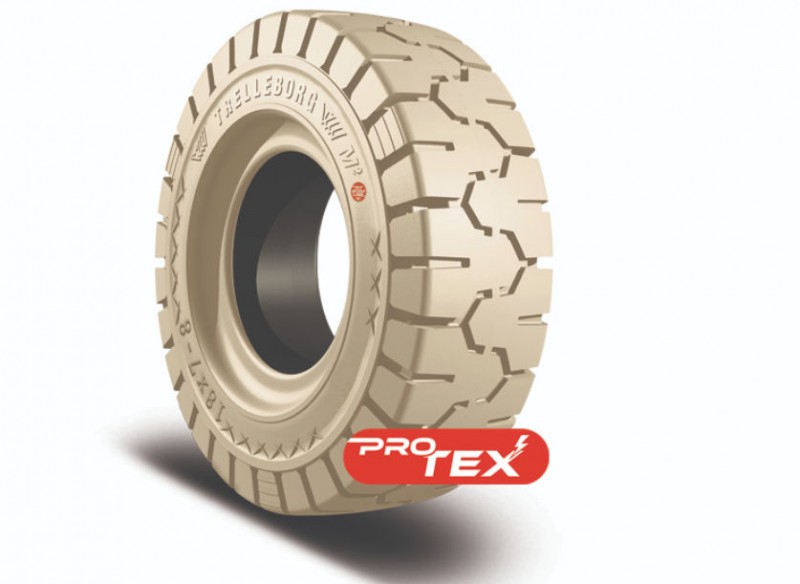 Three new Trelleborg industrial tyre compounds were shown at last week's ProMat 2019 show in the USA. Trelleborg Wheel Systems says all are designed to provide users with increased productivity, safety, sustainability and value. The compounds are: ProTEX, an electrically-conducting, non-marking compound; ProHD – a heavy duty compound for increasing load capacity; and Heat Shield – a flame-retardant super premium compound.
We first saw ProTEX at the CeMat exhibition in Germany last year. ProTEX is an electrically-conducting, 100 per cent non-marking compound that is engineered for use on materials handling applications operating in potentially explosive environments. Compliant with EN1755 safety regulations and safer than fixed earthing strips, the ProTEX compound allows for material handling equipment to be used safely in applications where this is flammable gas, vapor, or dust. ProTEX is also available with the Pit Stop Line feature, the Trelleborg Wheel Systems unique innovation that indicates to operators and fleet managers when it's time to replace tyres.
The new heavy-duty compound, ProHD, is designed to boost operational efficiency by increasing the load capacity by as much as 15 per cent for material handling applications. ProHD also increases driver safety as it is engineered to enhance truck stability and prevent overloaded tyres from cracking or melting. Restricting heat build-up in the tyre, the ProHD improves fuel economy/battery life. Like ProTEX, ProHD is also available with the Pit Stop Line feature.
The new flame-retardant Heat Shield tyre compound is designed to withstand the highest temperatures, eliminating the need for expensive tyre protection chains used in applications in the metal processing industry. Trelleborg says users will realise significant savings by eliminating downtime associated with the fitting and maintenance of chains. Suitable applications for Heat Shield include wheel loaders, aluminium tapping vehicles, bath tapping vehicles, cavity cleaners, crust breakers and furnace charging vehicles.
"Trelleborg is proud to showcase these new tyre compounds at ProMat2019," comments Ydo Doornbos, managing director of Trelleborg Wheel Systems in the Americas. "Our company continues to lead the industry in innovative tyre technologies that help users realise the highest quality, and lowest cost of ownership in the industry."