Trelleborg non-marking tyres gain conductivity with ProTex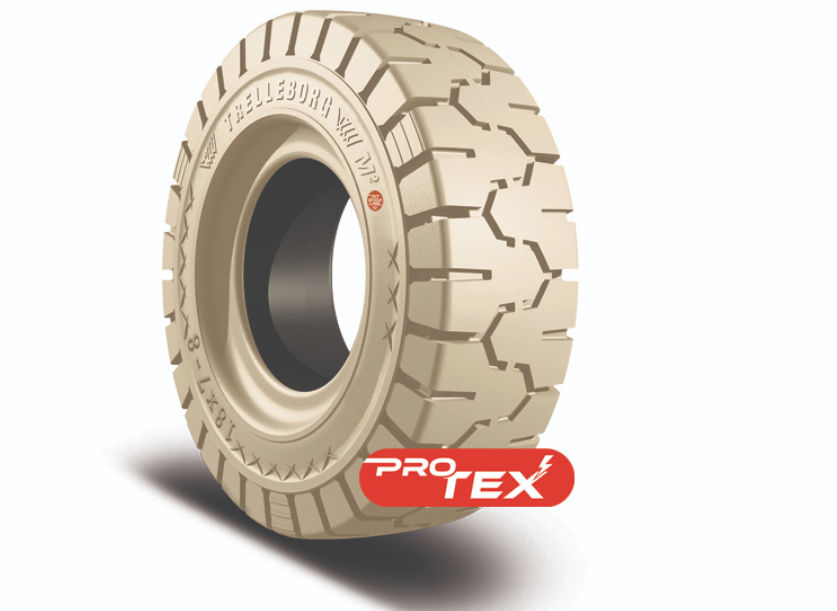 A new tyre compound from Trelleborg bestows electrical conductivity upon its non-marking material handling tyres. ProTex is compounded using materials fully compliant with the EN1755 regulation, and Trelleborg says the ProTex compound improves standards for material handling operations and protects operators against the risks related to static electricity.
Trelleborg first presented the ProTex solution at the CeMat exhibition in Germany in April and claims to be the first manufacturer to "offer a fully non-marking resilient tyre produced from an anti-static compound." A tyre featuring the ProTex compound was displayed at CeMat as part of an electric circuit displaying an LED light, demonstrating the tyre's electrical conductivity.
"The intensity of material handling applications operating in potentially explosive environments is a key challenge. Being in control of this maintains the safety of both machine and its operator, as well as ensuring material handling operations runs smoothly," said Gianluca Abbati, director R&D Material Handling and Construction at Trelleborg Wheel Systems. "What makes the ProTex compound really special and unique is the fact it is 100 per cent anti-static due to its unique polymer recipe. Static electricity is continuously released at any point of contact between the tyre and the ground while at the same time eliminating risk of marking. Our designers took into consideration the high intensity of forklifts jobs and created a solution that is EN1755 compliant.
"Providing an effective, plug-and-play solution, it can effectively upgrade the safety of material handling applications where non-marking is a critical requirement," added Abbati.
The ProTex compound will gradually be available on Trelleborg non-marking material handling tyres that also feature Pit Stop Line. To start with the ProTex innovation will be introduced on resilient tyres, the most popular type of material handling tyre in Europe. Going forward, the option will be extended across the entire Trelleborg material handling tyre range.