Tyre test shows premium brands' technological leadership is shrinking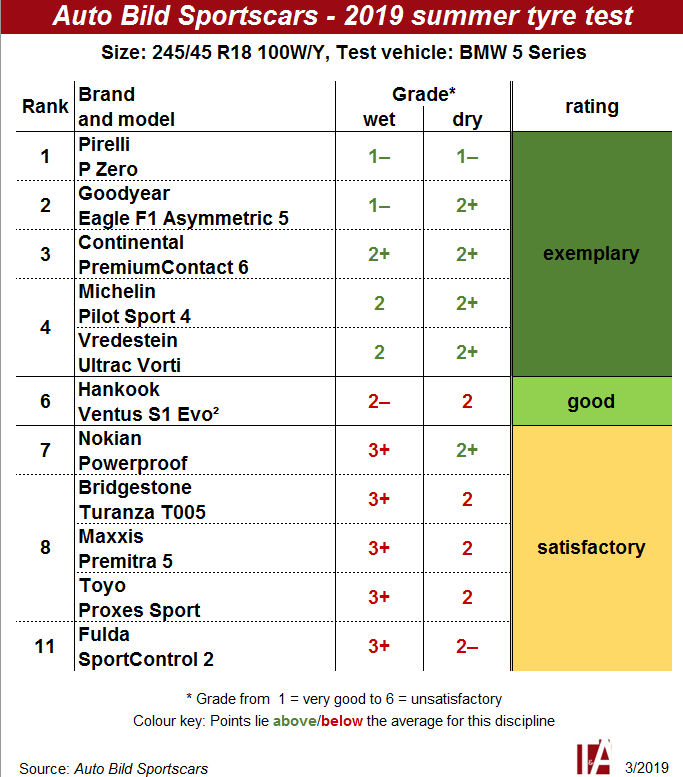 Another tyre test from the Auto Bild family of magazines. This time, Auto Bild Sportscars has looked at 11 products in the size 245/45 R18 100W/Y. The exercise was happily free of major dramas, with testers Henning Klipp and Dierk Möller not reporting any serious safety issues amongst the candidates.
A BMW 5 Series was pressed into service for proceedings. As usual, the test included various measures of handling and braking in wet and dry conditions as well as environment-related qualities such as rolling resistance and noise. A nod to the publication's sporting flavour was also seen in its subjective evaluation of driving pleasure.
Victory belonged to the Pirelli P Zero. The testers described the tyre as flawless, praise heaped upon it on the basis of excellent handling qualities on wet and dry surfaces, precise steering behaviour with exemplary response, short wet and dry braking distances plus good reserves of safety during aquaplaning. This performance resulted in the P Zero being labelled an 'exemplary' tyre, a rating it admittedly shared with several other tyres.
The Goodyear Eagle F1 Asymmetric 5 finished as runner-up. As you'd expect from tyres sharing Auto Bild Sportscars' highest rating, testers Klipp and Möller only found minor shortcomings with the Goodyear tyre. These were a "slightly raised rolling resistance. It was a similar story with the third-placed Continental PremiumContact 6, which only tarnished an excellent result with "slightly elevated road noise." Two other tyres were also rated 'exemplary', the Michelin Pilot Sport 4 and Vredestein Ultrac Vorti. The main criticism levelled against the Michelin product, besides price, was "average lateral control on wet surfaces." High rolling resistance detracted from the Vredestein tyre's otherwise strong performance.
Just one tyre received a 'good' rating. This was the Hankook Ventus S1 Evo², which was credited with "good reserves of safety during aquaplaning, balanced wet and dry handling, short braking distance on dry surfaces and quiet road noise." It's likely the Hankook tyre didn't progress above sixth place due to less than impressive lateral control and a slightly extended stopping distance in the wet.
The remaining five contenders all gained a rating of 'satisfactory' from Auto Bild Sportscars. The Nokian Powerproof finished in seventh place, having been marked down for just satisfactory grip and modest lateral control, with a tendency to understeer, in the wet, combined with an extended wet braking distance.
Eighth place was shared by three tyres: The Bridgestone Turanza T001, Maxxis Premitra 5 and Toyo Proxes Sport. The Bridgestone tyre was found to deliver "delayed steering response and understeering driving characteristics on wet and dry surfaces," and its stopping distance in the wet was too long. The Premitra 5 gave "moderate grip on wet surfaces, understeering driving behaviour and extended braking distances in the wet, delayed steering response on dry roads." Cons for the Toyo Proxes Sport were a "marked understeering driving behaviour and extended braking distances on wet surfaces" together with limited levels of comfort and raised rolling resistance.
Following the trio in 11th and final place was the Fulda SportControl 2. Called an "affordable branded tyre with fuel-saving rolling resistance and quiet road tyre/road noise," the Fulda tyre nonetheless lost points for its weaknesses. These were "moderate levels of grip on wet and dry surfaces, delayed execution of steering commands and slightly extended wet braking distances.
Summarising the 11 candidates' performance, Klipp and Möller wrote that the "top brands' technological leadership compared with the remaining tyre makers" has shrunk. That said, the pair concede that "top quality in regards to driving dynamics" can still be obtained at a price.