Giti Tire sponsored Team Oliver Racing secures 3 one-two finishes at Zolder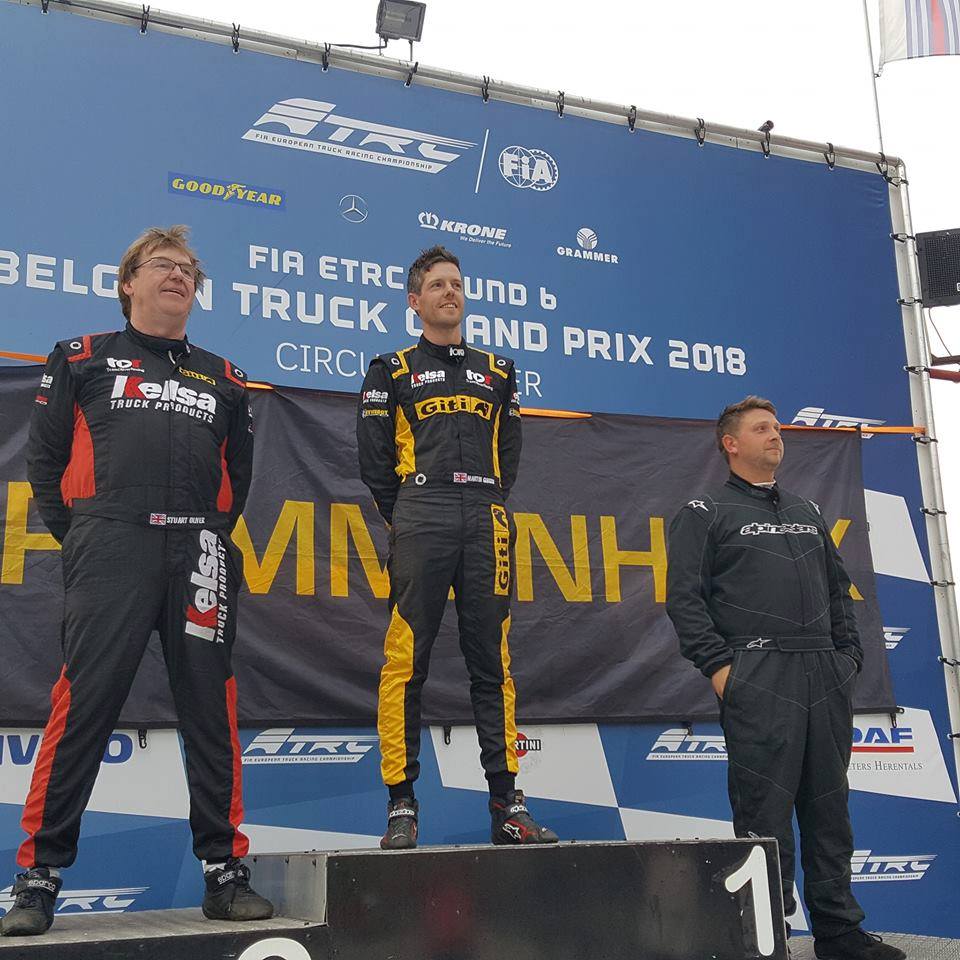 Giti Tire sponsored Team Oliver Racing secured three one-two finishes in four races at the Truck Grand Prix at the Zolder Race Circuit, Belgium. In race one British and European Truck Racing Champion Stuart Oliver finished first with Martin Gibson, manager EU Testing Centre & Motorsport UK for Giti Tire, securing his inaugural podium finish in second. In the following race the team achieved the same result having started from the back of a reverse grid on the narrow and twisty four kilometre circuit. The third saw Oliver victorious again before race four when Gibson went on to win his first-ever truck race, this time with his teammate just behind.
Team Oliver Racing race a bonneted Volvo VNL and a Scania P1100, which both weigh in at well over five tonnes each and produce in excess of 1,100 BHP.
The trucks run on 315/70R22.5 Giti Race-Tuned v1 tyres which have been specially designed with an even pressure distribution and footprint optimisation assuring competition cornering and braking performance.
Design features include unique outside and inside shoulders, two longitudinal grooves and advanced sipes shape, orientation and distribution, while the racing compound has a special polymer for better grip, distinct functional resin for better handling and CB/silica blending for increased tear resistance.
Tony McHugh, TBR sales and marketing director UK at Giti Tire, said: "To begin with many congratulations to Stuart and Martin – and the whole Team Oliver Racing crew – for what can only be described as an amazing achievement. Three one-two finishes cannot have happened many times in a single truck race meet.
"The Giti Race-Tuned v1 has proven itself to be an exceptional tyre for many of the teams in this year's BTRC series and is proving the quality of research, development and manufacture of our tyres and in particular the strength and resolution of our casings.
"With the adjoining marketing and promotion of the series this has been an excellent partnership on many levels."
The Team Oliver Racing agreement marks Giti Tire's first involvement in truck racing in Europe and is part of the overall strategy to use extreme motorsport conditions to improve their everyday tyres through research and development.
The penultimate round of the BTRC is held at Pembrey on 13-14 October, with the final meet of the season at Brands Hatch on 3-4 November.