Daniel Lloyd crowned inaugural TCR UK champion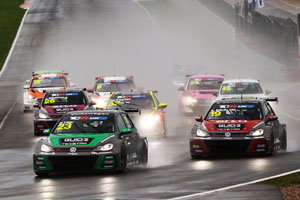 The inaugural TCR UK Championship, backed by tyre supplier Yokohama, has been won by WestCoast Racing's Daniel Lloyd following a thrilling climax in challenging weather conditions at Donington Park.
Both races were shortened due to weather. Race one saw Lloyd ease into the lead in his Volkswagen Golf GTI, following a prolonged scuffle between Andreas Bäckman and Josh Price. With Lloyd's only title rival Oliver Taylor falling back in slippery conditions and an unfortunate retirement for Josh Price, he took the chequered flag with an impressive 16.782 second advantage.
In race two, JP Racing's Josh Price took his first victory with a blistering comeback in treacherously wet weather conditions, which saw highly competitive action between drivers throughout. Stewart Lines of Maximum Motorsport put on a superb defensive performance, fighting his way to securing second position, whereas Daniel Lloyd recovered from early contact with Lewis Kent and other setbacks to complete the podium in third position.
After 14 races, the final standings of the series have Lloyd as champion with 514 points, Taylor in second place with 453 points, and Andreas Bäckman in third with 408 points.
Champion Daniel Lloyd said: "I'm just over the moon. It's felt like such a long summer; we made a good start, but with a few things like ballast, penalty points and a failure at Croft, it started going the other way. But I kept positive, kept focused and just did everything I could and put everything into it. The team at WestCoast Racing have been faultless, I owe it all to them and I wouldn't have had this opportunity without them."
Mark Evans, head of motor sport at Yokohama HPT, said, "What a fantastic first season for TCR UK. We couldn't have hoped for more entertaining and competitive inaugural championship. Yokohama is delighted to have supplied the tyres for the series and wishes to congratulate all the teams on their results. We hope that our connections with other European series and the WTCR will act as a stepping stone for Dan and the other racers for the 2019 season, and we look forward to TCR UK 2019."