"A safe and cost-effective alternative" – Auto Bild tests all-season tyres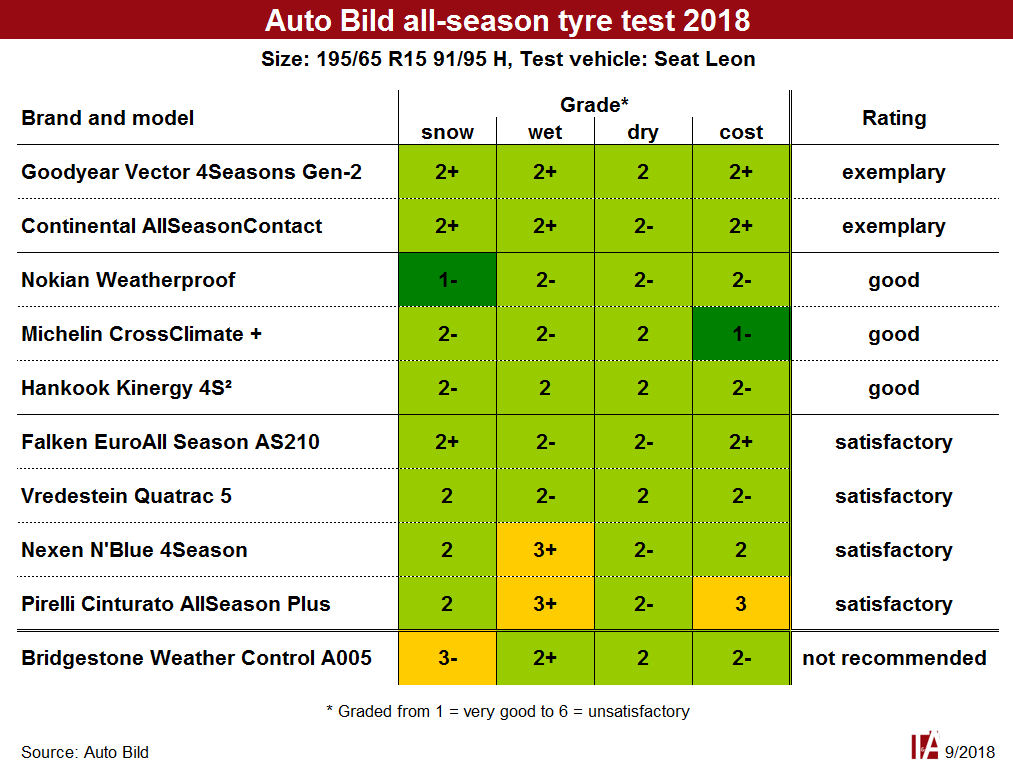 Those who know their tyres are increasingly warming to all-season solutions. Although dismissed as a compromise on numerous occasions, most recently in this month's GTÜ 2018 winter tyre test, an experienced and respected tester recently commented off the record that "the future belongs" to the segment. This is an impression that may also be gained from perusing the freshly minted all-season tyre test from Auto Bild.
The German car magazine comments that you don't necessarily need winter rubber when selecting a tyre suited to winter conditions, something it believes the Auto Bild test of 27 all-season tyres proves: "Compared with pure winter tyres, our size 195/65 R15 allrounders don't do badly at all. At any rate they certainly suffice for driving in urban areas and touring in uplands. All-season tyres are on par with winter tyres on wet surfaces, even at low temperatures. When the sun shines, they possess clear advantages in terms of grip and handling."
Auto Bild's all-season tyre test follows a similar format to its summer and winter tests – all selected tyres were subjected to wet and dry braking tests from 100 km/h, with only the top performers continuing on to further testing. Ten of the 27 candidates progressed to the main test in this instance and were evaluated according to winter, wet (each worth 30% of the total score) and dry (20%) test criteria as well as being rated for rolling resistance, mileage and price-mileage (20%).
Goodyear Vector 4Seasons Gen-2
Test winner and one of two tyres rated 'exemplary', the Vector 4Seasons Gen-2 was praised as an "all-round talent with excellent driving performance and good value for money." Auto Bild also singled out the tyre's steering precision on snowy and wet surfaces, aquaplaning safety, good ride comfort and high mileage as positive characteristics, however the tester noted that the Goodyear all-season tyre comes with a high price tag.
Continental AllSeasonContact
The Continental tyre's 'exemplary' rating was earned through its "exemplary driving characteristics on snow and wet surfaces, dynamic wet handling with precise steering response, very good aquaplaning reserves and decent mileage." Dry handling was considered only "average," however.
Nokian Weatherproof
In third place with a 'good' rating, the Weatherproof was found to have "winter tyre qualities" on packed snow surfaces as well as very good aquaplaning safety reserves and low rolling resistance. Grip in the wet was undistinguished, however, and mileage limited.
Michelin CrossClimate +
"A particularly economical all-season with safe driving behaviour on wet and dry roads," wrote Auto Bild. The publication also lauded the Michelin tyre's mileage and price-performance ratio, however the CrossClimate + was criticised for weaknesses during curved aquaplaning and undistinguished lateral control on snow. The Michelin CrossClimate + was rated 'good'.
Hankook Kinergy 4S²
The third of three tyres to gain a 'good' rating, the recently-launched Kinergy 4S² was found to have "stable handling characteristics on wet and dry surfaces, good steering precision and response, good aquaplaning characteristics and quiet ride comfort. Lateral control on snow was considered undistinguished and mileage limited.
Falken EuroAll Season AS210
Rated 'satisfactory', the Falken tyre was viewed as a winter-oriented product with good traction and dynamic, sporty handling in the snow as well as good aquaplaning safety reserves, good comfort and high mileage. Negatives included mediocre wet grip, delayed steering response and marked understeer in the wet, as well as raised tyre/road noise.
Vredestein Quatrac 5
"A balanced all-season with safe handling qualities in all weather conditions," wrote Auto Bild. The publication's testers also found the Vredestein tyre to offer precise steering behaviour and good response on wet surfaces as well as pass-by noise. Minuses were limited aquaplaning safety reserves as well as delayed steering response on dry roads. The Quatrac 5 was rated 'satisfactory'.
Nexen N'blue 4 Season
A short braking distance and stable lateral control on snow as well as quiet tyre/road noise and good price-performance ratio earned the N'blue 4 Season a 'satisfactory' rating. Yet the Auto Bild testers also found limitations in the Nexen tyre's wet and aquaplaning qualities, mediocre lateral control and understeer on wet and dry surfaces as well as very high rolling resistance.
Pirelli Cinturato All Season Plus
Another 'satisfactory' tyre, the Cinturato All Season Plus offered good traction and safe lateral control on snow and ice, balanced dry handling and "crisp" steering. These positives were countered by mediocre aquaplaning safety reserves, lengthy wet and dry braking distances, raised rolling resistance and "significantly limited" mileage.
Bridgestone Weather Control A005
The recently-introduced Weather Control A005 may have delivered "dynamic wet and dry handling" as well as the "shortest braking distances on wet and dry road surfaces," however Auto Bild's approval of the tyre ended there. The testers also found the Bridgestone tyre to provide "mediocre winter suitability, weak lateral control, understeering driving behaviour and lengthy braking distances on snow" as well as a raised tyre/road noise. Auto Bild gave the Bridgestone Weather Control A005 a 'not recommended' rating.
Conclusion
Regardless of individual results, this year's Auto Bild test can be viewed as a sound endorsement for all-season, a segment that, with sales of 8.1 million units a year, occupies a 17.1 per cent share of the car/4×4 tyre aftermarket in the publication's homeland.
Departing from the "summer tyres in summer and winter tyres in winter" mantra so often heard from tyre makers and testers, Auto Bild's Dierk Möller and Henning Klipp wrote in their test wrap-up that "modern all-season tyres are a safe and cost-effective alternative for up to mid-size cars and SUVs." The Auto Bild testers continued: "They bring you safely through the four seasons without an inconvenient change of tyres. The top-class tyres with a balanced and high level of performance are the Goodyear Vector 4Seasons Gen-2 and Continental AllSeasonContact."