Original look, new technology – Auto Bild tests tyres for older sports cars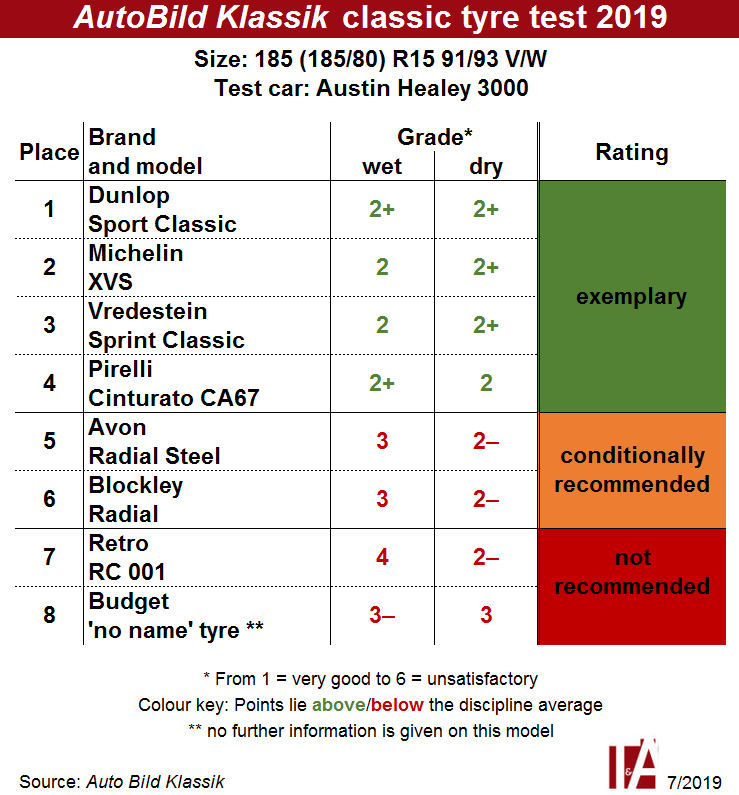 The latest tyre test from Auto Bild Klassik sets out to determine whether "classic tyres with today's technology can make the driving behaviour of yesterday's sports cars even more dynamic and, most importantly, safer." To do this, the German magazine's test team fitted eight 185 R15 (today's 185/80 R15) classic car tyre brands to a 1960s Austin Healy 3000.
All test candidates were specifically designed for use with classic cars. They include products from Avon, Blockley, Dunlop, Michelin, Pirelli, Retro and Vredestein. The eighth tyre wasn't named, and Auto Bild Klassik refers to it only as a "nameless budget tyre" that was purchased online.
The Dunlop Sport Classic was named test winner. Auto Bild rated it – along with three other tyres – 'exemplary'. Tester Dierk Möller found little to criticise amongst this quartet. As for the other four tyres, Möller advised car owners to leave these alone "in their own interest."
Dunlop Sport Classic
Möller detected slight oversteer in the wet as well as a slightly raised rolling noise when driving the Austin Healey on Sport Classic tyres. These minor issues were more than compensated for by "precise steering behaviour with stable lateral guidance and harmonious driving experience on the handling course, very good aquaplaning reserves and short braking distances."
Michelin XVS
It was a similar story for the Michelin XVS. The runner-up tyre gave light understeer on wet road surfaces, yet had "balanced, neutral driving behaviour with smooth transitions, precise steering behaviour, short braking distances," as well as good aquaplaning characteristics and ride comfort.
Vredestein Sprint Classic
The main criticism levelled against the Vredestein Sprint Classic was limited aquaplaning safety reserves and slight oversteer in the wet. Nevertheless, the third-placed tyre was praised for its driving behaviour, which provided "good lateral guidance and much grip on wet and dry surfaces, precise steering behaviour with good response and short braking distances." The Sprint Classic was also named the test's 'price-performance winner'.
Pirelli Cinturato CA67
While the Pirelli Cinturato CA67 showed a tendency to oversteer in the dry, it amply redeemed itself thanks to "harmonious, safe driving behaviour." This included very good lateral guidance on wet surfaces, good safety reserves when aquaplaning, short braking distances in the wet as well as good ride comfort.
Conditionally recommended: Avon & Blockley
Fifth-placed tyre the Avon Radial Steel and the sixth-placed Radial Blockley Radial gained a 'conditionally recommended' rating. Both tanked in the high-speed test when performed according to Auto Bild's stricter requirements (with two degrees camber), but passed the standard test performed according to UNECE requirements.
Positive qualities included very good safety reserves in the aquaplaning test as well as balanced driving behaviour on dry surfaces (Blockley), and "precise steering behaviour, balanced driving behaviour and short braking distance on dry road surfaces" (Avon).
Drawbacks for both included insufficient lateral guidance as well as strong understeer and excessively long braking distances in the wet. In addition, the Blockley tyre's wet driving behaviour was disharmonious and its braking distances in the dry too long. The Avon tyre only offered mediocre safety reserves during aquaplaning.
Not recommended: Retro & ???
Both the seventh-placed Retro RC 001 and the nameless wooden spoon recipient received a 'not recommended' rating, primarily due to their performances in the wet.
The verdict on the RC 001 was that it offered "harmonious driving behaviour and good driving and ride comfort on dry roads." So far, so good, but the Retro was slammed for its "deficient lateral guidance, unbalanced driving behaviour with strong oversteer on wet surfaces, much too long braking distances and low aquaplaning reserves."
The tyre bought online displayed good safety reserves in the aquaplaning test. But its braking distances were "much too long" in the wet and its braking in the dry was unimpressive. Further issues included "unbalanced driving characteristics with little lateral guidance and spongy steering on wet and dry roads."