Hankook launches Kinergy AS EV electric vehicle tyre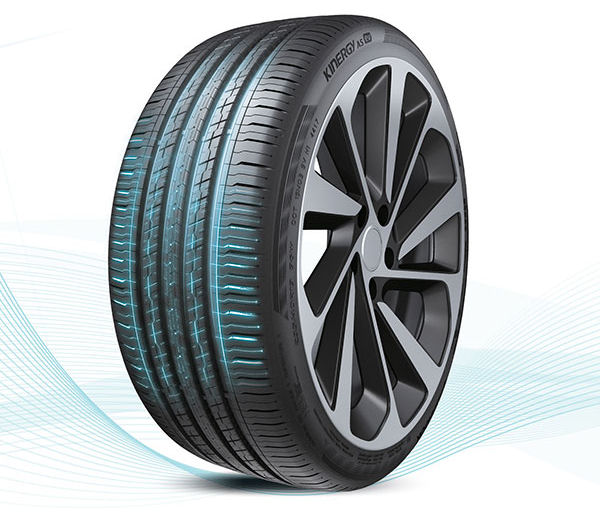 It boasts ingredients that include vegetable oil and resin extracted from conifer pines, and it may be coming to a tyre shop near you in 2019 – Hankook Tire has introduced its second generation of electric vehicle tyre, the Hankook Kinergy AS EV.
Modern electric vehicles are ten to 20 per cent heavier than their counterparts fitted with internal combustion engines, engine noise is lower and initial acceleration higher. Tyre designers must accommodate these unique characteristics when developing new products; Hankook says its efforts with the Kinergy AS EV resulted in a tyre with "strengthened handling and noise-reducing capabilities that are optimised for today's cutting-edge electric vehicles."
As electric vehicles are usually heavier than normal vehicles, each tyre needs to take on more load stress. In order to cover this extra weight, the Kinergy AS EV is built with an Aramid reinforcement belt and a reinforced structure; Hankook says that thanks to these features, little or no variation in the tyre's diameter occurs, even during high-speed driving, and tread block distortion when changing direction is minimised, thereby maintaining optimal grip force and thus good handling performance and significantly improved handling stability.
Another key improvement is the application of Aqua Pine compound, a resin extracted from conifers and blended with environment-friendly vegetable oil. Hankook Tire claims this new compound improves performance on wet roads and allows for "agile handling and braking in all road conditions." Tyre slip and tread wear resulting from the electric motor's powerful initial acceleration is also reduced, it adds.
Engine noise is absent in electric vehicles, and tyre noise thus more noticeable. Hankook Tire speaks of having created a "hyper-low noise environment" for the Kinergy AS EV; it says this environment is created by applying "advanced noise reduction technologies" – an 'anechoic wall' within tread grooves, a 'silent circuitry groove' in the shoulder area and an aerodynamic sidewall design – and also by seeking out the optimum pitch arrangement to reduce the occurrence of certain noise frequencies when the vehicle is in motion.
The Hankook Kinergy AS EV will be available in Korea this year and the tyre maker says a global launch is also "under review for next year."