Bridgestone, Firestone agricultural products praised by Irish farmers after wet winter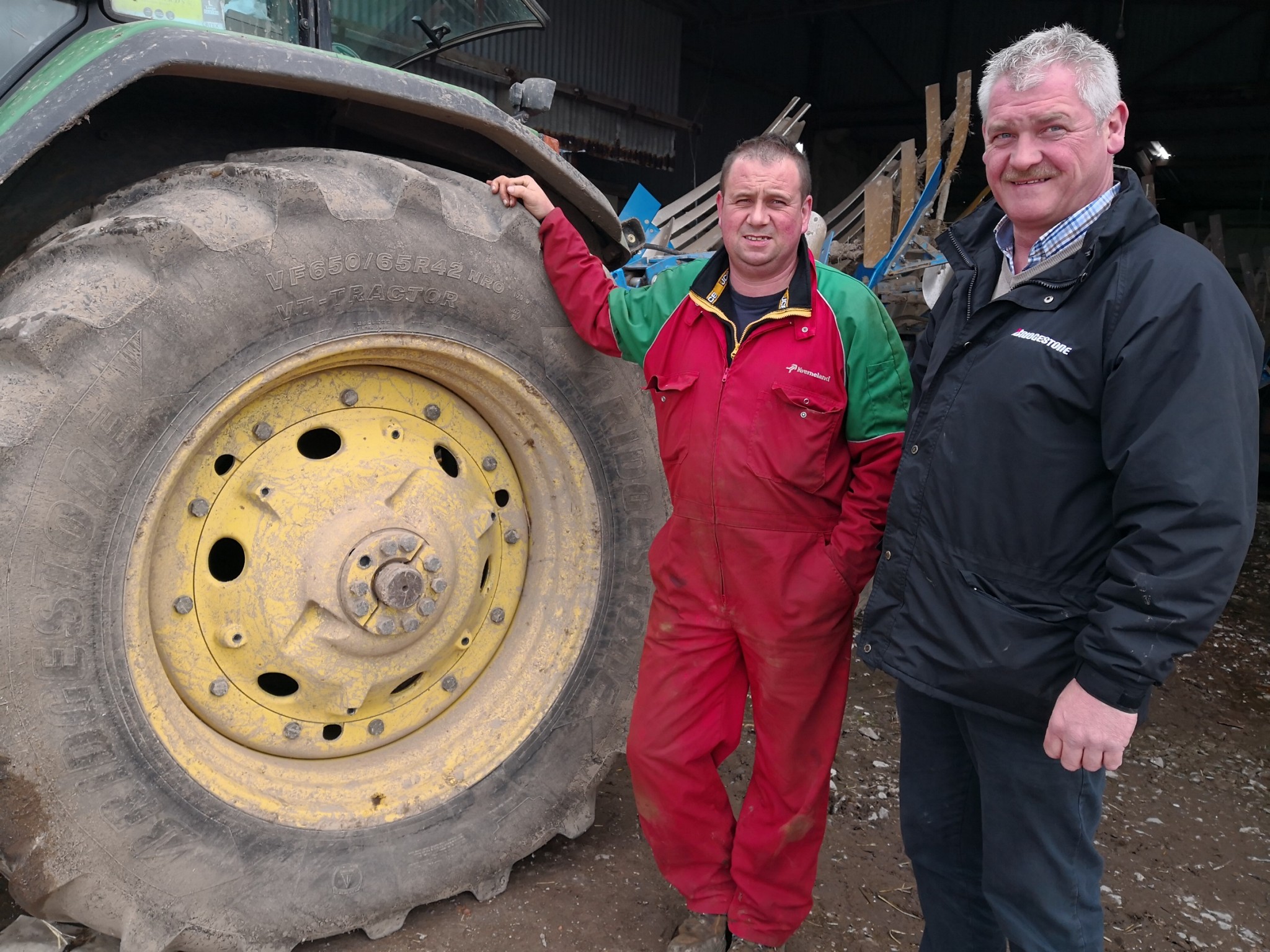 Ireland's winter was one of the wettest on record, leading to frustration for farmers, as conditions in their fields proved too treacherous to work in. The right agricultural tyres can help to overcome such issues, as a number of Irish contractors using Bridgestone and Firestone's latest agricultural products have found.
Bridgestone's VT-Tractor tyre, for example, is capable of operating at a lower inflation pressure and with a larger tyre footprint, thus reducing ground contact pressure and associated soil compaction. The most important feature of the VT-Tractor tyre is arguably its very low and very evenly distributed contact pressure.
Joe Morrissey, who owns a farm in Rostellan, County Cork said: "Conditions here have been absolutely desperate. It was pure sludge and you couldn't walk on the land without cutting it up. I thought it was impossible to get a tractor out there, but the VT-Tractor definitely made it possible.
"You'd have thought that there was no way on, but we were out there spreading slurry and we soon had a freshly seeded field. On any other tyre I know, the ground would cut and rut for the rest of the year and the volume of grass wouldn't grow back. You'd lose two or three acres in no time. If you replicate this over the entire area then you have a big, big advantage."
Brendan Casey, a farm contractor from County Cork, looks after 1,200 acres of corn and 500 acres of pit silage, and was equally impressed with the VT-Tractor: "It performs perfectly well in atrocious conditions," he said. "We literally did more damage to the ground by walking on it in our wellies. It offered the most amount of grip over any other tyre I've driven on and the weight is spread ever so well.
"When they are running they almost look flat, but that is why they are so good. Competitors operate at higher pressures, with a narrower footprint. That is when the ground gets damaged."
The tyres also offer longevity. Casey – who is now on his second set – says the tyre currently looks and performs brilliantly after 1,700 hours on a mixture of tasks.
Firestone's latest agricultural product
While Bridgestone has set its sights on the new and growing high-end agricultural tyre segment, Firestone continues to target a large proportion of the tractor market with its high-quality agricultural tyres. The recently upgraded Maxi Traction 65 also has wider lugs and wider tyre width, providing a larger ground contact area which extends its tyre life further. This economy is carried onto the road where the tyre's longer lugs, with larger lug overlap, increase wear resistance on hard surfaces. The manufacturer states that its longer life has resulted in no compromise in traction. At the same time, a longer overlapping lug design gives the operator greater ride comfort on the road.
Noel Higgins, who maintains 2,200 acres within a 47-mile radius, said: "I have had a set of Maxi Traction tyres for two years and they are still going strong. If I can get 3,000 hours out of them – which I think I will – then I will be happy.
"We do a lot of road work and we were moving a 22-tonne machine only this morning. There was no swaying and traction was great. This gives you so much confidence. What's more, there is never any cracking or any superficial issues with the tyre either. Again, this only provides confidence which goes a long way."
John McCarthy and his son Shane are also huge advocates of the Firestone Maxi Traction, with both spending around 300 days per year out on the road.
Shane McCarthy said: "We are lugging 20-tonne of lime all the time and you do need good traction to pull it. The product gives us exactly what we want. We are getting lime to and from the quarry all the time, so the wear on the road is crazy. But there is more rubber on the road compared to previous products we've been on and it lasts longer.
"We can get around 1,500 hours on the road before using it on land for silage work. We can get another 1,500 hours from them out on the fields, so we've been very impressed."
Fellow southern Ireland farm contractor Dave McDonnell, who can clock up to 320km of road work in a given day, highlighted another Maxi Traction area of performance: "We enjoy greater ride comfort on the road which is an important benefit. The tread overlap is more central which gives better road quality. There is no road noise of any note too. It is a very good tyre. We do silage and tillage work and they keep very clean, with nice big edges. You can spend less on other products, but you just don't get the life."