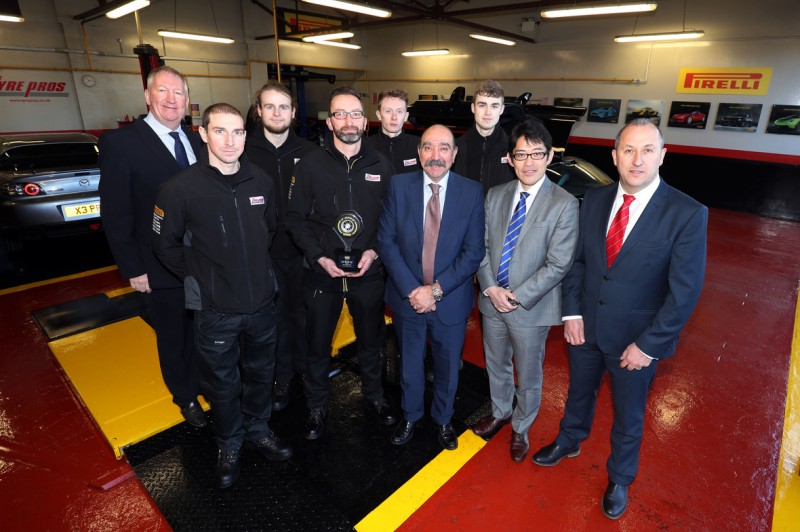 (l-r) Paul Boulton (operations director), Clarke Collings (assistant manger), Dan Ruddick (fitter), Frank Jenkins (manager), Kieran Neil (senior fitter), Dominic Sandivasci (Pirelli UK chairman & CEO), Mathew Williams (apprentice), Kenji Murai (ETEL CEO), and Simon Crowe (divisional director for STS Tyre Pros)
Pirelli has named STS Tyre Pros Chester as its Performance Centre of the Year for the third year in a row. Each year, one of the network of 120 Pirelli Performance Centres is named PPC of the Year, after the top performing centres in the technical audit have a video mystery shop exercise and scored by an independent assessor.
STS Tyre Pros Chester, located on Sealand Road, received the award once more after achieving a perfect score. The centre has scored consistently well in the technical audit and mystery shopper exercises since entering the PPC programme in 2008. This is the first time that one centre has been named PPC of the Year on three consecutive occasions.
The centre rebranded from Central Tyres to STS Tyre Pros last year and this award shows that the team has kept its focus on maintaining its high levels of service throughout that process.
Centre manager Frank Jenkins said: "To have won this award for the third year in a row is a huge achievement for everybody in the team, and something that we are all very proud of. Having been part of the Pirelli Performance Centre programme for over 10 years, we really value the support that it provides. The programme sets very high standards, so to come out on top of all the centres and win the award again is recognition of the level of service and advice that we offer to our customers."
Pirelli UK chairman and CEO Dominic Sandivasci said: "I would like to offer huge congratulations to everyone at STS Tyre Pros Chester on becoming PPC of the Year for the third year in a row. It is a truly unprecedented achievement. The competition for the award this year was once again extremely high, but STS Tyre Pros Chester continues to stand out for its commitment to the PPC programme."
Category: Company News, UK News