Selecta depot is Pirelli Performance Centre of the Year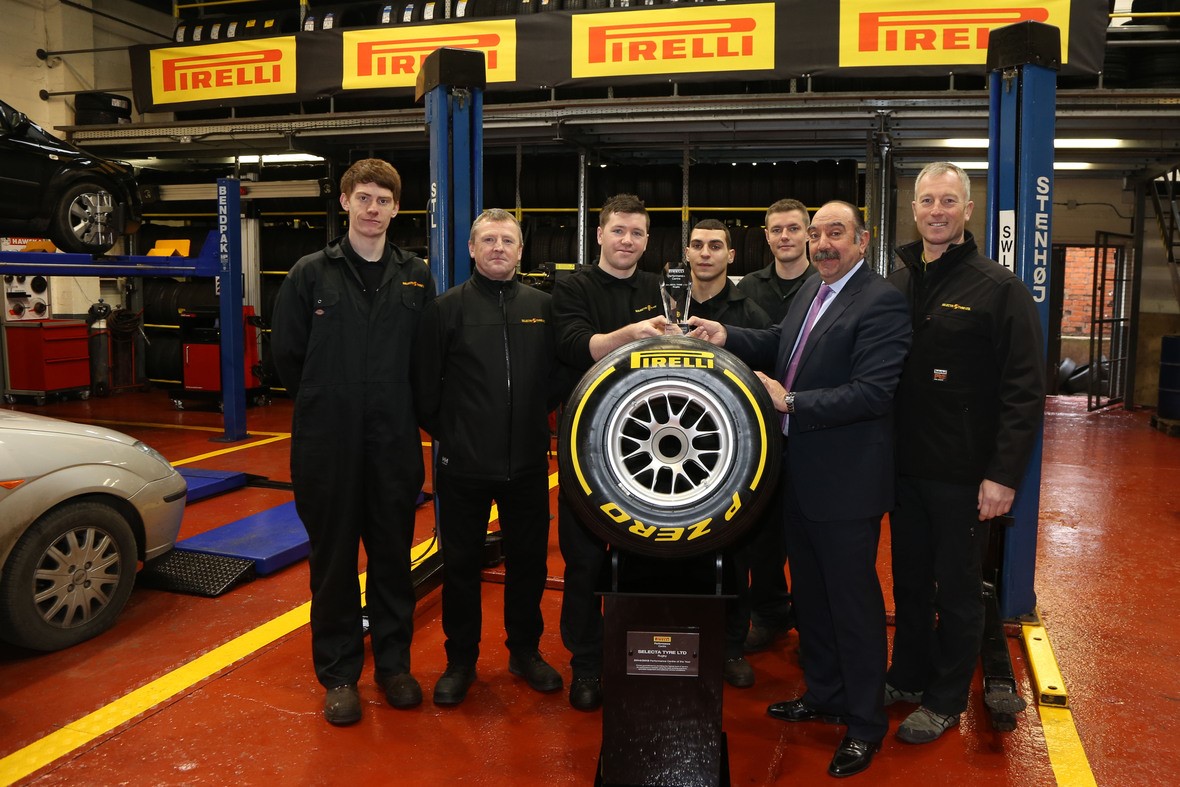 Pirelli has announced that Selecta Tyre Ltd in Rugby has won its annual Pirelli Performance Centre (PPC) of the Year award after scoring exceptionally highly in the 2014 club audit.
Pirelli Performance Centres are a premium club of around 100 audited, high-quality, high-performance tyre dealerships across the UK. Only the best of the best tyre depots are considered by Pirelli to join the network and very strict criteria apply. The reasoning behind this exclusive network is because Pirelli remains passionate about contributing towards an improvement in industry standards, and wants to have the trust and assurance to be able to direct owners of high performance cars to depots with confidence. The annual award was inaugurated in 2007 to commemorate the efforts of the company's PPC depots across the country.
This year's winner, Selecta Tyre Ltd, began trading in 1973 when the late John Pashley, who had worked in the tyre industry for many years, set up on his own by purchasing the Kettering Montagu Street branch. Selecta Tyre Ltd remains an independent family-run business and John's son Simon took over the reins as managing director in 1991.
More than 40 years on, Selecta Tyre Ltd now has 15 branches in the country, including the award-winning Pirelli Performance Centre on Railway Terrace in Rugby, and continues to go from strength to strength. Selecta Tyre Ltd prides itself on being 'a cut above the rest', with its Rugby branch cementing that claim with its Pirelli award win.
To determine PPC of the Year, the top performing PPCs who achieved the highest scores in the technical audit had a video mystery shop exercise and were scored by an independent assessor. The usual areas of the audit were included – depot exterior, meeting and greeting, depot interior, qualification of the customer, inspection of vehicle and courtesy.
"I am immensely proud that our team at Rugby has achieved this highly sought after prize. We only joined the PPC network this year, so to become the PPC of the Year within 12 months is a truly remarkable achievement," said Simon Pashley, managing director of Selecta Tyre Ltd. "It is great to have our commitment to high standards of tyre service, technical expertise and customer service acknowledged by winning an award that recognises Selecta Tyre Ltd as the best tyre retailer in the UK."
Pirelli UK managing director, Dominic Sandivasci said: "I would like to congratulate all 11 of our Pirelli Performance Centres who were shortlisted for the PPC of the Year award. The standard of our PPCs improves year on year and I am delighted to announce that we have now have 100 centres operating in the UK and Ireland. Well done to Selecta Tyre Ltd on being named our PPC of the Year, the standard of competition this year was exceptionally high, but Selecta Tyre Ltd went the extra mile to ensure that service and standard was above and beyond what a customer would expect."