CV Show: Continental promoting Hybrid range, Semperit and Barum brands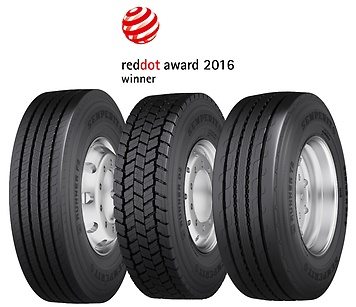 The Commercial Vehicle Show 2017 opens this morning, and Continental says it is showing its Conti Hybrid range there, as well as products from its Semperit and Barum brands.
Continental says its Conti Hybrid tyre range offers up to 20 per cent longer service life and six per cent better fuel economy than previous generation tyres. Tyres in the Conti Hybrid family are specifically designed for regional transport with use of motorways. The products in this tyre range offer maximum mileage and optimum traction, as well as significantly reducing fuel consumption and allowing fleet operators to optimise costs over the long term ensuring that their fleet is highly cost-effective. Both steer and drive variants of the Conti Hybrid 315/70 R22.5 will feature at the CV Show.
Another product on show is the multiple award winning Conti Hybrid HT3 445/45 R 19.5 trailer tyre. Characterised by high load capacity and optimal service life, combined with a lower diameter, the Conti Hybrid HT3 445/45 R 19.5 allows an axle load of nine tonnes. At the same time, it provides the best use of the three-metre internal load height, when used on the semitrailers of mega liners.
Improved contours and balanced load distribution give the trailer tyres an even wear pattern, which helps ensure long service life. Rolling resistance has been reduced by 15 per cent, meaning that the Conti Hybrid HT3 445/45 R 19.5 and the Conti Hybrid HT3 435/50 R 19.5 reduce fuel consumption in both regional and long-distance transportation. As such, both tyres have been awarded a 'B' rating for fuel efficiency under the EU tyre label system.
Industry experts are on hand at the CV Show to showcase Continental's complete range of tyres for LGV, HGV and Materials Handling equipment (Truck, Bus, Coach, Van, Specialty). Each Continental tyre has been designed around the application, tailored to meet the growing demands of the commercial vehicle industry.
Semperit
The Semperit Runner series, for combined regional and long-distance transportation, is also on show. Continental says the tyres offer both a long service life and good fuel efficiency. The tyre maker adds that, with treads designed in a compact void-optimised pattern and featuring specially developed rubber compounds, the tyres in this range are "truly masters of mileage."
Both the Runner F2 steering-axle tyre and the Runner T2 trailer tyre feature the M+S marking. The Runner D2 drive-axle tyre bears not only the M+S symbol but also the Three-Peak Mountain Snowflake (3PMSF) symbol. Furthermore, the casings of all tyres in the Semperit Runner family are designed for retreadability.
Barum
Heading up the commercial vehicle tyre offering on show from Barum is the 200 R series, including the 315/70 R22.5, a range of tyres for trucks and buses promoted as offering high quality at an affordable price. The steer axle tyre BF200 R and drive axle tyre BD200 R are both said to boast high mileage and consistent safety, thanks to the enhanced composition of the rubber compound and the redesigned pattern on the tread. Continental comments that the robust, high-performance tyres offer a low-cost alternative for truck and bus operators, delivering excellent service life and offer reliable handling in both regional distribution and long-distance applications.
"The CV Show offers us the opportunity to discuss how Continental and our brands can help commercial vehicle operators continue to gain best possible fuel and cost efficiencies for their businesses," says
Mat Wilkinson, Commercial Sales and marketing director at Continental Tyres. "The continued success of Continental's Hybrid range is testament to the huge investment the brand has made to support CV customers, through market leading quality tyres and a broad range of business solutions and services."     sg