New product, F3 extension mark 'new dawn' for Yokohama motorsport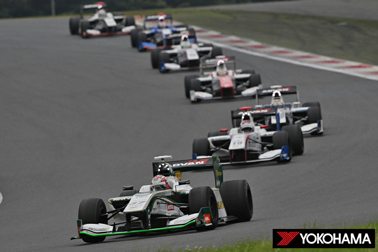 Yokohama motorsport is anticipating "one of the most exciting seasons in recent times" in the manufacturer's centenary year from its stand at Autosport International. In addition to launching the Advan A052 road-legal track tyre, it will support high-profile FIA circuit racing through to grass roots rallying and rallycross.
In top flight motorsport, Yokohama's tyres will continue to be used by all competitors in the FIA World Touring Car Championship, which was won in 2016 for the third year in succession by Argentinian José Maria López. The opening round of the 2017 season will take place at the Race of Morocco on 9 April.
Having recently extended its deal to supply tyres for a further three years, Yokohama's tyres will also be used by competitors in the All-Japan Formula 3 Championship Series, the longest running race category in Japan. The extension means that Yokohama will be the sole tyre supplier to the championship series for nine straight years. Meanwhile Yokohama will also continue its support for the Japanese Super Formula Championship series, Asia's ultimate Formula racing series.
While its global race series continue to capture the headlines, Yokohama's ongoing support for grass roots motorsport and commitment to develop the future champions of tomorrow continues. Indeed, in 2017, competitors in more than 26 motorsport championships in the UK alone will use Yokohama tyres across a range of disciplines.
In rallying, Yokohama will continue its support of The Next Big Step, a programme designed to support the progression of talented young drivers from Junior to British Rally Championship level and beyond, by backing drivers Ed Fossey and Aaron McClure.
In rallycross, Yokohama tyres will be once gain used as the control tyre for the Swift Sport category of the MSA British Rallycross Championship, in both the junior and senior classes.
Meanwhile on track, Yokohama will continue to be the control tyre for the Junior Saloon Car Championship, an 18 round series which is designed to bridge the gap between karts and saloon cars.
Speaking ahead of the 2017 season, Mark Evans, head of motorsport for Yokohama HPT said: "2016 was a great year for Yokohama, but fittingly for our centenary year, 2017 looks to be even more exciting. We're adding a new tyre to our range which will help teams gain a further competitive edge and once again, we will be supporting a wide range of championships from international and global series through to grass roots, local level. We're looking forward to an action packed season ahead and we'd like to wish all of our teams and drivers the very best success."