Aston Martin Racing 'has Dunlop Motorsport's full attention' in GT class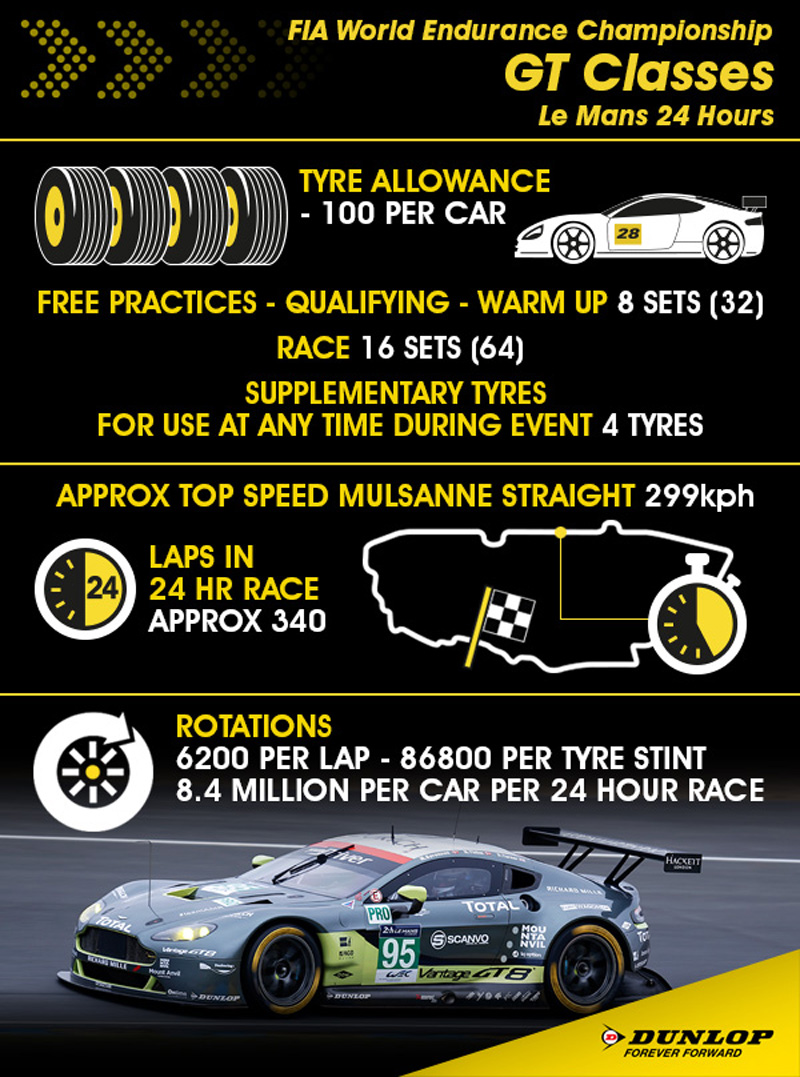 Dunlop and Aston Martin Racing describe the test of the manufacturer's GT tyres for the first time in November in Bahrain as "a key turning point for both parties." Dunlop committed to a full GT class development programme and Aston Martin began a return to lifting trophies. Le Mans is of great importance to both companies who are proud of their respective success there: Dunlop has 34 overall victories, more than any other tyre manufacturer, and Aston Martin took GT class wins in 2007and 2008 and the GTE Am class win in 2014.
Following Dunlop's extensive computer-aided simulation using Aston Martin chassis data after the November test, all six GTE Pro class drivers were key to developing the tyres, covering over 4500 km on track. The team has tested specifically for the great La Sarthe race in June, including work during tests at Paul Ricard in France, Aragon in Spain and testing continued until two weeks before the event at Magny Cours in France and Monza in Italy. The preparations have included the temperature differentials found at Le Mans with the extremes from five degrees to 25, achieving and managing tyre consistency, and testing in the wet at low and high temperatures.
The Le Mans event evolves each year with changing requirements. Regulation changes brought changes to the aerodynamics for Aston Martin, with surface changes, track tweaks and weather conditions all adding to different demands from the tyres each year. With only eight hours of track time on the pre-event test, simulation and testing away from the track is critical.
Aston Martin is particularly keen for a Le Mans win in the LM GTE Pro class, which has been elusive since the World Endurance Championship began in 2012. Dunlop is looking for success in the GT classes after an absence in recent seasons. The close working and extensive development programme will be put to the ultimate test on 18 and 19 June.
Dan Sayers, Aston Martin Racing technical director, said: "The testing has been a big plus this year. We've done more testing than we've done before just trying to understand the tyre and the car. I probably have daily contact with them [Dunlop engineers] on the technical side and that is a massive bonus for us; we've got full support here….The partnership we have with Dunlop is a step forward. It is the only time we've been able to tailor a tyre to our car, which is a big plus."
Xavier Fraipont, managing director Dunlop Motorsport: "Our focus in recent years has been the LMP2 class and our success in competition, combined with our one-brand GT programme in the European Le Mans Series, made us an attractive proposition for Aston Martin. They are our only development partner in the GT class for our WEC activities this year so they have our full attention. That close working relationship has already shown rewards with wins and podiums in the first two rounds of the WEC championship. We hope to add Le Mans success to that record."
Practice and qualifying for the 24 Hours of Le Mans takes place on 15 and 16 June. The race starts at 15.00 CEST on Saturday 18 June.