Dunlop to supply 27 cars across 4 Le Mans classes in 2016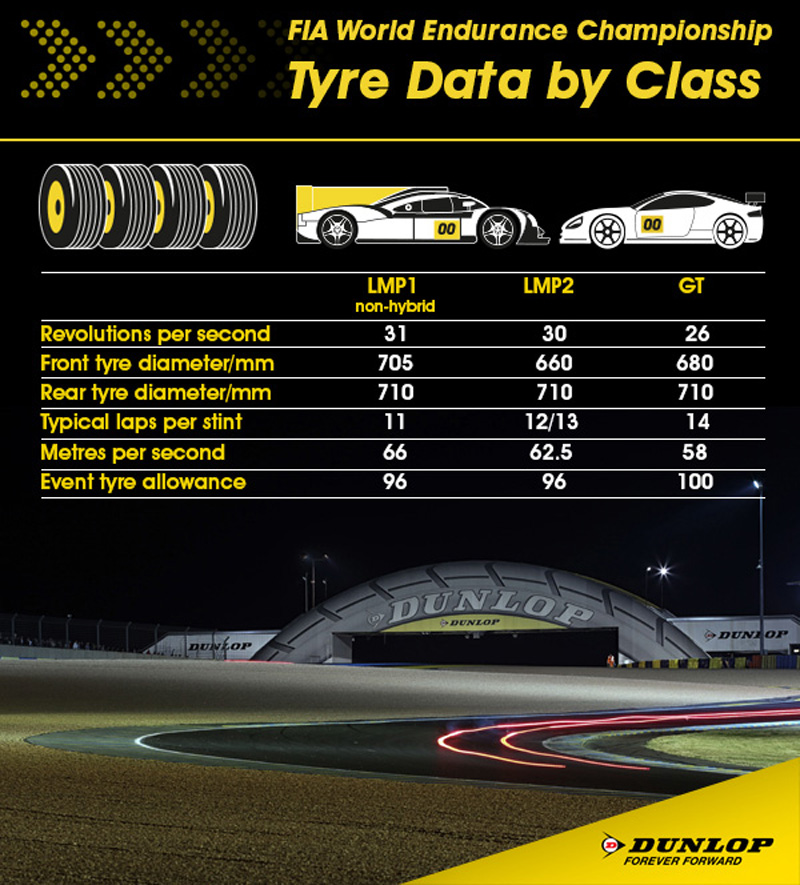 Dunlop will supply tyres to 27 cars across all four Le Mans classes in 2016, more than any other year in the millennium. The supplier will transport more than 6,000 tyres using ten trucks; more than 80 personnel will provide fitting, engineering and support. Each class has different regulations and requirements and consequently different tyre specifications.
Dunlop will return to the LMP1 class for the first time since 2012 with two Rebellion Racing cars and one Bykolles Racing Team CLM, each of which is permitted 28 tyres prior to and 64 during the race, alongside a full set of supplementary tyres. Dunlop states that it has developed new tyres for these teams and is allowed to continue development throughout the year. While the number of tyres for each event is restricted, there can be changes to specifications for following events.
In the LMP2 class 20 of the 23 entries have chosen to compete on Dunlop tyres, which will be supplied in soft, medium, medium-plus, intermediate, and wet specifications. Seven sets are provided for free practice, qualifying and warm-up, and 16 for the race, with a full set of supplementary tyres also supplied for use in any session. The LMP2 range has been developed from the strong 2015 performance to provide a wider operating window and greater consistency.
In the LMGTE Pro class, Dunlop will supply Aston Martin Racing's two cars with custom products; 8 sets prior to the race, 16 during the race, and one supplementary. This range will also be developed throughout the season.
In the LMGTE Am class, Dunlop will also supply soft, medium, medium-plus, intermediate, and wet tyres to two cars, split between 8 and 16 sets for the pre-race and race, with one supplementary set.
Mike McGregor, Dunlop manager testing & track support, states: "2016 is a big year for Dunlop. More cars have chosen to compete on Dunlop tyres than any year this millennium – the most previously was 23 cars in 2012. We have a completely new tyre range for all four classes so that has been a big task for our designers and factories over the winter. We've also been testing extensively to make sure that our teams' tyre-chassis combinations work as well as possible. The LMP1 and LM GTE Pro development programmes are progressing well and are a big step for us back into those categories.
"In LMP1 we have already had some great results at Silverstone and Spa including two overall podium places which has shown that we are heading in the right direction. In LMP2 we have the majority of the cars on Dunlop teams which means that we will only be happy with a win, but the competition is strong so that is far from a foregone conclusion. Our Aston Martins have had success already this year so we are hoping to be in podium contention in both classes."
Practice and qualifying for the 24 Hours of Le Mans takes place on 15 and 16 June. The race starts at 15.00 CEST on Saturday 18 June.