September launch for Continental EM tyre range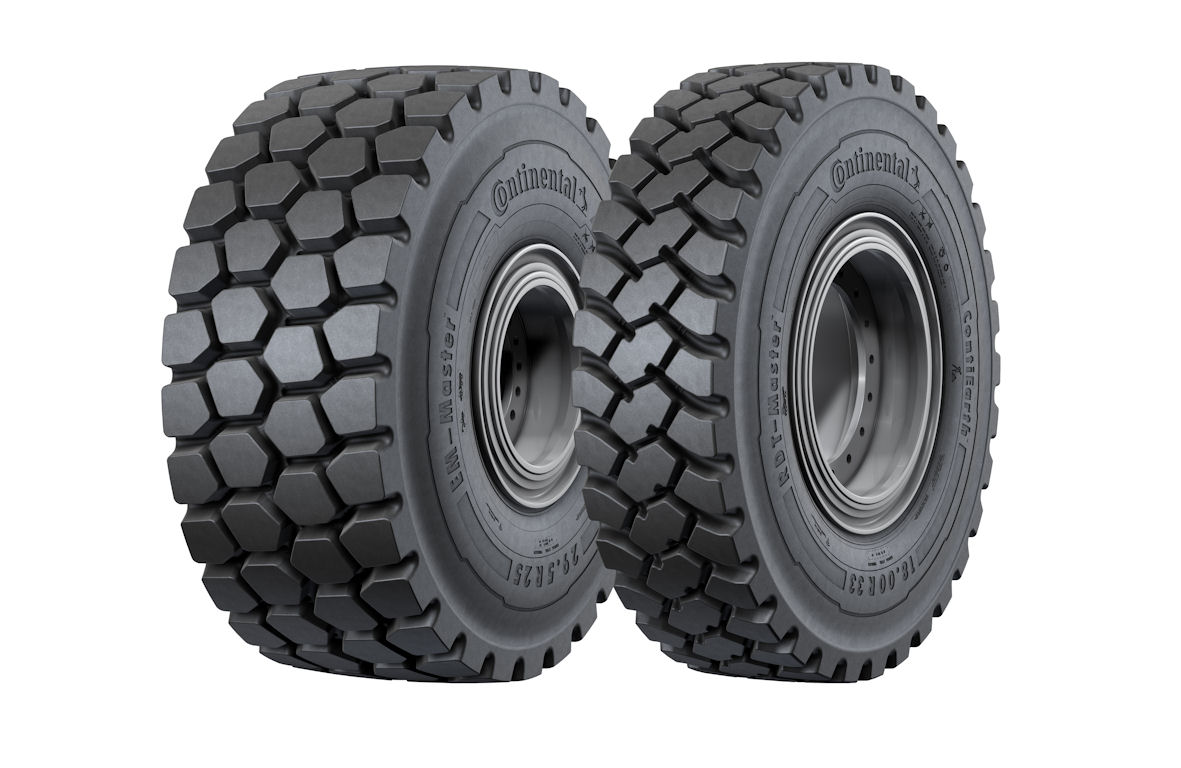 Three years ago, Continental began focusing on non-automotive areas of its business in order to better balance the company's sales footprint. An early beneficiary of this new emphasis was Continental's Commercial Specialty Tires (CST) business, with the first investments to grow the CST portfolio directed at the port tyre segment. Now, in 2016, it is the turn of earthmover tyres, and a new EM range will be introduced later this year. As was the case with the port tyre range, the earthmover products will reflect the 2013-initiated drive to establish the Continental name as the company's primary brand in the OTR sector.
Tyres & Accessories spoke with Tracey Mortimer, Continental Tyre Group Ltd's marketing manager for commercial tyres, in late April, and at the time it was still early days for the company's expansion into the UK earthmover tyre market, at least in regards to fostering end-user awareness of the new products. "Our focus on earthmover tyres has been under way from a research and development perspective for a few years now, however we've only started promoting the tyres we'll be selling," she comments.
Mortimer and the UK sales and marketing team have time on their side – the range won't be introduced for another four months. The official launch will take place at the MINExpo show in late September, however potential customers here don't need to wait that long – nor travel to Las Vegas – to find out about the initial line-up. "We're going to be at Hillhead 2016 in June and will be promoting the range there," shares Mortimer. "We invite all interested parties to come and talk to us."
Tyres in the upcoming Continental OTR portfolio will fall within two product families – ContiMine and ContiEarth. The first of these includes tyres for underground mining applications, while ContiEarth covers surface mining and construction segments such as quarrying and aggregates. It is this second product family that will be the most interesting to end users in the UK, and Mortimer says Continental's focus in our market will therefore lie here. The first ContiEarth products scheduled for launch in 2016, both worldwide and in the UK, are the Conti EM-Master and the Conti RDT-Master.
Conti EM-Master & RDT-Master
The Conti EM-Master is available in two versions; the Conti EM-Master E3/L3 is especially suited for use in muddy and soft terrain, while the Conti EM-Master E4/L4 is more oriented for use on gravel and rocky surfaces. The difference between the two tyres lies in the tread pattern – the Conti EM-Master E3/L3 features a standard tread depth and wider spacing of blocks than the Conti EM-Master E4/L4. This, according to information from Continental, results in excellent self-cleaning characteristics, powerful traction, and good manoeuvrability. The open tread design and 100 per cent tread depth of the E3/L3 tyre further offers better cooling and therefore less heat build-up, and thus contributes to a longer service life.
Compared to the Conti EM-Master E3/L3, the E4/L4 tyre version features a greater block size that has less spacing between the blocks and a deeper tread depth. The tyre thus offers greater casing protection and superior cutting resistance, minimising the risk of punctures and downtime. Continental shares that the tighter spacing between the tread blocks also results in smoother running, even on hard surfaces, and due to a high tread wear volume the Conti EM-Master E4/L4 offers an even longer service life than the E3/L3. Both Conti EM-Master E3/L3 and E4/L4 will be available in sizes 23.5R25, 26.5R25, and 29.5R25; the Conti EM-Master E3/L3 will also be produced in size 20.5R25. Recommended applications include articulated dump trucks, loaders, and dozers.
The Conti RDT-Master E4 is a rigid dump truck tyre designed for transporting extra-heavy loads. The tyre features a deep tread and a wide and flat tread radius, qualities that lend themselves to a high loading capacity and cutting resistance. The angled tread edges and open shoulder design allow for higher lateral stability, which Continental says results in better driving behaviour and maximum traction, even on curvy terrain. In addition, the tread design is said to provide excellent cleaning characteristics on muddy ground. The RDT-Master E4 will be available in sizes 18.00R33, 21.00R33, 21.00R35 and 24.00R35.
Telematics to complement ContiPressureCheck
The EM-Master E3/L3 and E4/L4 and the Conti RDT-Master E4 can work together with the ContiPressureCheck (CPC) monitoring system. CPC, Continental's tyre pressure monitoring system, was originally designed for the truck and bus sector, and sales of the system are predominantly for these applications. "However we've trialled it on forklift trucks, in ports on large straddle carriers and reach stackers, and now with earthmover tyres, where pressure monitoring is a critical factor in preventing damage to these expensive products," comments Mortimer. ContiPressureCheck systems for use on OTR tyres are now on the market, and the marketing manager shares that a further evolution is on its way.
"The CPC we sell today is a standalone unit with a cab-mounted display. At the Bauma show Continental presented something we call ContiFlexBox, a telematics product still in the development phase." ContiFlexBox will complement the CPC unit by enabling the collection and provision of tyre-related data and transmitting it via Wi-Fi or GSM to a central server for analysis and preparation for use by fleet managers. It will also be possible to transfer data to tablets, phones and other mobile devices. When combining ContiPressureCheck and ContiFlexBox, users can preventatively measure tyre pressure and temperature in real time.
Tracey Mortimer says Continental is working towards introducing ContiFlexBox early next year. While the company has worked together with specialist telematics companies to develop solutions for buses and trucks, the niche nature of the OTR market has necessitated a different approach. "It made no sense for us to invest in coming up with our own solution for truck and bus, however there aren't any really strong telematics partners focusing on the OTR market. Therefore Continental chose to develop its own system for OTR tyres." The marketing manager adds that the first ContiFlexBox systems to be introduced will target vehicles operating in ports; other applications will follow later, however she is unable to give a release date for a solution tailored to earthmover use.
One OTR brand for the UK
The rollout of Continental branded tyres is directed by CST's Earthmover product line segment, which is headed by Christian Luther and currently one of two CST product segments (the other is Materials Handling, which is led by Julian Alexander; Tracey Mortimer comments that additional product segments may be added to CST in future). This focus on Continental products is a logical development for a company keen to focus on its main brand, however it will result in the eventual disappearance of the Simex brand from the UK market. "Prior to 2013 we predominately used the Simex brand and sold this into ports, and also sold some Simex branded earthmover tyres," shares Mortimer. "A few Simex sizes are still available in the UK, but it will gradually be replaced and core products will be switched over to the Continental brand."
Continental also sells OTR tyres under the General brand name in certain markets. The name may continue alongside the Continental brand in markets where it is well known or in countries where the products are manufactured, such as South Africa, however Tracey Mortimer considers it "highly unlikely" that Continental will import General earthmover tyres into the UK. "We intend to focus solely on the Continental brand."
As the earthmover tyre business is a relatively new one for Continental in the UK, the company sees the value in working together with third-party firms to offer service solutions for its products. "We've initiated talks with tyre service providers who are already active in this segment, including several who we already work with in the truck or port tyre segments," shares the marketing manager. "Our strategy will be to work with established tyre service partners; this tends to be Conti's route to market as we don't possess any equity chains, and it certainly makes sense for the earthmover segment."