Valeo adds to Euro 6 clutch range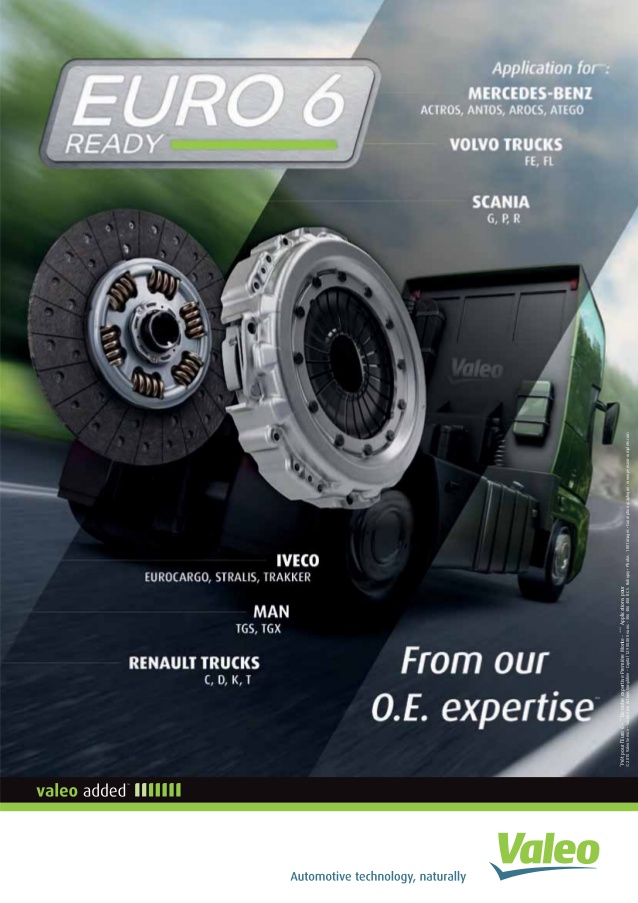 Valeo Service UK has expanded its Euro 6 clutch range, which now comprises more than 47 references in total, covering 793 vehicle applications. The Valeo truck clutch offer is designed to suit the market's needs thanks to the wide range of parts for both remanufactured and new references.
Valeo's OE Euro 6 applications of clutches cover the following vehicle applications: Iveco Eurocargo, Stralis, and Trakker; MAN TGS, TGX; Mercedes-Benz Actros, Antos, Arocs and Atego; Renault Trucks C, D; Scania G, P, R; and, Volvo Trucks FE and FL.
Valeo has already planned a robust launch program in 2016 to rapidly expand vehicle applications covered by the clutch range.
In order to comply with Euro 6 standards, Valeo has developed bespoke product solutions.  Products feature superior quality including Valeo's friction material, which transfers higher torque and avoids unnecessary gear shifting.
Also, Valeo facings transmit high engine torques up to 3500 Nm without judder. F830 facing, the Valeo friction material approved by Original Equipment (OE) manufacturers, is the best-in-class solution to avoid judder issues on Euro 6 robotized gearboxes.
To counter the level of vibrations caused by engine downsizing, Valeo driven plates are featured with high capacity filtration dampers.
Finally, Valeo has developed a cover assembly with Self Adjusting Technology (SAT) for robotized gearboxes. SAT compensates the friction material wear between the cover assembly and the driven plate in order to limit the release bearing effort. The SAT benefit is to optimise clutch functioning during its complete lifetime.
Valeo Heavy Duty clutches are designed to transfer high power and torque for better driver comfort and enhanced durability.