Bridgestone and MRF top JD Power India OE tyre survey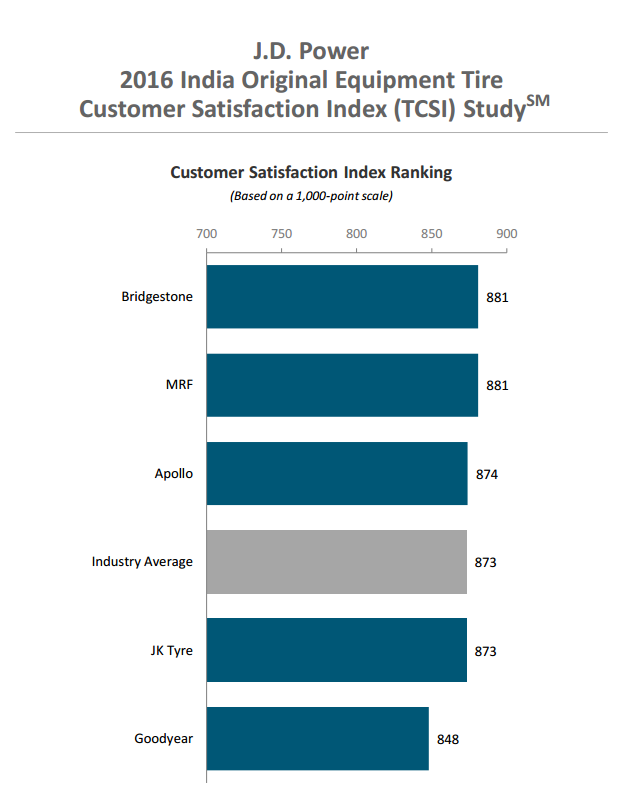 Bridgestone and MRF have tied for first place in JD Power's latest India Original Equipment Tire Customer Satisfaction Index (TCSI) Study. However, while they both ranked first in overall customer satisfaction, scoring 881. Bridgestone performed well in terms of ride (883) and MRF performed particularly well in appearance (884). Apollo came third, with JK Tyre fourth and Goodyear in fifth.
The repurchase intent for the OE fitted brand is extremely strong, with 94 per cent of customers indicating they are likely to repurchase their existing brand. However, those who intend to switch brands indicate personal brand preference and tyre quality expectations as the main reasons.
The 2016 India Original Equipment Tire Customer Satisfaction Index (TCSI) Study is based on 3,496 responses from new-vehicle owners who purchased their vehicle between May 2013 and August 2014. The study was fielded between May and August 2015.
The study, now in its 16th year, measures satisfaction among original equipment tyre owners during the first 12 to 24 months of ownership across four factors (listed in order of importance): appearance (876 on a 1,000-point scale); ride (876); durability (870); and traction/ handling (872).
More than half (52 per cent) of tyre customers indicate that brand perception of the original equipment tyres on their vehicle is an important criterion when considering replacement tyres. Additionally, 14 per cent of customers indicate tyre appearance—tread design and wheel/ rim styling—is an important reason to select a replacement tyre. When replacing tyres, 59 per cent of customers indicate they purchase their tyres at an authorized tyre store.
"Given the fact that tyre brand perception is a key driver when considering replacement tyres, and that more customers are purchasing at authorized tire retailers, OEMs may want  to provide a superior customer experience at their authorized tire outlets," said Mohit Arora, executive director, J.D. Power. "An enhanced customer experience during the replacement process can help add to a customer's perception of the brand. This can lead to higher levels of brand loyalty and more recommendations to friends and family.
Overall OE tyre customer satisfaction averages 873 points, a 5-point increase from 2015. Satisfaction improves across all four factors year over year, most notably in ride (+7 points). This means customers expect their tyres to be problem free. Even one problem can impact satisfaction levels negatively by 57 points, compared to when no problems are experienced.
The study found that 74 per cent of owners who are highly satisfied (overall satisfaction scores of 955 or higher) with their original tyres say they "definitely would" recommend their tyre brand. Among customers who are less satisfied (scores of 814 or less), only 38 per cent say they "definitely would" recommend their tyre brand.