Ten price-competitive tyres put to the test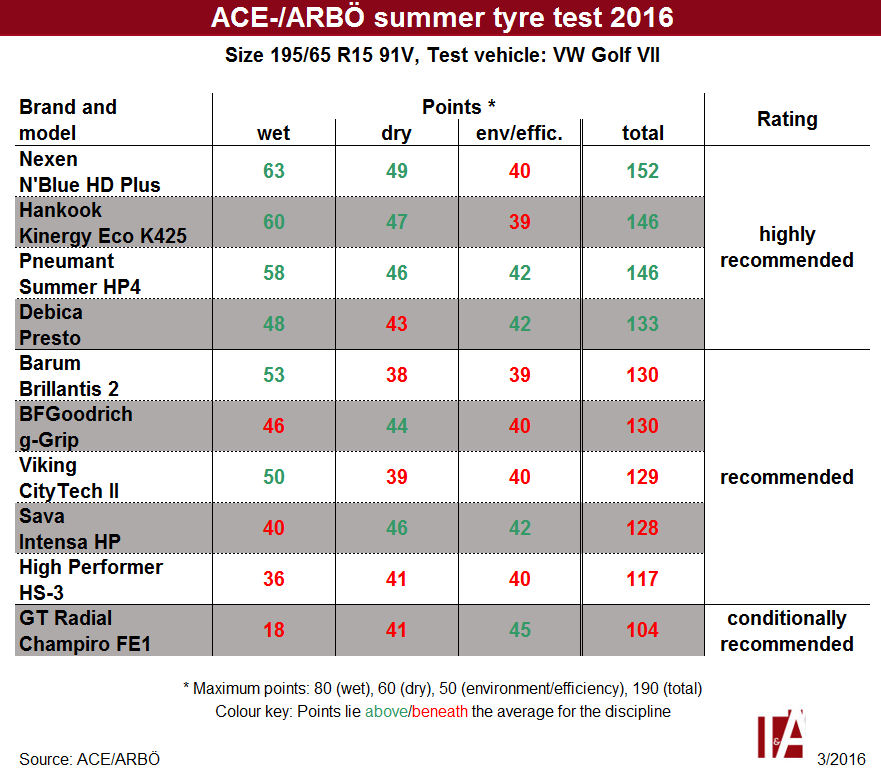 According to German motoring association Auto Club Europa (ACE), the priority for many drivers when buying tyres is to find a product that is both good and affordable. Therefore, together with its Austrian partner association it has published a test of ten price-competitive tyres. The tested products are size 195/65 R15 summer tyres for compact cars. All are V speed rated and thus approved for speeds of up to 149 miles per hour or 240 km/h.
"The top priority when selecting tyres was price – one of the tested tyres can be found online for a little under 35 euros," commented the motoring association. For testing purposes, ACE made Nexen and Hankook tyres its benchmark, as the VW Golf used as test vehicle is available with both manufacturers' products as original equipment. A further eight tyres were evaluated against the N'Blue HD and Kinergy Eco K425; these were the Barum Brillantis 2, BFGoodrich g-Grip, Debica Presto, GT Radial Champiro FE1, High Performer HS-3, Pneumant Summer HP4, Sava Intensa HP and Viking CityTech II.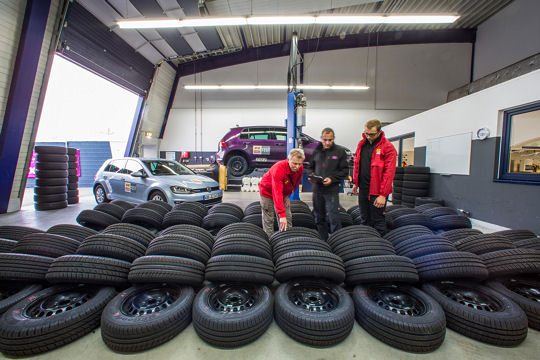 Nexen's N'Blue HD took first place with 152 from a possible 190 points, followed by the Hankook Kinergy Eco and Pneumant Summer HP4. "All three models convinced both on dry and wet road surfaces – a task that every good summer tyre must accomplish," commented the ACE tester. The trio was followed by the Debica Presto, which also achieved a 'highly recommended' rating.
The test got interesting when water was added: "While the field was close together on dry road surfaces, the differences in quality really start to show themselves in the rain," commented ACE's Gunnar Beer. This was certainly the case for the Sava Intensa HP, which was ranked third in the dry – it didn't fare so well in the wet, as "poor braking and handling results on wet road surfaces" pushed it down to eighth place overall, with a score of just 128 points.
The GT Radial Champiro FE1 was deemed to have "alarmingly poor results in the wet." When braking from 100km/h the Champiro-shod test car only came to a standstill after 61.7 metres – 15.4 metres further than test winner Nexen (46.3 metres), and was still travelling at around 50km/h by the time the car fitted with the N'Blue HD would have completely stopped. As a result the Champiro only scored 104 points and was rated 'conditionally recommended'. This last-placed tyre mostly just gained points for dry weather performance and purchase price, as Beer rated it as "barely drivable" in the wet. (Since publishing this summary, Giti told Tyres & Accessories that it was investigating the test's results, which it says "did not match the tyre's true performance characteristics.")
Finishing between the Champiro and the Sava tyre was the High Performer HS-3. Its score of 117 points reflected wet performance deficits, although these were "not as extreme" as experienced with the GT Radial tyre.
In between the top and bottom-placed tyres was a relatively full midfield that included the Intensa HP (128 points) Viking CityTech II (129 points), Barum Brillantis 2 and BFGoodrich g-Grip (both 130 points).
While the Nexen and Hankook reference tyres were also (according to German market research) two of the most expensive tyres in the test, ACE opines that the price criterion is not necessarily a deal clincher when purchasing tyres. The organisation notes that the formula "the more expensive the better" doesn't always add up in the tyre market. And the ACE doesn't see the European tyre label as carrying much weight with tyre buyers, either: "The tyre label is absolutely unsuited to purchase decisions," stated Beer. "Both the best and the worst performers carried the second-best 'B' rating. This has nothing to do with reality. In this respect the EU needs to improve in regards to consumers, and enforce better controls and harsher penalties for abuse."
Further details of the ACE test can be found in the Tyrepress.com tyre test database