Continental takes victory in GTÜ winter tyre test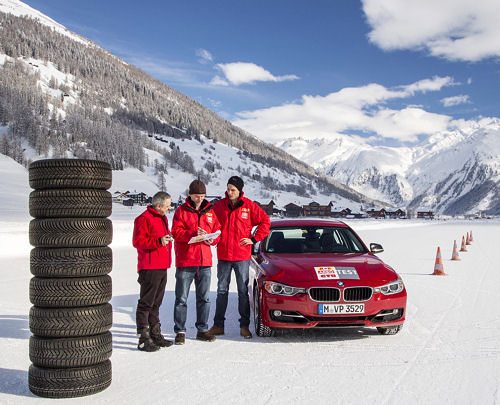 German vehicle inspection organisation the Gesellschaft für Technische Überwachung (GTÜ) has released one of the season's first winter tyre tests, and the result are mostly positive. The test of eight size 225/50 R17 H/V tyres was jointly carried out with the Autoclub Europa (ACE), using a BMW 320i as test vehicle. The tyres were subjected to the usual snow, ice and wet tests.
Commenting on the results, GTÜ writes that "The brand name, upper price segment tyres passed the snow, ice and wet tests without any major slip-ups. The tyre manufacturers have continued to improve in quality in comparison with the previous year." GTÜ notes that "nearly all treads were again revised" during that time.
Continental can chalk up yet another test victory. The WinterContact TS 850 was voted test winner and one of two tyres awarded GTÜ's top 'highly recommended' rating. The other highly recommended tyre was the new Goodyear UltraGrip Performance Gen-1, which finished the test just two points behind the Conti rubber. Both tyres demonstrated particular strengths on snow covered and wet road surfaces and when it came to traction, handling and braking. They also performed above reproach in dry surface safety tests.
Places three to seven were occupied by tyres given a 'recommended' rating. Finishing in third, the Dunlop Winter Sport 5 put up a good fight in all winter-specific criteria. The Nokian WR D4 finished just behind, and the Michelin Alpin 5, the most expensive tyre in the test, was on its tail in fifth spot. Sixth and seventh places were respectively occupied by the Pirelli Sottozero 3 and Semperit Speed-Grip 2. Vredestein's Wintrac Xtreme S finished the eight-tyre test in last place and only received a 'conditionally recommended' rating due to its less than convincing performance on wet road surfaces.
According to GTÜ, the difference between the test candidates was surprisingly small when measuring traction on snow-covered road surfaces. And there were no nasty surprises when braking on snow, either. Only the Michelin Alpin 5, Vredestein Wintrac Xtreme 5 and Pirelli Sottozero 3 performed worse in braking than in the traction test. The Pirelli tyre, as last-placed in this particular test, required two metres further to stop than the best-performing tyre – at a speed of just 50km/h!
The Michelin Alpin 5 was a nose ahead in comparative handling on a steep mountain pass road, and the Continental TS 850 and Goodyear Ultra Grip Performance Gen-1 also gave sterling performance. The Semperit Speed-Grip 2 and Vredestein Wintrac Xtreme S performed disappointingly on wet road surfaces – both due to low directional control and the Vredestein tyre additionally because of its long braking distance. The Continental WinterContact TS 850 reigned supreme on dry road surfaces.