Unseasonably cool – Hankook presents all-season, winter tyre ranges at Test World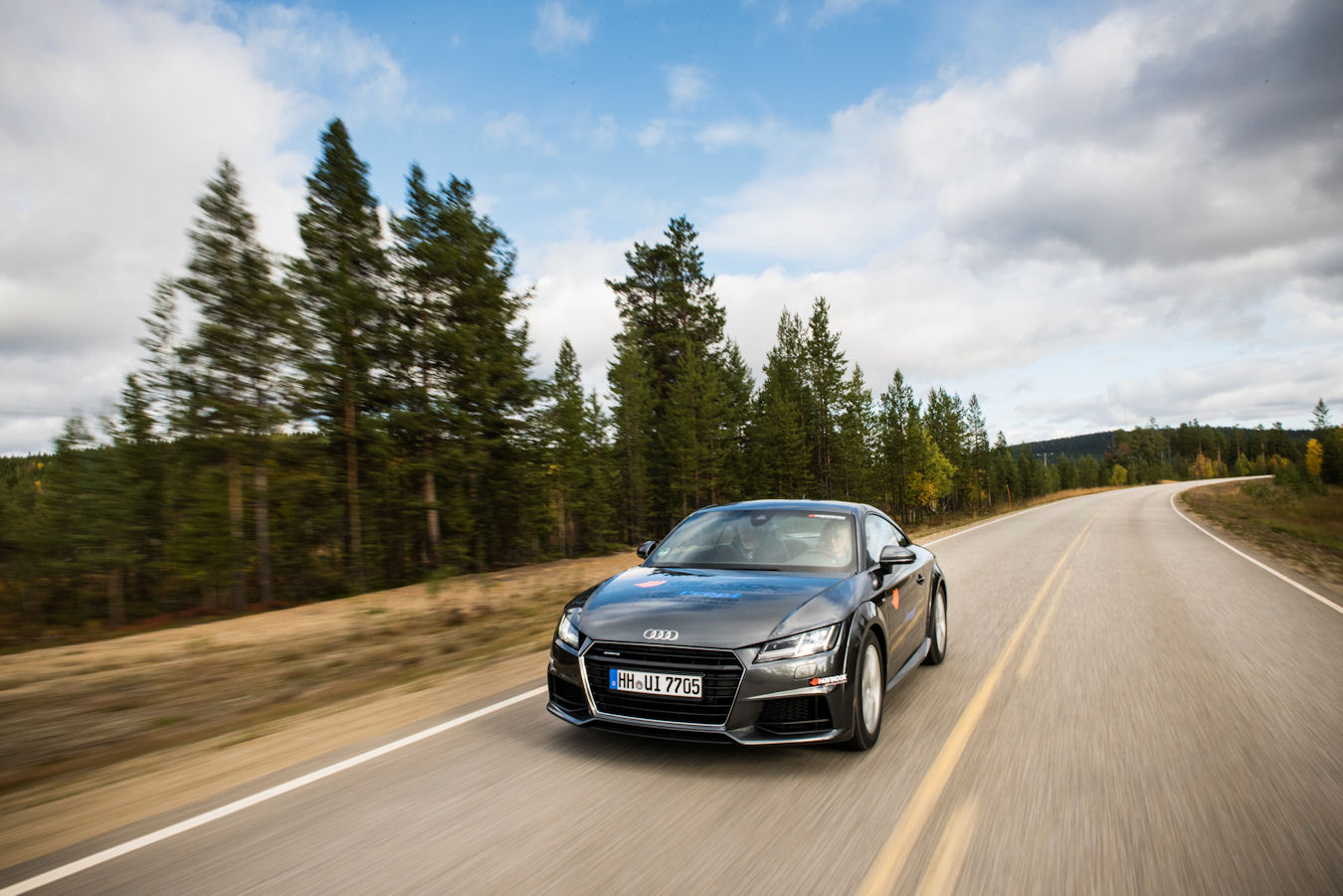 When it comes to testing a vehicle or tyre's winter aptitude, few places in the world better are suited to the job than the Finnish village of Ivalo, some 200 miles north of the Arctic Circle. The average daily temperature struggles to rise above -10⁰C in the dark months of January and February, and for half the year the white stuff beloved by skiers is abundantly present. No surprise then that Test World, the internationally-renown vehicle and tyre tester and type approval centre, chose to set up shop just outside Ivalo. But what does Test World do in summer, when its ice and snow circle turns into a massive birdbath? It moves winter indoors. The 2012-opened 160 metre ice and snow hall and the 350 metre flattened oval snow handling track, which entered operation earlier this year, enable winter vehicle and tyre testing to continue in Ivalo during the European summer, eliminating the need for test teams to decamp to New Zealand. As an added bonus, these indoor facilities double as the perfect location for launching winter tyres in the warmer months of the year. Hankook Tire presented no less than six new cold weather products there in September.
Arguably the most significant of these for motorists in the UK and the more temperate regions of Europe is the Kinergy 4S (Four Seasons). The market for all-season tyres is increasing healthily – the major manufacturers report double-digit growth in a number of European countries – and almost all the big names have responded with new products. Major launches from Pirelli and Michelin earlier this year have seen these names join a segment in which Hankook, along with Goodyear and Vredestein, have enjoyed success for some time. The Kinergy 4S, first displayed at the Autopromotec show in May, is Hankook's fourth generation all-season tyre.
Hankook considers itself a pioneer in the European all-season tyre market, having been "one of the first manufacturers to have recognised the potential" of these products. At the time it began developing its first all-season tyres in the 1990s, they were considered niche products and carried a dubious reputation; by the time UK sales began with Hankook's third generation all-season tyre, the Optimo 4S, the segment had gained full end consumer acceptance. Today even the car manufacturers have made friends with all-season tyres – more on this shortly.
The Kinergy 4S builds on its predecessor's performance and adopts major design elements from the Optimo 4S. Hankook, however, claims to have improved stopping distance on snow by ten per cent over the Optimo 4S, and improved wet and dry braking by six per cent. The tyre maker intends the Kinergy 4S to be a "true all-weather specialist" and this balance can be seen in the tyre's asymmetric tread configuration. "Sportier Hankook tyres traditionally have an asymmetric tread pattern, and this pattern lends itself to all-season tyres as it enables us to have a summer tread side and a winter side," comments Felix Kinzer, Hankook Tire Europe's director of public relations.
The tyre's 'summer' shoulder features summer sipes on the outer tread blocks in order to deliver better steering precision on dry surfaces, and the shoulder has been given a larger block structure in combination with stepped tie bars between the blocks, aligning it in particular to the more stringent requirements that apply when driving in dry conditions at higher temperatures. Its five-rib tread design also offers high stability. The tyre's inner winter tread includes a higher number of sipes and blocks for secure braking in autumn or winter conditions, and the tread surface contains V-shaped crosswise grooves designed to facilitate controlled handling on snowy roads. The Kinergy 4S bears the M+S and snowflake (3PMSF) symbols, which will be required for winter tyres as of 2018.
The line-up covers 45 sizes for 14 to 18-inch rim diameters, series 70 to 40, tread widths from 155 to 255 and T, H and V speed ratings, with some extra load versions available. Kinzer shares that all the main 14 to 18-inch sizes are catered for, a size range that accommodates around 80 per cent of all cars on European roads. "We don't go higher than 18-inch as we believe 19-inch and up is dedicated summer and winter tyre territory," the director of public relations adds. Yet this broad range of fitments clearly shows that while the Kinergy 4S isn't intended as competition for Hankook's flagship Ventus S1 evo² summer tyre and new Winter i*cept evo² winter range (which was also presented in Ivalo), the all-season segment has come a long way from the days when it was the tyre of choice for smaller cars and second cars used as urban runabouts.
An early coup for the Kinergy 4S is its original equipment approval on the MK3 Audi TT. This 'AO'-marked rubber is fitted to the TT in in size 225/50 R17 98V, and complements supply of the Hankook Ventus S1 evo² summer tyre for the TT and TTS. Eager to show off the first OE approval for its latest all-season tyre, Hankook shipped a TT up to Ivalo. We were given the opportunity to take the TT along the Murmansk road up to the Russian border in cool but dry conditions, and found the 'AO' marked Kinergy 4S tyres comfortable, responsive and quiet – a competent successor to the successful Optimo 4S.
New winter ranges
In addition to its all-season tyre, Hankook presented three new winter products for Europe and two further tyres for colder climates in Ivalo, and in order to demonstrate their competence in the cold the team at Test World subjected these products to a battery of braking and handling tests in the centre's indoor facilities.
The new generation of Hankook's winter high performance tyre is now out, and this time the tyre maker has developed two versions – the Winter i*cept evo² for passenger cars and the Winter i*cept evo2 SUV for the popular sports utility vehicle category.
Hankook says the Winter i*cept evo² features a new nano-sized, high dispersible silica compound for improved grip on wintery and wet roads, while the tyre's contact patch has been enlarged for better snow and wet performance along with greater resistance to hydroplaning. The outside of the tyre's asymmetric tread pattern focuses on optimised snow handling and traction performance, while the inside pattern is dedicated to enhanced braking performance on snow, slush and wet roads. An increased number of pitches further supports the snow traction performance by effectively 'biting' the snow, while 3D sipes applied throughout the tyre tread address driving stability in wintery conditions by minimising block movement, abrasion and enhancing the overall handling performance by maximising edge effects.
The Winter i*cept evo² is available in over 80 sizes that cover 16 to 20-inch rim diameters, tread widths of 195 to 27 mm and aspect ratios from 35 to 60 series, with H, V and W speed ratings. The Winter i*cept evo² SUV is available in 16 to 21-inch sizes, 215 to 295mm tread widths 35 to 70 series aspect ratios, and T and V speed ratings.
Sitting below the Winter i*cept evo² in Hankook's winter tyre performance hierarchy is the Winter i*cept RS², a "general performance tyre" with a unidirectional tread pattern. "We feel that standard cars don't need an asymmetrical pattern as they are driven less sportily," comments Kinzer. Hankook states that the tyre's technologies provide best-in-class winter performance for cars ranging from small city vehicles, compact and medium-sized saloons to estates and people movers.
The V-shaped tread design used on the i*cept RS² features 28 per cent more pitches as well as increased groove and block edge length. This results, says Hankook, in enhanced traction on snow covered surfaces. Moreover, the corrugated 3D sipes applied throughout the tread increase traction and braking performance on all smooth surfaces while improving driving stability in wintery conditions by minimising block movement, abrasion and enhancing the overall handling performance through maximised edge effects. The Winter i*cept RS2 is available in sizes for 14 to 17-inch rim diameters, tread widths of 165 to 225 mm and aspect ratios from 45 to 70 series. H and T speed rated versions are available.
The four European market tyres presented at Test World were accompanied by two models we won't see in the UK, the Winter i*Cept iZ² and the Winter i*Pike RS Plus. The first of these is a studless tyre intended for the demanding winter conditions encountered in the Nordic region and Eastern Europe. Hankook says the unidirectional tread used in the Winter i*Cept iZ² is designed to provide superior snow performance and particularly reliable handling characteristics on snow and ice. The Winter i*Cept iZ² comes to market next wear in a range of 13 to 18-inch sizes, and will also be available in an SUV version.
The Winter i*pike RS Plus is a studdable tyre especially developed to tackle severe northern winters. This tyre was developed to address Scandinavian legislation (the over-run test) introduced in order to minimise the abrasion studded tyres cause on road surfaces. While it contains more studs than the previous generation tyre – 170 studs in 22 rows – these studs (which are a grip-facilitating hexagonal shape instead of the traditional round form) do not protrude as far. The contact patch area on the V-shaped unidirectional tread has also been increased compared with the previous generation, enabling even more studs to come into contact with the road at any given time.