P Zero Yellow soft Red supersoft compounds for F1's Abu Dhabi finale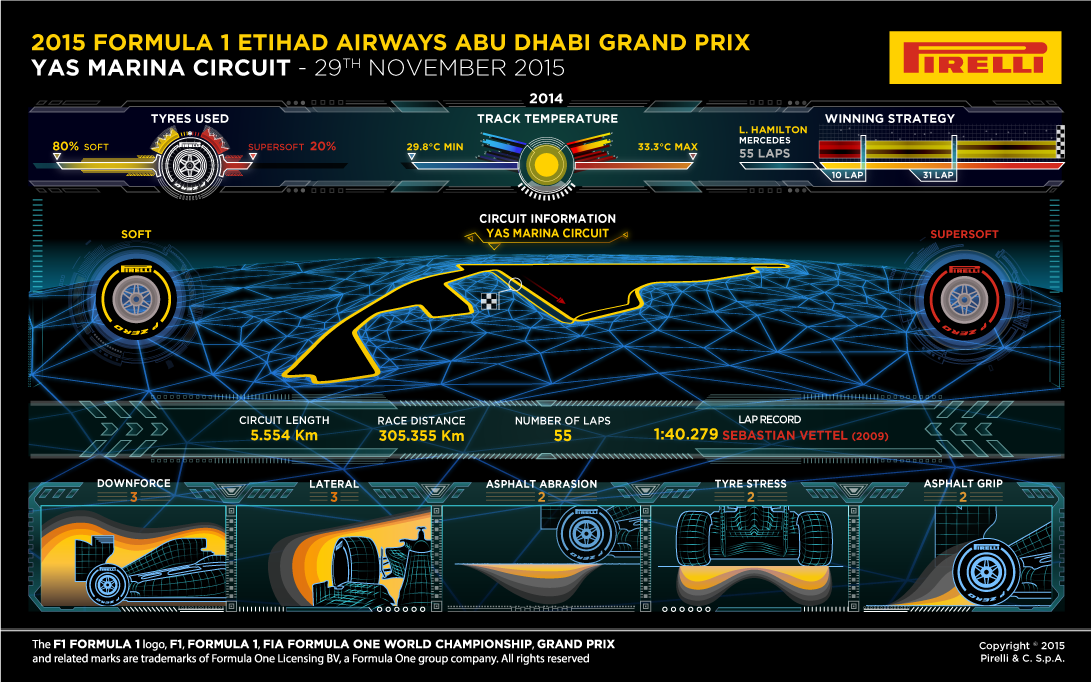 2015's Formula One calendar concludes at Yas Marina, Abu Dhabi; a venue with which Pirelli is very familiar. The F1 tyre supplier has used the venue for testing, including the world's first wet-weather test run at night, and a pre-season launch. The smooth asphalt means the softest tyres in the range will be supplied, a combination previously employed at the slowest grand prix, Monaco, and at four other race weekends. The Abu Dhabi Grand Prix is held from late afternoon into the evening, so track temperatures tend to drop over the course of the race, meaning that the pattern of tyre behaviour is different to normal: another complex variable for teams to factor into their strategy calculations. Pirelli expects a performance gap between the two compounds of 1.0-1.2 seconds per lap.
Paul Hembery, Pirelli motorsport director: "It's incredible to think that the 2015 season is over already: it seems a lot less than a year since we were at Abu Dhabi for the final race of 2014. With the championships decided the teams can obviously push to the maximum and our tyre choice in Abu Dhabi provides them with an interesting challenge: while the surface is very smooth, the tyres are still pushed quite hard due to the track layout, so tyre management becomes an important part of the strategy, particularly under acceleration in the traction areas, where it is very easy to spin the wheels.
"This is the same nomination as last year, so we'd probably expect another two-stop race, but track temperatures can be quite variable as the sun goes down and this can clearly have an effect on the tyres and therefore strategy. Just two days after the chequered flag on the 2015 season, we already begin testing for 2016: there will be a dedicated Pirelli tyre test from 9am to 9pm on Tuesday 1 December, with all the teams running one car to test some 2016 constructions and the new 'ultrasoft' tyre, which will carry purple markings at next year's races."
As well as falling track and air temperatures over the course of the race, Pirelli says the biggest challenges for the tyres include an anti-clockwise track direction, which can sometimes cause physical problems for the drivers; and the series of non-stop bends in the opening section, which heats up the tyre compound before a compound-cooling long straight, with the cars on full throttle, the equivalent of around 800kg of downforce, for around 15 seconds.
Last year's winning strategy for Lewis Hamilton comprised two stops, having started the 55-lap race on the supersoft before changing to the soft on laps 10 and 31. 24 laps later, he became 2014 world champion.