Hankook i*cept RS² lauded for eco performance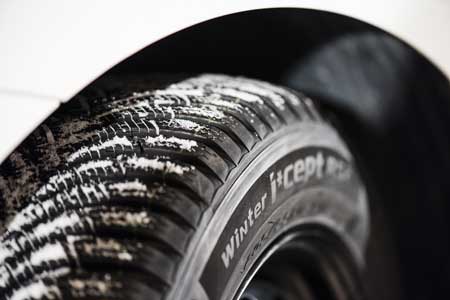 Auto Bild calls Hankook's new winter tyre an 'Eco-Master 2015'
Hankook's new winter tyre, the i*cept RS² has been named the "Auto Bild Eco-Master 2015", top in the category amongst 50 brands. The tyre, for city, compact and medium-sized cars was tested in an independent supertest by Auto Bild, Europe's highest circulation car magazine.
In addition to a convincing performance in the safety-related criteria of snow, wet and dry road conditions, the i*cept RS² came out on top of its competitors as a result of comparably low, and thus fuel-saving, rolling resistance, as well as achieving high mileage. These characteristics resulted in a highly rated price-performance ratio. The tyre is currently available in the market in all standard sizes between 14 and 17 inches.
Combining the performance necessary for a winter tyre's safety and highly rated eco characteristics is not easy, but that is what the latest generation of winter tyres from Hankook was able to demonstrate. Environmental and sustainability considerations were part of the independent test, culminating in the award of the Eco-Master 2015 title. The full report can be found in Auto Bild (2 October 2015). The 50 patterns from a wide variety of manufacturers were tested in size 185/60R15 T on a VW Polo.
"Aspects such as fuel efficiency and the sparing handling of resources are becoming increasingly important for tyre buyers, too," explains Tony Lee, Hankook's vice president of marketing and sales for Europe. "Our newly developed winter tyre shows that these days modern, high-performance winter tyres can also meet customers' requirements in terms of sustainability and environmental compatibility.  We are extremely pleased with the independent test result and the Auto Bild Eco-Master 2015 award for our new i*cept RS²."
The i*cept RS² was designed to provide a balanced performance in weather conditions typical for winter months in western and central Europe. It is equipped with a highly dispersible nano-silica tread compound combined with an innovative styrene-butadiene rubber which ensures the tread remains elastic even at low temperatures. The resulting maximisation of the contact area of the tyre with the surface ensures outstanding traction and braking performances, particularly in the cool and wet conditions typical of late autumn.  With an increased capacity of the directional tyre designed with Hankook's aqua slant technology the result is a particularly efficient interaction between the longitudinal and lateral tread grooves which dissipates both water and slush more effectively.  The number of blocks in the directional V-shaped tread pattern of the Hankook Winter i*cept RS²  has been increased by 28 per cent compared to its predecessor and in conjunction to this increase the block edge length has also been enlarged providing improved snow traction.
Special ice sipes and three-dimensional claw-like block edges ensure improved handling and cornering abilities on snow-covered roads whilst promoting traction performance on snow.  The 3D sipes across the whole tread width increases traction and braking performance on smooth surfaces whilst improving driving and lateral stability on all road conditions during cold seasons.  They also improve driving and lateral stability on all road conditions which occur during cold seasons by optimising the general handling performance through maximised edge effects and minimising inner block movements, which also have a positive effect on the tyre's wear.
Further improvements to the structure of the i*cept RS2 have resulted in an even load distribution and a footprint increase of up to 5 per cent compared to conventional products which has further enhanced the braking performance on both wet and dry roads.  The stiffer sidewall and bead area of the tyre ensures more direct steering reactions and improved steering feedback and a more precise lateral stability on dry roads as well.
The new i*cept RS² is available for small city vehicles through to compact and medium-size cars and vans. Developed especially for the climatic conditions prevailing in central and western Europe in winter, the i*cept RS2 is currently available on the market in 19 sizes from 165/70 R 14 to 225/45 R 17 in speed ratings T and H.