EDT wins bronze Green Apple Award for reducing vehicle emissions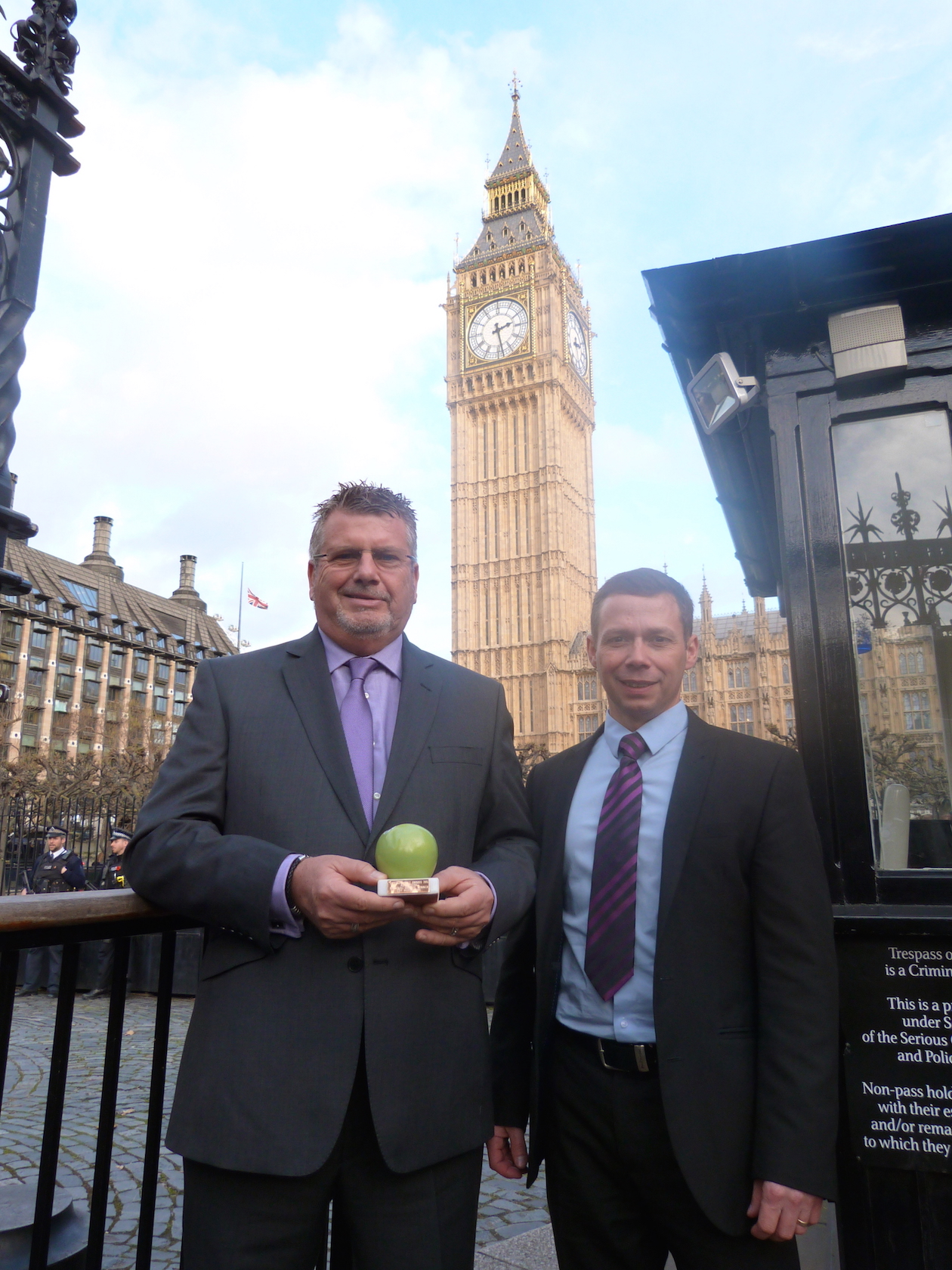 Kent-based engine detox company, EDT Automotive, has won bronze at the Green Apple Awards for Environmental Best Practice. Managing director David Holmes received the trophy from Damian Green MP at a glittering ceremony at the Houses of Parliament, London, on 16 November.
To mark the occasion, EDT published new figures showing the real world benefits of its engine detox treatments in September:
Average emissions reduction following EDT treatment = 63.5 per cent
Petrol: average carbon monoxide reduction following EDT treatment = 69 per cent
Diesel: average smoke reduction following EDT treatment = 58 per cent
The results were recorded by a qualified MOT tester using approved MOT test equipment. As in the MOT, petrol emissions are measured in percentage of carbon monoxide (CO) and diesel emissions are measured in smoke parts per million (ppm).
Damian Green, MP for Ashford, said: "I am delighted to present this Green Apple Environment Award to EDT Automotive of Westwell Leacon for their brilliant engine detox machine."
David Holmes, managing director at EDT Automotive, said: "For a small company like us to win a Green Apple Award is just fantastic. With vehicle manufacturers scrambling to reassure the public and even their own dealers that their emissions figures can be trusted, EDT offers a practical solution. Our award-winning engine detox is proven to dramatically cut harmful emissions, providing a valuable new revenue stream for workshops and real world benefits that drivers can see and feel.
"Our message to motorists is: when booking your annual MOT, look for a garage offering the EDT treatment. Our engine deep clean works on all popular petrol and diesel cars, cutting emissions by an average 63.5 per cent. Removing the gunk enables your engine to operate much more efficiently, reducing your carbon footprint. Ask the garage to show you the muck that comes out. As well as lower emissions and more miles to the gallon, customers also report a smoother ride and improved all-round performance.
"Our message to franchised workshops and high-end independents is: check out EDTautomotive dotcom and contact us to book a demonstration. EDT delivers aftersales profit for no capital outlay with a product that benefits both your customers and the environment, as illustrated by our Green Apple Award. Over the next 12 months, we're looking to fill the remaining open points in England and expand into Scotland, Wales and Northern Ireland."
The EDT machine cleans petrol or diesel engines with an environmentally friendly solution in an effect likened to descaling a dishwasher. It takes 13 minutes to remove up to half a litre of black sludge that doesn't come out in an ordinary oil change.
The results are described as being "close to doing a manual engine strip, with fuel economy increased by up to 20 per cent, power increased by up to 6bhp and torque increased by up to 7ft-lb."