When did you last do it?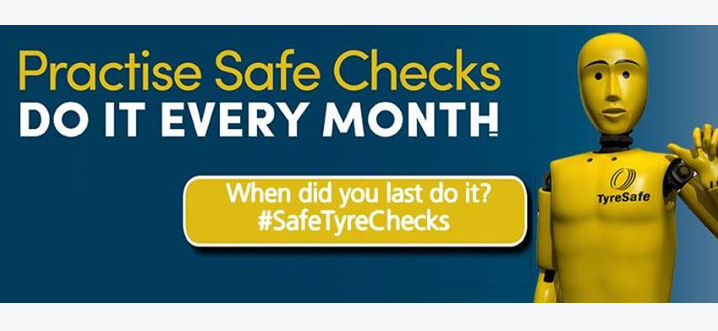 When did you last do it? That's probably a question you didn't expect to encounter here, and we beg you not to don your angry hat and express your disgust. The question is tongue-in-cheek, and is being posed by TyreSafe to mark today's start of Tyre Safety Month.
The 'it' in question is checking the pressure, condition and tread depth on your vehicle's tyres, and the ideal answer TyreSafe wants to hear is at least once a month and before long journeys. To encourage this practice, the safety organisation invites motorists to prove they've checked air pressure, condition and tread depth by posting a photo of where they last 'did it' on TyreSafe's Facebook page, www.facebook.com/tyresafeuk, along with a caption. Every participant is in with a chance of winning a set of tyres worth up to £300 during each of the full four weeks of this year's Tyre Safety Month. Drivers are also being encouraged to tweet their photo via Twitter using the hashtag #SafeTyreChecks
'When did you last do it?' is a key part of a month-long series of events that aim to raise awareness of the importance of tyre safety to road users both locally and nationwide. Tyre Safety Month is supported by the fire and police services, Highways England, road safety organisations, and car, van and tyre manufacturers and retailers.
"This Tyre Safety Month, we are hoping our tongue-in-cheek campaign will encourage local people to tell us when they last did it and where, and to think about how often they check their tyres," explained TyreSafe chairman Stuart. "Research shows there is still much to be done in changing motorists' attitudes to tyre safety – with one in five drivers having never checked their tyres and nearly 10 million dangerous and illegal tyres likely to be driven on Britain's roads this year.
"We are asking local people to do their bit to raise awareness of the dangers of defective tyres. Whether they Facebook or tweet us, the campaign is a bit of fun but it is raising awareness of a very serious issue facing us all on our roads."
TyreSafe is the driving force behind the October campaign. A range of free resources, including leaflets, posters and digital campaign materials are also available. For further information about the campaign, visit www.tyresafe.org. Last year, TyreSafe distributed over half a million leaflets and posters, and supported events and awareness activities across the UK organised by tyre and vehicle manufacturers, road safety partners, tyre retailers and the police and fire services.