IAA launch for Hankook Tire's European Laufenn range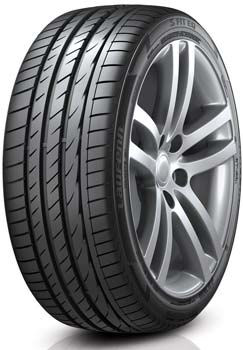 Although stocks won't begin arriving at tyre dealers for another half a year, Hankook Tire launched its Laufenn tyre brand in Europe today and has given details about the five ranges it will release in our region. Laufenn's launch at the IAA motor show comes ten months after the brand was initially introduced at SEMA in Las Vegas, and the products presented in Frankfurt differ slightly from those unveiled last November; Hankook Tire says the range was "developed especially for the European market."
Although very similar in design and appearance to the tyres already launched in ten markets in North America, Latin America and the Asia Pacific region, Hankook Tire says its European Technical Centre (ETC) in Hanover, Germany, played a "vital role" in developing the Laufenn range that will be sold in Europe. Certain fitments will also be produced within the region, at the company's factory in Rácalmás, Hungary.
"Laufenn will provide a new perspective on tyres to our European customers," commented Ho-Youl Pae, head of Hankook Tire Europe. "It will grow as a sustainable brand of our company with our strategic efforts to meet the diverse needs of consumers in this market. We will continue to invest in the brand and make Laufenn a market player providing the most practical values that consumers seek."
Hankook Tire says the Laufenn brand "aims to serve smart and price-conscious consumers with a well-rounded range of quality products," and it can be argued that Laufenn will occupy a segment made vacant by the Hankook brand's move into premium territory. The five Laufenn lines we will see here are the S FIT EQ, which Hankook Tire describes as a performance segment passenger car tyre available in 15 to 19-inch sizes; the G FIT EQ, a touring segment passenger car tyre produced in 13 to 17-inch fitments; the X FIT VAN, a summer tyre for SUVs and light commercial vehicles, available in 14 to 16-inch sizes; the i FIT studdless winter passenger car/SUV tyre range for western and central European markets, available in 13 to 18-inch sizes; and the studdable i FIT ICE passenger car/SUV winter tyre for Scandinavia and Russia, which will be produced in 13 to 18-inch fitments. The range's European availability will commence with the release of the summer lines in spring 2016.