Hankook introduces truck tyre trio at IAA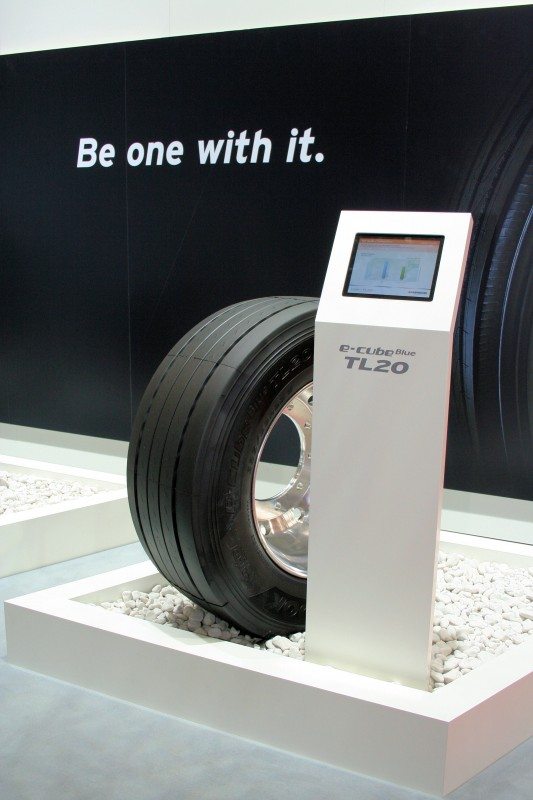 In addition to announcing significant original equipment deals, Hankook Tire is presenting several new commercial vehicles tyres at the IAA show in Germany – the drive axle DM09, the winter AW02 and the e-cube Blue TL20 trailer tyre.
DM09
The tyre maker describes the DM09 as a "smart tyre" for truck drive axles. Designed for demanding tasks in the on and off-road segment, the successor to the DM03 is M+S marked and offers a tread surface that is five per cent wider than the previous model. The extra-wide, directional tread design enables improved displacement of mud and water while maintaining an increased ground contact area. Hankook says the tyre thereby proves itself in difficult terrain thanks to its excellent cross-country mobility and also provides exceptional mileage and grip on dry and wet roads.
According to Hankook, wear characteristics in the DM09 are more consistent and uneven wearout has been minimised by the used of a block design that has a reinforced central bar; this distributes force effect more evenly during use. Conically designed tread blocks on the outside of the tread surface increase resistance to lateral strains and effectively help prevent damage to the tyre's shoulder or tearing of the block edges. The tread, which is designed to be open right up to the tyre shoulder, also increases the self-cleaning properties.
Hankook's IMS (Innovative Mixing System) method of mixing ensures a particularly even distribution of carbon black particles and rubber molecules within the DM09 compound. Together with longer mixing times at lower temperatures, a significant increase of the bonding rate between the carbon black and rubber molecules can be achieved. As a result, the DM09 generates less heat whilst in operation, which has a positive effect on rolling resistance and thus fuel consumption.
In regards to durability and retreadability, Hankook says its SCCT (Stiffness Control Contour Theory) technology enables an even distribution of tyre pressure even under severe loads. Therefore the deformation strain that affects the tyre's casing is minimised, positively influencing tyre longevity and retreadability.
AW02
With its new winter tyre for trucks – the SmartControl AW02 – Hankook aims to combine winter qualities with good mileage and low fuel consumption. The tyre has been developed for the steering axle but is also suitable for all positions, and bears both the M+S and "Three Peaks Mountain Snowflake" (3PMSF) symbols.
Hankook says the tread of the SmartControl AW02 is designed entirely with safety in mind. The tyre has an extra wide tread, which increases the contact area with the road, thereby improving handling, and five main drainage grooves provide extra aquaplaning safety. In addition, 3D-kerfs in the treads perform two important tasks – on the one hand, they provide more even tyre wear of the tread surface thereby guaranteeing higher mileage. On the other hand, together with the half-open shoulder design of the SmartControl AW02, they create better tyre traction on ice and snow covered roads. The individual blocks are also connected with webs, which have a stabilising effect for even better handling characteristics and continuous high performance quality.
As for the compound used in the SmartControl AW02, Hankook says it is a newly-developed mixture that has been developed for harsh winter conditions. At the same time, the new compound is said to achieve high mileage with a reduction in fuel consumption. As in the DM09, Hankook has utilised its SCCT technology.
"With our new SmartControl AW02 we have introduced a new generation of winter tyres for trucks that is designed especially for severe winter conditions", Hee-Se Ahn, vice-president of Marketing & Sales at Hankook Tire Europe, explained. "Our innovative product is aimed particularly at fleet clients who also travel on extremely icy and snow covered roads like in Scandinavia for instance, and who rely on durability and reliability."
TL20
With its new e-cube Blue TL20, Hankook is expanding its range of trailer tyres to include what it says is a particularly environmentally-friendly expert tyre developed for long-distance transportation in Europe. In addition to the central factors of safety and quality, the TL20 was designed with regard to the greatly increasing requirements for overall operating efficiency in the haulage industry. When developing the tyre, Hankook's engineers put particular emphasis on sustainability. A new tread compound reduces rolling resistance by eight per cent.
The TL20 tread design provides high braking performance on wet roads and superior wet grip. Four wide, circulating, main drainage grooves improve aquaplaning performance and also reduce noise levels. The wide design of the tread surface has been developed especially for low wear and improved mileage. The innovative mixing technology increases the service life of the tyres by 55 per cent compared to standard products.
With the new e-cube Blue TL20, Hankook is reacting to developmental trends in the industry and is adapting to the high requirements of long distance transportation. The TL20 utilises all the fundamental e-cube technologies, such as IMS and SCCT. "The e-cube Blue TL20 truck tyre is a consistent addition to our e-cube series, which is already very successful on the market and oriented towards high environmental-compatibility and maximum operating efficiency", Ho-Youl Pae, head of Hankook Tires Europe, explained. "This makes it a perfect example of our Kontrol Technology."