Bridgestone extends 'Total Tyre Care' programme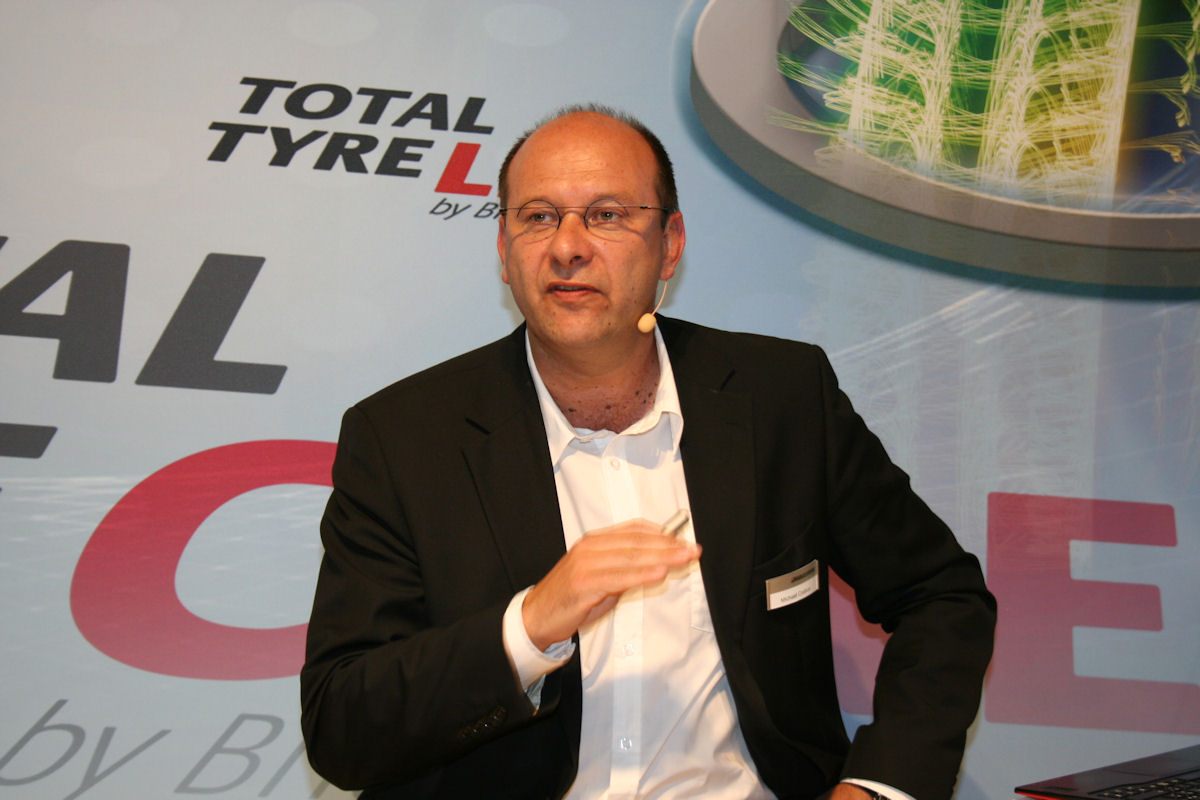 A focus for Bridgestone at the IAA Commercial Vehicles show has been the extensive additions to its "already highly successful 'Total Tyre Care' programme." Michaël Codron, managing director of Bridgestone Europe's Commercial business unit, shares that "three new customised tyre management and service" packages have joined the programme. Each of these, he adds, is "tailored to customer needs". Under this "new and comprehensive fleet management strategy" that Bridgestone is presenting at the IAA, fleet operators receive effective solutions to manage tyre-related costs, maximise their value and thereby reduce the total cost of ownership of their tyres throughout their entire lifetime through the "Advanced Tyre Monitoring Programme", "Premium Tyre Maintenance Programme" and "Elite Tyre Management Programme."
Codron shares that since its launch at the previous IAA two years ago, Bridgestone's Total Tyre Care programme has helped fleet operators identify opportunities for reducing tyre-related costs and keep a tight lid on the overall operating expenses of their fleets. The programme achieves this goal by implementing a range of solutions designed to maximise tyre life, increase management efficiency and reduce total cost of ownership via three central pillars, namely Total Tyre Life, Total Tyre Services and Total Tyre Systems.
Now, as part of an even more comprehensive customer service strategy, Bridgestone is taking the Total Tyre Care programme "to the next level" with three new levels of customised tyre management and maintenance service packages, each providing an effective solution adapted to the needs of every fleet:
The "Advanced Tyre Monitoring Programme" gives fleet owners the added peace of mind of regular fleet visits by Bridgestone tyre professionals. Periodical assessments of the condition of the fleet's tyres enable significant improvements in tyre maintenance by identifying the best products and services for each operation. As a consequence, fleet operators are able to maximise the usage of their tyres, improve fuel efficiency and fleet safety, and boost the efficiency and productivity of their business.
In addition to the Monitoring Programme, the "Premium Tyre Maintenance Programme" provides a tailor-made, total tyre maintenance package designed to achieve the very best tyre performance by taking over the task of tyre maintenance. A clear and comprehensive tyre policy and Key Performance Indicators focus on generating continuous improvements in maintenance activities, ensuring the customer's tyres are always in good hands.
The "Elite Tyre Management Programme" allows customer to outsource their entire tyre and service requirements, ensuring the best possible service at all times and at any location. Customised service packages enable fleet owners to extract maximum value from their tyres together with the added convenience of predetermined pricing solutions. So they can focus entirely on their core business with total freedom and total peace of mind.