Toyo Tire sponsoring Russian football club FC Zenit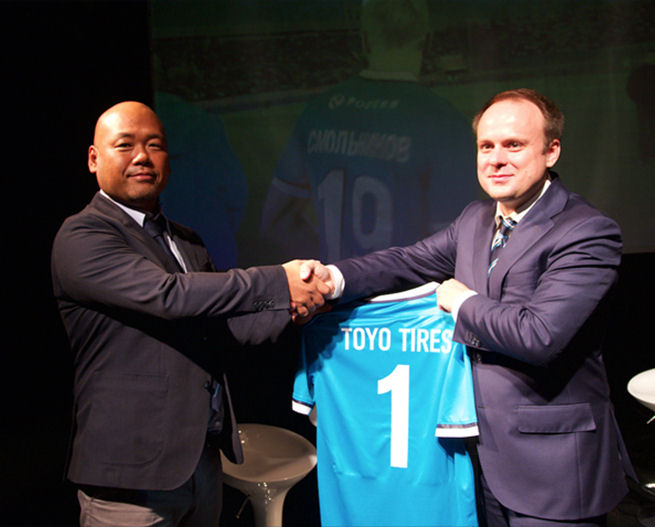 Toyo Tire & Rubber's tyre sales subsidiary in Russia has concluded a sponsorship agreement with Russian Premier League football club FC Zenit Saint Petersburg (ф.К. Зенит). Toyo Tire Rus LLC will sponsor the team for three seasons, with the contract running from August 2015 to July 2018.
As a partner of FC Zenit, Toyo Tire Rus will display the company logo at the team's home stadium and engage in numerous marketing activities featuring the club's players. Toyo Tire Rus also plans to collaborate with the club in all areas of interactive communication, including Facebook, Instagram and football game software. The aim of this partnership is to bolster the company's brand recognition and image in the Russian market.
FC Zenit was established in 1925 and its home ground is Saint Petersburg's Petrovsky Stadium. The club has two Russian Premier League championships under its belt and won the UEFA Europa League in 2008. It has been a mainstay at the top of the Russian Football Premier League standings in recent years and has a core supporter base of around 12 million people throughout Russia.
Interest in the Russian Football Premier League is growing as the country prepares to host the World Cup in 2018. Toyo Tire Rus' support of FC Zenit will help elevate the presence of the Toyo Tires brand in Russia, and Toyo expects the partnership to give the brand "a major boost" in the medium term.