Cooper: Off-road strength, on-road quality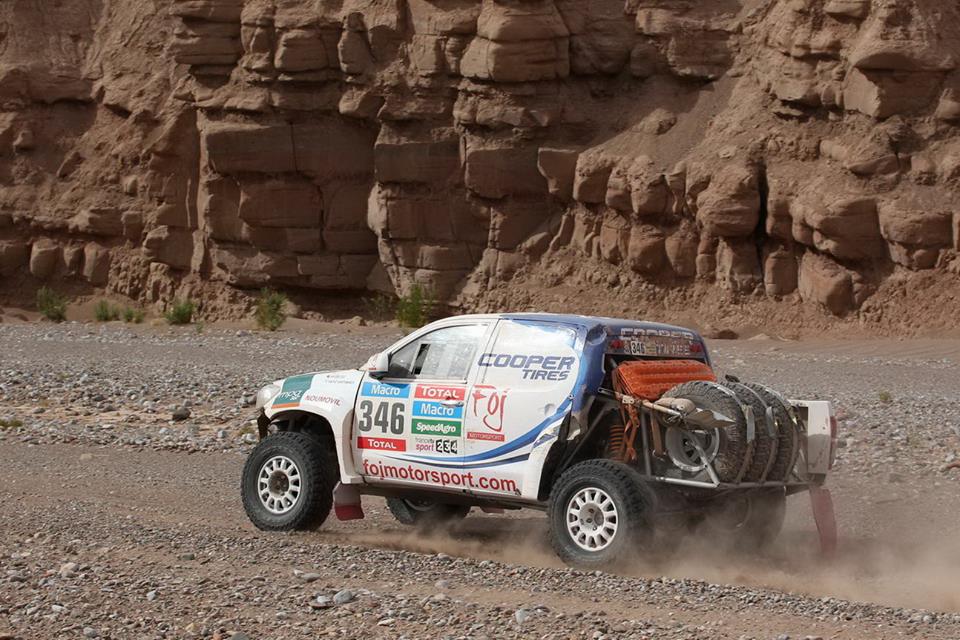 Cooper Tires claims to have one of the strongest 4×4 tyre ranges out there, pointing to the fact that the company's tyres are selected for applications including the Dakar Rally as evidence of this. Indeed Cooper says that the continued use of Cooper tyres by rally legends such as Xavi Foj underlines its presence as a world-leading 4×4 tyre manufacturer.
In January Foj, utilising the Discoverer S/T Maxx, took a podium finish in Buenos Aires, in what was the Spanish driver's 25th Dakar Rally. After 14 days of competition and 13 stages, the Foj Motorsport Cooper Tires team achieved an impressive second place in the T3.1 category in what turned out to be one of the toughest Dakar events ever. More than 400 vehicles took part, but only 53 per cent made it to the end.
The Discoverer S/T Maxx benefits from Cooper's three-ply Armor-Tek3 construction, which adds strength to the sidewall and tread area. Further difficulties in rocky and uneven terrains are reduced by asymmetric and dual draft tread element walls, which help to prevent stone retention, while the stone ejector ribs ensure that stones are effectively discharged. Traction is improved as a continuous rut guard rib, strategically placed in the upper sidewall of the tyre provides increased abrasion in uneven terrain. The Discoverer S/T Maxx has been graded as 70 per cent off-road, 30 per cent on-road.
Another Cooper 4×4 tyre – the Discoverer STT – played a role in making history at the Dakar Rally in 2013 as members of the Race2Recovery team became the first disabled competitors to complete the endurance rally, using the STT tyre. More heavily suited to off-road activity (80% off-road, 20% on-road), when the team reached the finish, they did so without suffering a single puncture along the way. The Discoverer STT benefits from the same Armor-Tek3 carcass construction present in the Discoverer S/T Maxx.
The Discoverer A/T3 is an all-terrain tyre (60% on-road, 40% off-road), providing performance in both on and off-road conditions. Exploiting a combination of features specifically suited to provide solid all-terrain performance, the Discoverer A/T3 tread pattern delivers superior all-season traction, excellent stability and handling, with reliable tread wear.
Sarah McRoberts, European marketing manager for Cooper Tire Europe, emphasised the importance of Cooper's varied range in the 4×4 tyre market, saying: "Cooper is a hugely respected 4×4 brand and our tyres are used by numerous off-road competitors, explorers and mountain rescue teams – underlining the complete range that we offer."
As far as SUVs are concerned, Cooper's Zeon 4XS has been developed to meet the demands of European 4x4s and SUVs on European roads. The 4XS uses OPT – Optimised Polymer Technology – to promote fuel saving and wet traction, while fully coupled silica tread technology is used to deliver enhanced wet grip and tread wear.
The 4XS also benefits from an asymmetrical 'rib' tread design, offering three distinct performance attributes. Its open inner shoulder further improves wet grip, while wide circumferential grooves in the centre aid the resistance against aquaplaning.
Available in Y, W and V speed ratings, 4XS fitments include the Porsche Cayenne, BMW X5, Audi Q7 and Volkswagen Touareg.
In addition, the Cooper Zeon XSTa is said to be a popular choice with an asymmetrical tread design allowing for enhanced stability when cornering.